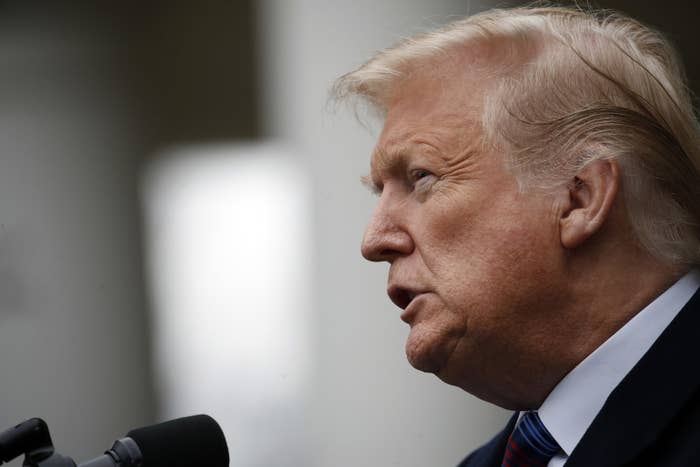 President Trump last week claimed former US presidents told him they support his plan for a wall along the southern border, but all four of his living predecessors said they've had no such conversation with the sitting president.

Trump made the comment from the White House Rose Garden on Friday in what has been a continued campaign to drum up support for the wall and secure more than $5 billion in funding from Congress. That funding has turned into the central point of contention in the ongoing partial government shutdown.
Providing no evidence, Trump has claimed wide support for the wall and, on Friday, dragged his predecessors into the ongoing debate, claiming that past presidents had privately told him they should have built the wall during their administrations.
"This should have been done by all the presidents that preceded me, and they all know it," Trump told reporters. "Some of them have told me that we should have done it, so we're not playing games. We have to do it."
But representatives for all four living past presidents, Jimmy Carter, Bill Clinton, George W. Bush, and Barack Obama, have said this is not true.
"He did not," Angel Ureña, a spokesperson for Bill Clinton, told BuzzFeed News in an email. "In fact, they've not talked since the inauguration."
Jimmy Carter also issued a statement on the issue Monday, saying that not only had the former president not spoken to Trump about the wall, but Carter did not support the president's stance.
A spokesperson for Barack Obama did not immediately respond to a BuzzFeed News request for comment, but pointed out to the Washington Post that Obama has publicly been critical of the wall.
"Suggesting that we can build an endless wall along our borders, and blame our challenges on immigrants — that doesn't just run counter to our history as the world's melting pot; it contradicts the evidence that our growth and our innovation and our dynamism has always been spurred by our ability to attract strivers from every corner of the globe," Obama said at Rutgers University in 2016.
Freddy Ford, a spokesperson for George W. Bush, told BuzzFeed News that Bush and Trump had not discussed the border wall.
The White House did not immediately respond to BuzzFeed News' questions about Trump's comments, or about former presidents contradicting his account.
Trump is set to deliver an address to the American public from the White House on Tuesday night to make the case for funding the wall and will follow up Thursday with a visit to the southern border.