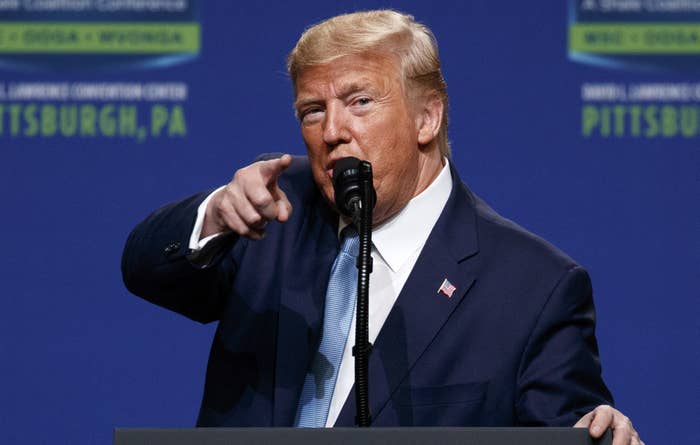 President Trump said Wednesday he is building a border wall in Colorado, even though the state is located nearly smack in the center of the United States, hundreds of miles away from Mexico.
"We're building a wall on the border of New Mexico, and we're building a wall in Colorado," Trump said while speaking at the 9th annual Shale Insight Conference in Pittsburgh. "We're building a beautiful wall — a big one that really works."
People at the conference — many of them wearing hard hats and yellow reflective vests — started to clap as the president spoke about the Colorado wall, one that he said "you can't get over, you can't get under."
Some supporters gave the president a standing ovation.
"And we're not building a wall in Kansas, but they get the benefit of the walls that we just mentioned," Trump said.
Trump has promised supporters he would build a wall at the US–Mexico border since the early days of his presidential campaign, but Colorado is not one of the four US states that border Mexico.
News of the possibility of a border wall being built in the middle of the continental US came as a bit of surprise to Colorado Gov. Jared Polis, who responded to the president's remarks on Twitter.
Sen. Patrick Leahy, a Vermont Democrat, also took a swipe at the president's comments, drawing up his own version of what a wall in Colorado would look like on a map.
The "New" of "New Mexico" was crossed out in the senator's interpretation.
President Trump addressed the confusing comment on Twitter Wednesday night, writing that he had made the comment "Kiddingly."
Yet people were genuinely confused about the president's comments, and where this wall was supposed to be.

Neither the White House nor the Department of Homeland Security responded to requests for comment to clarify the president's remarks.