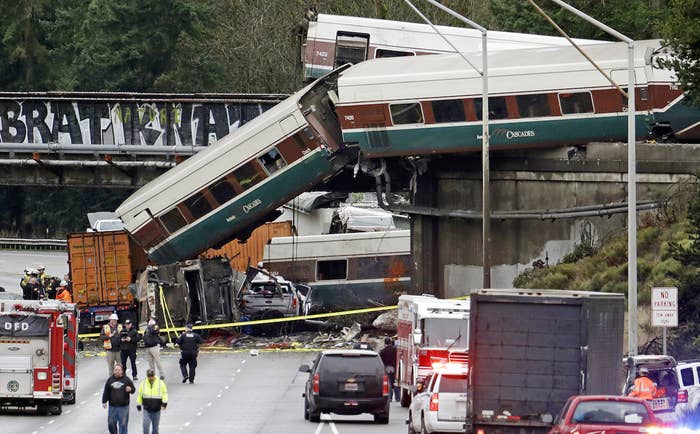 The engineer of an Amtrak train that derailed in Washington state in December, killing three people, knew the train was approaching a tight curve but does not recall seeing signs warning him slow down, according to a new report released Thursday.
The 55-year-old engineer told investigators last week that he approached the curve at about 79 mph and did not apply the brakes until the beginning of the turn, forcing a dozen passenger cars off the rails and onto an interstate highway. Seventy-two other passengers were injured in the crash.
The train, which crashed on Dec. 18 near DuPont, had been on its first run on a new route between Seattle and Portland, which was supposed to reduce the travel time for commuters by 10 minutes.
According to the National Transportation Safety Board (NTSB), the engineer said he noticed the train was traveling at 79 mph about four miles before hitting the curve. The train, however, was supposed to be traveling under 30 mph on approach.
"The engineer told investigators that he was aware that the curve with the 30 mph speed restriction was at milepost 19.8, and that he had planned to initiate braking about one mile prior to the curve," the NTSB said in a statement.
The engineer said he saw mileposts 16 and 17, but does not remember seeing the sign for milepost 18 or warning of the 30 mph speed restriction ahead.
He does remember seeing a sign at the 19.8 milepost, but said he "mistook it for another signal" that was before the curve.
He then noticed the 30 mph sign as the tracks began to curve and began to apply the brakes, but the train quickly derailed.
The qualifying conductor, who was also in the lead locomotive at the time, told investigators he was looking at his paperwork when he heard the engineer say something, causing him to look up as he sensed the train becoming "airborne."

He added that the engineer appeared to be alert during the job briefing for the day and while operating the train.
The comments from the engineer appeared to confirm details that had been gathered by investigators from the train's data recorder. Six seconds before the derailment, investigators had said in late December, the engineer had made a comment about the high rate of speed and tried slow the train down.
Investigators with the NTSB were unable to interview the engineer and conductor until last week because the two suffered serious injuries in the crash, officials said in a statement.
Officials did not identify the engineer, but said he had been hired by Amtrak in 2004 as a conductor and promoted to locomotive engineer in 2013.
NTSB officials said the interviews with crew members would be just one of the several factors they will be weighing as they continue to investigate the cause of the deadly crash.
The investigation is expected to take up to two years.
Amtrak Train That Derailed Off Highway Overpass Was Going 80 MPH In A 30 MPH Zone
None