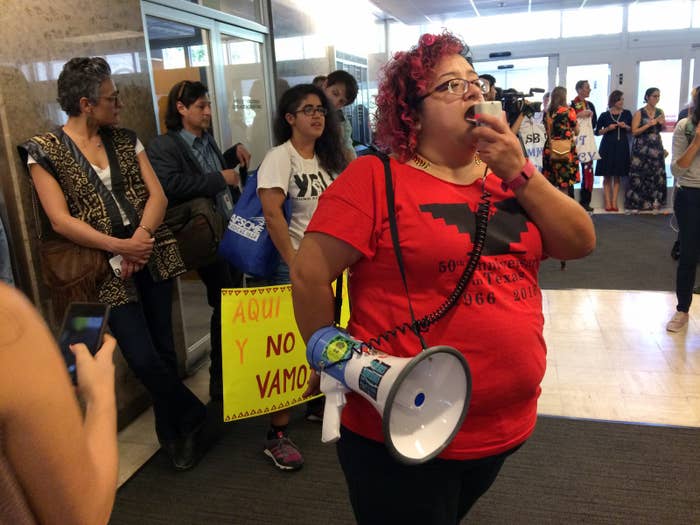 The state of Texas has passed a law outlawing sanctuary jurisdictions, making it a crime for police and sheriffs' departments to fail to cooperate with immigration enforcement. The bill, approved by lawmakers Wednesday, was signed by Republican Governor Greg Abbott on Sunday.
"Citizens expect law enforcement officers to enforce the law, and citizens deserve law breakers to face legal consequences," Abbott said immediately before signing the legislation. "Texans expect us to keep them safe, and that is exactly what we are going to do."
Under the law, cities, counties, and universities with their own law enforcement agencies that fail to comply with federal immigration detainers could face fines up to $25,000 a day. The measure also precludes any local measures barring officers from people in custody their immigration status. Any public officials who violate the sanctuary ban could now be removed from office by the state.
The measure, which Abbott had declared an emergency item for the state legislature, prompted massive protests at the Texas capitol, turning Texas into a new battleground in the nationwide fight over sanctuary cities and immigration enforcement.
Earlier this year, Abbott denied state grant funding to the Travis County Sheriff's Department, after Sheriff Sally Hernandez changed its policy regarding cooperation with Immigration and Customs Enforcement. Although the department still turns over undocumented immigrants to federal immigration authorities, Hernandez said it would no longer honor ICE detainer requests for people arrested for minor crimes.
The sanctuary ban, Abbott argued in interviews and social media, is meant to stop counties like Travis from enacting similar policies.
"This legislation will eliminate a substantial incentive for illegal immigration and help make Texas communities safer," Texas Lt. Gov. Dan Patrick said in a statement Wednesday. "There is no excuse for endangering our communities by allowing criminal aliens who have committed a crime to go free."
Opponents of the bill, including the Texas Major Cities Police Chiefs Association and the Texas Police Chief's Association, have argued that it will have an adverse effect on public safety, and embed mistrust in the state's immigrant communities.
"We're going to have some negative consequences in this community," Houston Police Chief Art Acevedo said in a press conference. "This bill, SB 4, will impact the ability of the men and women of law enforcement of this state to do their jobs."
In an unusual move, Mexico's Secretariat of Foreign Affairs issued a statement "regretting" the passing of SB4 because of the potential civil rights violations of Mexicans in the US.

Civil rights groups also decried the bill's passage, and promised to challenge it in court.
The law "is nothing short of a legal, political and fiscal disaster," Marisa Bono, Southwest regional counsel for the Mexican American Legal Defense and Educational Fund (MALDEF) said in a statement. "MALDEF will not stand idle while the state tacitly encourages racial profiling and discrimination."
Anticipating this challenge Texas Attorney General Ken Paxton preemptively filed a lawsuit Monday asking a federal court to uphold the constitutionality of SB4.
"SB 4 is constitutional, lawful and a vital step in securing our borders," Paxton said. "Unfortunately, some municipalities and law enforcement agencies are unwilling to cooperate with the federal government and claim that SB 4 is unconstitutional."
Thomas Saenz, president and general counsel of MALDEF, in a statement called the lawsuit "frivolous" and without legal basis.
"The state bespeaks its own apparent high anxiety about the legality of Abbott's Folly, SB 4, by seeking a preemptive strike through this lawsuit," Saenz said. "We will see you in court, Governor Abbott."