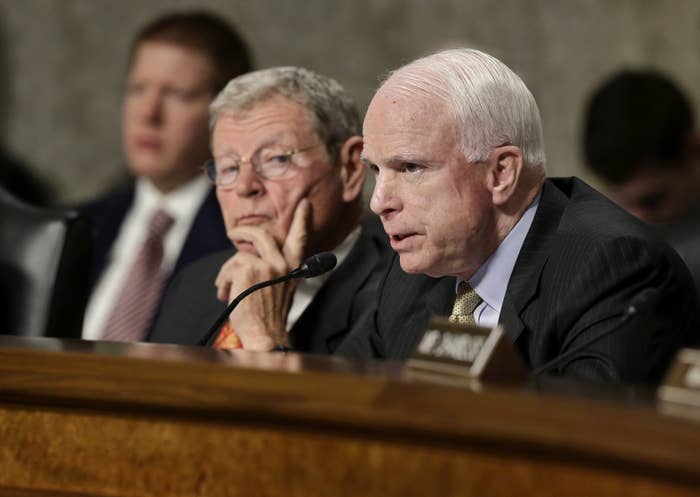 Senator John McCain underwent surgery Friday after doctors discovered a blood clot above his left eye and will spend next week recovering in Arizona, his office said Saturday, a development that has upended plans for a vote on the Republican health care bill.

With a slim majority of 52 members in the Senate and stiff Democratic opposition, Republicans face a tight vote count on the health care bill as it is. Already, two Republicans — Sen. Rand Paul of Kentucky and Sen. Susan Collins of Maine — have said that they will not vote to proceed with debate on the bill. Without McCain, the legislation is unlikely to have enough support to move forward.

On Sunday, the Republicans' health care bill caught another snag when the Congressional Budget Office was no longer expected to release its new analysis of the bill by Monday, Politico reported.
Some Republicans have said they were waiting on the analysis from the nonpartisan agency before making up their minds on how they would vote.

On Sunday morning, Paul, speaking on CBS's Face the Nation, captured why the delay is significant, saying the "longer the bill's out there, the longer conservative Republicans will see that it's not repeal."

He added, "I think it's absolutely wrong. It's not at all consistent with Republican principles ... We promised repeal."
On Saturday evening, Senate Majority Leader Mitch McConnell said that he would postpone a vote until McCain returns.
"While John is recovering, the Senate will continue our work with legislative items and nominations, and will defer consideration of the Better Care Act," the statement read.
McCain is said to be resting at his home and in good condition.
"Senator McCain received excellent treatment at Mayo Clinic Hospital in Phoenix, and appreciates the tremendous professionalism and care by its doctors and staff," McCain's office said in its statement. "On the advice of his doctors, Senator McCain will be recovering in Arizona next week."

"His Mayo Clinic doctors report that the surgery went 'very well' and he is in good spirits," the statement read.