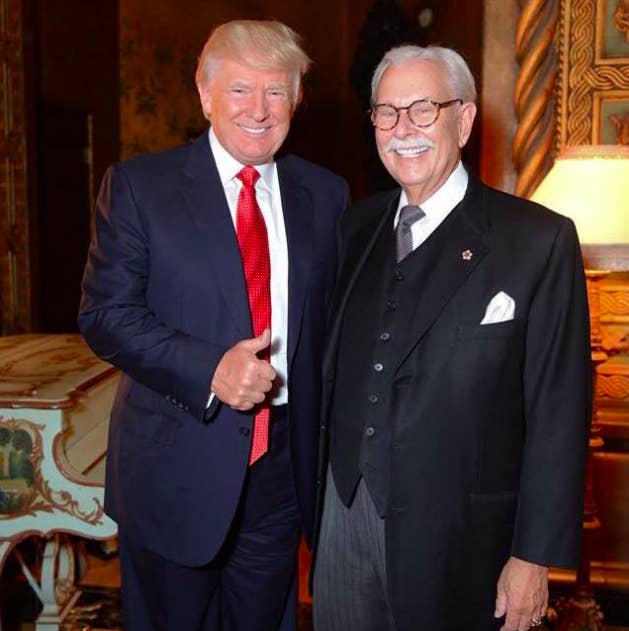 The Secret Service is investigating Facebook posts made by Donald Trump's longtime butler, Anthony Senecal, where he called for President Obama to be shot and hanged, a spokesman for the agency told BuzzFeed News.
In one post, Senecal, who worked at Trump's Mar-a-Lago estate in Florida, calls Obama "our pus headed 'president'" and writes that he "should be taken out by our military and shot as an enemy combatant."
In others, he wrote that the President "needs to be hung" and calls him a "rotten filthy muzzie" — a derogatory term used against Muslims.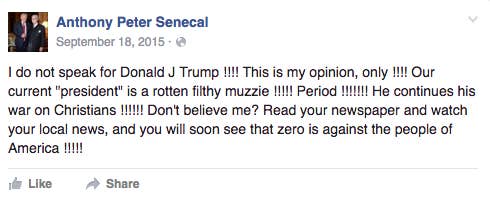 In a statement to BuzzFeed News, the Secret Service said it was aware of the social media posts.

"The U.S. Secret Service is aware of this mater and will conduct the appropriate investigation," a spokesman wrote.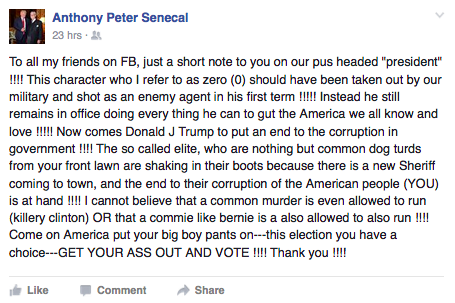 Officials from Trump's campaign did not return requests for comment about the posts or the investigation.
A spokeswoman for Donald Trump's campaign told a New York Times reporter, however, that Senecal "has not worked at Mar-a-Lago for many years."

Time also reported that Senecal retired as Trump's butler back in 2009.
But in an extensive New York Times interview in March, the 74-year-old is described as the presidential candidate's "longtime butler" and that despite trying to retire in 2009, "Mr. Trump decided he was irreplaceable."

According to the article, Senecal "has been kept around" at Mar-a-Lago as a historian. He is described as still working closely with the presumptive Republican nominee, taking his suits to be pressed and handing him a bundle of newspapers early in the morning.
Senecal spoke to MSNBC after his comments were widely reported, and the 74-year-old doubled down on his comments, telling the network Hillary Clinton should be hung, too, next to Obama.
"I think he ought to be hung. I think he should be hung, I think he should be hung next to Hillary Clinton and I think it should be public," he said. "I think it should be televised. I think it ought to be done from the portico of the White Mosque – it used to be the White House."

He also said he believed U.S. cities that have seen a large influx of Muslim immigrants should be bombed.
"I could are less they're in the U.S. They don't belong here," he said. "They belong in the sand dunes where they came from."