For months, Saturday Night Live has been portraying Steve Bannon, the former White House adviser, as the Grim Reaper, casting President Donald Trump's former strategist as literally Death itself. But on Saturday, returning for its first episode of 2018, SNL finally unveiled the man under the shroud.
Yes, that's right: Bill freaking Murray showed up to play Bannon, joined by Fred Armisen as Michael Wolff, the author of the Trump administration tell-all, Fire and Fury.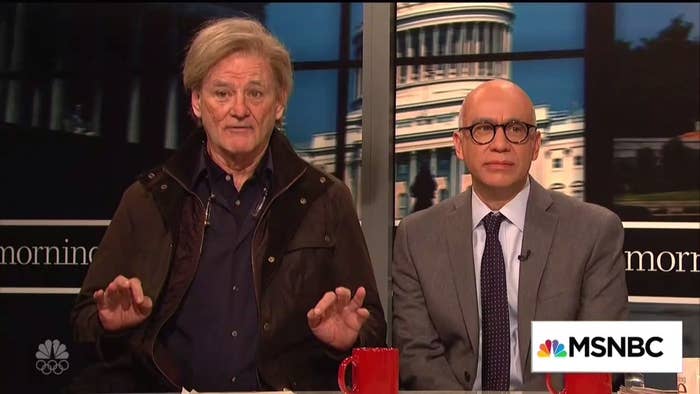 The two were there to discuss the Trump White House in SNL's version of Morning Joe, with Armisen as Wolff highlighting some of the more lurid, and questionable, portions of his controversial book.
"Even the stuff that's not true, it's true."
But the big surprise was Murray, revealing himself as "Steve Bannon, the Bannon Cannon, magic, magic, magic, magic, the Bannon Dynasty is dawning."
Bannon certainly had a bone to pick with Wolff, whose book led to the former White House adviser's firing from Breitbart and prompted the president to mock him on Twitter as "Sloppy Steve."
"I never said Don Jr. was treasonous," Bannon says.
"Yes, you did," Wolff replies.
"Well, I certainly didn't say he cracked like an egg on TV," Bannon says.
"Yeah, that sounds exactly like you," Wolff says.
"OK, that does sound like me. Good reporting."
Bannon then argues he's still not out of politics, and that he remains a "kingmaker."
"I convinced this country to elect Donald, and I can do it again," he says, adding that he's "auditioning candidates: Logan Paul, Martin Shkreli, the Subway guy, Jared Fogle — he's back, he's electable."
(To refresh your memory, Paul is a YouTuber who faced a major backlash after posting a video showing a dead man in a forest in Japan, prompting YouTube to cut business ties with him; Shkreli is the infamous "pharma bro" convicted of fraud last year; and Fogle was convicted of possessing child porn.)
"It's time for America to slide down the Bannon-ster."
"I'm HEEEEEEERRRRREEEEEEEE!"