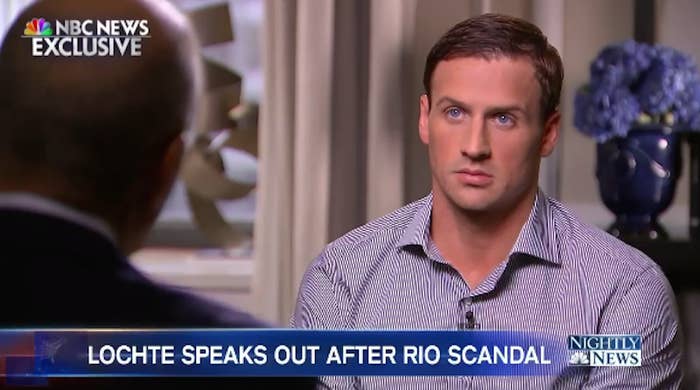 Ryan Lochte "over-exaggerated" his initial story about being robbed at gunpoint in Rio de Janeiro, and credited his "immature behavior" for what has become an international incident during an interview with NBC's Matt Lauer that aired Saturday.
"That's why I'm taking full responsibility for it, because I over-exaggerated that story and if I hadn't done that, we would never be in this mess," Lochte said in the interview, parts of which aired Saturday, with more expected Monday. "None of this would have happened, and it was my immature behavior."
The interview is the first time Lochte has spoken publicly about the incident after law enforcement officials in Brazil discredited Lochte's original version of events, which included being pulled over by what appeared to be police officers and having a gun pointed at his forehead. He was with three teammates at the time.
Instead, police described a version of events that included at least one of Olympic athletes trashing a gas station bathroom, acting drunk and disorderly, and employees of the gas station demanding that the athletes pay for the damages or get Brazilian police involved.
Earlier this week, Brazilian officials said they were ready to indict Lochte and Jimmy Feigen on charges of making a false report. The indictment would still have to be approved by prosecutors and a judge before criminal proceedings would begin.
Although he apologized for "immature behavior" and exaggerating the events, Lochte stopped short during his interview of saying that he lied. Instead, he said he was drunk, and the use of a weapon in the altercation scared the athletes.
Asked if he would still describe the incident as a robbery, Lochte said he didn't know.
"People can see it in many different directions," Lochte said. "I was intoxicated, so I don't know. All I know is there was a gun pointed at us and we were demanded to give money."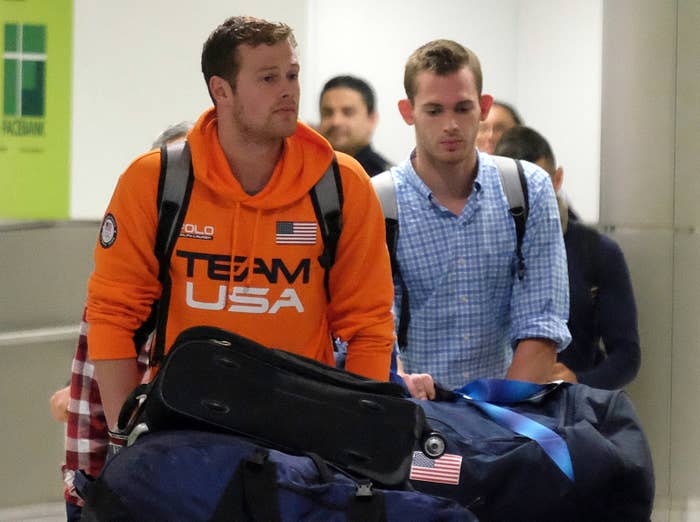 The two other swimmers, Gunnar Bentz and Jack Conger, were pulled from their flight home from Brazil before taking off. After providing a statement to police about the incident, their passports were released and they were allowed to return to the US.
The two released a statement apologizing to the US Olympic Team.
In the statement, Bentz paints Lochte as the one who escalated the situation at the gas station. Though Brazilian police mentioned one of the swimmers had been more confrontational than the others, they did not identify who that was.
The statement depicts a version of events more aligned with what Brazilian authorities have described.
Feigen was allowed to leave the country after making a $11,000 donation to charity, and the International Olympic Committee will investigate the four swimmers.
When Lauer asked Lochte how he felt after leaving the US although his teammates were being questioned by police in Brazil, the Olympic swimmer said he was "hurt."
"I let my team down, and, you know, I wanted to be there," Lochte said, sniffling at times during his answers. "I don't want them to think I left them dry, because they were my teammates and I definitely wanted to be there and I wanted to help out any way I could."
In the interview, however, Lochte still maintains that employees at the gas station demanded money at gunpoint.
Wearing a button-down shirt and his once white-blueish hair now brown, Lochte refers to the demand for money at one point in the interview as extortion.
"Whether you call it a robbery or extortion or paying just for the damages, we don't know," Lochte told Lauer. "All we know is there was a gun pointed in our direction and we were demanded to pay money."
Brazilian authorities said during a previous news conference they believe the weapon was used to maintain control of the situation, describing the athletes' behavior as drunken and disorderly at times.
Lochte says, however, the group was scared.
"We just wanted to get out of there," he said. "We were held, I mean, there was a gun pointed in our direction. We were all frightened."
In the interview, Lochte apologized to his family, teammates, and the Olympic committee for his actions, saying that he was "embarrassed."
"I took away from their accomplishments," he said.
For the people of Rio de Janeiro, which had been facing increased scrutiny regarding crime in its streets as the Olympic games began, he said he offered his "deepest apologies."
Asked about rumors of a possible suspension from the sport, Lochte said he hoped that wasn't the case, although it was not up to him.
"I'm not done with this sport," he said. "There's still more I want to accomplish in this sport."
The full interview is expected to air Monday.