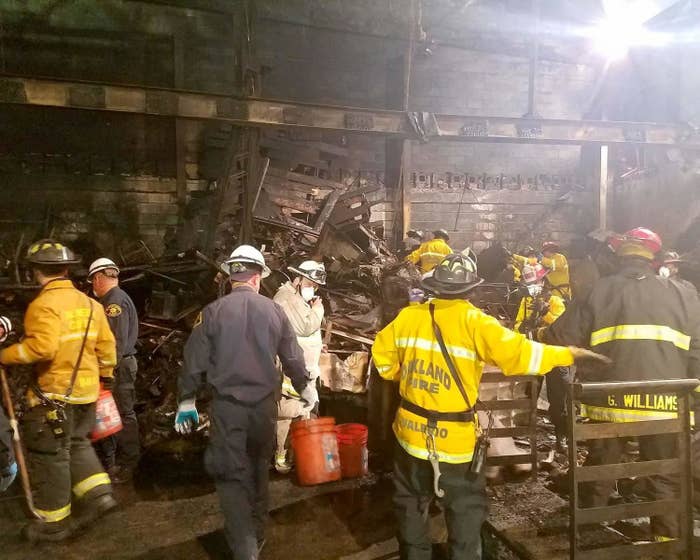 Fire investigators have ruled out a refrigerator as the cause of an Oakland warehouse fire that killed 36 people inside, officials said Friday.
The fire was sparked Dec. 2 during a party at the warehouse, which was used as an art collective.
A law enforcement official told BuzzFeed News investigators were eyeing a refrigerator near the area where the fire appears to have started as a possible cause, but an official with the Bureau of Alcohol, Tobacco, Firearms and Explosives (ATF) said during a news conference the appliance had been effectively ruled out as the cause of the deadly blaze.
The fire appears to have started in the back of the building where the refrigerator was located, an area where the heat and flames appeared to be particularly intense, suggesting a point of origin.
"We can see fire spread and ATF and our local investigators feel very strongly they have identified the section the building that is the point of origin," Oakland Fire Department Battalion Chief Melinda Drayton told reporters.
An investigation for a possible cause remains ongoing, although ATF officials told local Fox affiliate KTVU there is no sign of arson.
Authorities have also identified all of the 36 victims who died in the fire.

Meanwhile, officials said they are continuing to search through the records of warehouse, including contacts city officials may have had with the property, including inspections and police and fire calls to the building.

The city will be releasing 30 years worth of inspection records in the property on its website as well, Oakland Mayor Libby Schaaf said, since it is believed it won't interfere with the ongoing criminal investigation.
Alameda County District Attorney Nancy O'Malley, whose office is leading the overall investigation, said charges could range from murder to involuntary manslaughter, if any are filed.
Authorities said the warehouse had been cited in the past by the city for code violations and the venue had recently come under investigation after neighbors complained of construction inside the building without a permit.
CORRECTION
Teresa Deloach Reed is Oakland's fire chief. A previous version of this story misstated her name.