People Are Sharing Their Refugee Stories In Response To Trump's Ban
Trump's executive order suspends the entire US refugee program for 120 days and blocks all people in seven countries from entering the US for 90 days.
President Trump on Friday temporarily suspended the entire US refugee program and indefinitely stopped all Syrian refugees from entering the country, bringing people on Twitter to talk about how they or loved ones were affected by the ban.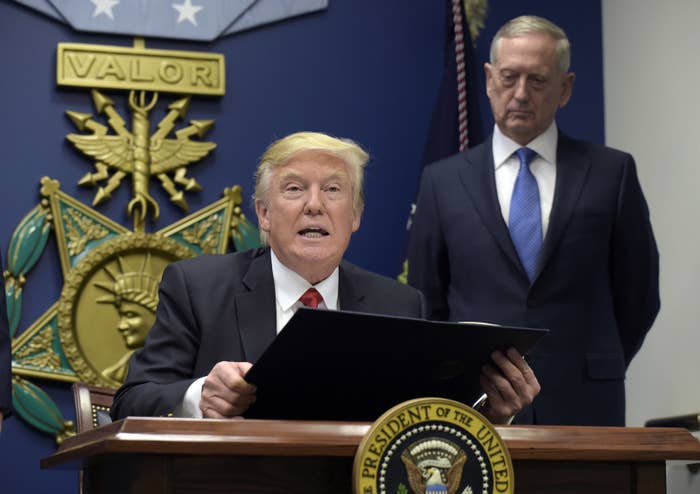 Using the hashtag #muslimban, people shared stories of loved ones being suddenly stuck abroad, or how their ancestors were able to come to US as a refugee.
The executive order signed Friday by Trump suspends the entire refugee program for 120 days, and halts refugees from war-torn Syria indefinitely.
The order does not mention "Islam" or "Muslim" in the text, but it blocks all people from Syria, Iraq, Iran, Sudan, Somalia, Libya, and Yemen from entering the US for 90 days.
Some of those believed to be affected included people who were abroad when the executive order was signed, and may not be able to return home.
Others suddenly found themselves unable to see relatives who live in countries affected by the executive order.
Trump's order places a 30-day ban on new visas from "terror-prone" countries. But non-citizens who currently live in the US with visas or a green card could also be affected by the president's order, ProPublica reported.
Because the executive order cites "aliens" and "foreigners," it could impact about 25,000 citizens of "terror prone" countries who are in the US with a visa, ProPublica reported.
About 500,000 people with green cards, but who were born in those countries and were abroad when it was signed, could also potentially be barred from returning to the US.
In effect, some families would remain separated under the current executive order.
Others knew friends and family who would be affected by the executive order.
People on student visas, or teachers who were planning to work at US universities were also mentioned.
Some, refugees themselves, shared their stories about finding a new home in the US.
Others wondered what their world would be like without friends and loved ones who were once refugees.
Some told stories of their ancestors, who came to the US as refugees.
While others looked back on family who remained in their home country because they were denied entry as refugees.
Trump argued that the restrictions would keep Americans safe, and cited the Sept. 11, 2001 attacks as part of the reason for his executive actions.
Critics, however, say Trump's order targets those affected by war and terrorism abroad without any impact on safety at home.
Some civil rights organizations have already stated they plan to challenge the executive order in court.