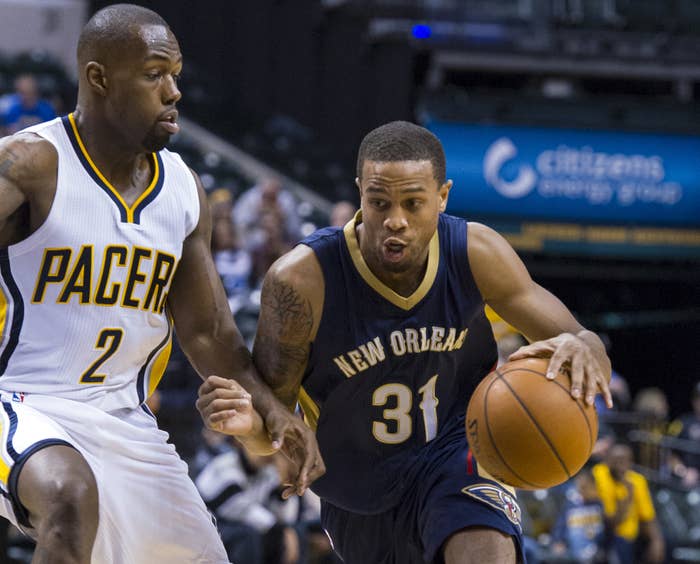 New Orleans Pelicans guard Bryce Dejean-Jones was shot and killed in a Dallas apartment early Saturday morning, police said.
The 23-year-old rookie allegedly kicked open the door to an apartment, where the resident inside opened fire with his handgun, police said in a statement.
Dejean-Jones was taken to a nearby hospital but died from his injuries, according to the statement released by the Dallas Police Department.

Police were called to the apartment at about 3:20 a.m., where police found Dejean-Jones collapsed on the breezeway.

The resident told police that he heard someone kick open the front door, according to the statement. The resident said he had been asleep in a bedroom and called out after hearing the noise, but no one answered.
The resident then grabbed a handgun, and when Dejean-Jones allegedly kicked the bedroom door, he fired, police said.
Dejean-Jones' agent, Scott W. Nichols, told CNN and the Associated Press that the player was in Dallas visiting his girlfriend for their daughter's first birthday.
Nichols said he believes Dejean-Jones went to the wrong apartment by mistake.
"I think he thought his girlfriend locked him out, so he was knocking on the door, banging on the door, it's locked," he told the AP. "So one thing led to another."
His girlfriend lived on the fourth floor, and DeJean-Jones went to the third by mistake, Nichols told the AP.
BuzzFeed News has reached out to Nichols for comment. The shooting is being investigated by the Dallas Police Department's homicide unit.
The Pelicans released a statement Saturday mourning the young player's death, stating that he appeared to have a promising future in the sport.
"We are devastated at the loss of this young man's life who had such a promising future head of him," the Pelicans said in a statement Saturday. "Our thoughts and prayers are with Bryce's family during this difficult time."

NBA Commissioner Adam Silver called Dejean-Jones an inspirational player who had a bright career ahead of him.
Before playing with the Pelicans, Dejean-Jones played for the Iowa State Cyclones, where he was fourth on the team's overall scoring during the 2014-15 season, according to the university.

"This is a very, very sad and tragic day for everyone that's a part of the Cyclone Basketball family," Iowa State head coach Steve Prohm said in a statement.
The Cyclones held a 25-9 record in the 2014-15 season Dejean-Jones played, helping the team make its way to the NCAA Tournament for the fourth year in a row.
He was a Los Angeles native before playing college basketball at the University of Nevada, Las Vegas.
Dejean-Jones signed with the Pelicans in February and played 14 games with the team this past season before he was injured. He had a three-year contract with the team.