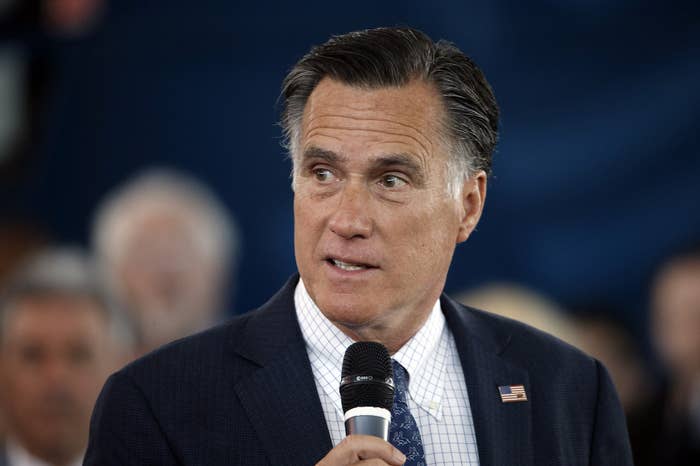 Mitt Romney announced Friday he will vote for Ted Cruz at the upcoming Republican caucus in Utah, and the former presidential nominee is encouraging others to do the same to fight against "Trumpism."
"Today, there is a contest between Trumpism and Republicanism," Romney said in a message posted on Facebook Friday. "Through the calculated statements of its leader, Trumpism has become associated with racism, misogyny, bigotry, xenophobia, vulgarity and, most recently, threats and violence. I am repulsed by each and every one of these."
Romney didn't call his message for people to support Cruz an "endorsement" of the Texas senator, but made it clear that supporting Cruz could lead to a contested Republican convention.
"The only path that remains to nominate a Republican rather than Mr. Trump is to have an open convention," Romney said. "At this stage, the only way we can reach an open convention is for Senator Cruz to be successful."
Cruz later thanked Romney for his vote.
True to form, Trump responded to Romney's statement within minutes on Twitter as well, calling the former governor a "failed presidential candidate" and saying his endorsement of Cruz would be good for his own candidacy.
Romney and Trump have clashed before. Earlier this month, Romney delivered an address where he called the former reality TV star a "con man" and attacked his policies.
Romney urged Republicans to unite against Trump and, just a few days ago, was campaigning with Gov. John Kasich in Ohio.
"He has a solid record as governor," Romney said of him. "I would have voted for him in Ohio. But a vote for Governor Kasich in future contests makes it extremely likely that Trumpism would prevail."
Kasich's chief campaign strategist, John Weaver, called Romney's decision "unfortunate."
"The fact is the establishment has gotten it wrong this entire primary and it is unfortunate to see that Mitt Romney is getting bad political advice," Weaver said in a statement. "This is just the old establishment trying again to game the political system, but John Kasich's defeated the Republican establishment his entire life."
Trump also called out Romney's support of multiple candidates during the election.
If Trump fails to get a majority of delegates, it could lead to a contested convention, which would allow delegates to vote and award the party's nomination to another candidate.
Trump has warned that if that happens, and he loses the nomination, it could lead to riots.