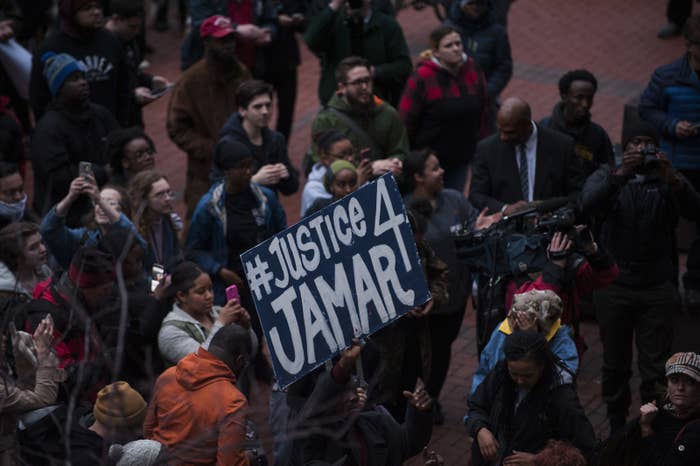 Two Minneapolis police officers who shot and killed Jamar Clark in 2015, sparking days of unrest in the city, will not face any disciplinary action, officials said Friday.
Clark, a black man, was killed Nov. 15, 2015, after officers were called to his house for a report of an assault. Shortly after the shooting, bystanders claimed the 24-year-old was handcuffed when he was shot, but investigations by local prosecutors, the Department of Justice, and the police department's Internal Affairs unit determined that was not the case.
"We have concluded there were no violations of MPD policy," Minneapolis Police Chief Janeé Harteau said at a news conference Friday. "I have the utmost confidence in the findings."
The MPD internal investigation was the last inquiry into the 2015 shooting, which sparked several days of protests in the city.
Federal officials looking into possible civil rights violations in June said there was insufficient evidence to pursue charges. Local prosecutors came to similar conclusions.
Harteau said the two officers, Makr Ringgenberg and Dustin Schwarze, did not violate policy when they fired their weapons, or when one of them used a "take-down" maneuver to push Clark to the ground.
Clark is believed to have grabbed one of the officer's holster and gun during the confrontation with police, Harteau said, causing the officers to fear for their lives.
DNA evidence gathered in the investigation supported that assertion, she added.
Video of the incident also showed Ringgenberg getting up and twisting his belt back into position, suggesting it had been pulled during the scuffle.
The officers, she said, "did not have the opportunity to negotiate or tactfully withdraw."
Harteau said she and the mayor would be meeting with local leaders to discuss ways the community could move forward.
"These officers did not dictate the outcome of this incident," she said. "This was an outcome no one wanted."