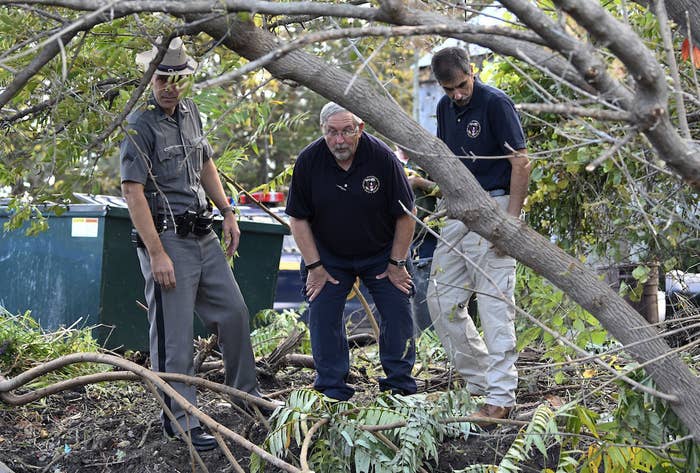 The owner of a limousine that crashed in New York Saturday, killing 20 people, has been identified as Shahed Hussain, a Pakistani immigrant who worked with the FBI as an informant in at least two counterterrorism investigations.
Hussain is the registered owner of Prestige Limousine, the company that owned the limousine involved in the crash. The vehicle was carrying 17 passengers to a birthday celebration when its driver failed to stop at an intersection, ran through a parking lot, and crashed into two pedestrians. Both pedestrians and all 18 people traveling in the vehicle, including the driver, were killed.
The driver of the limousine did not have a valid license to drive the vehicle, which had failed a DMV inspection last month, New York Gov. Andrew Cuomo said Monday.
"The owner of the company had no business putting a failed vehicle on the road," Cuomo said.

Multiple news outlets, including the Albany Times Union, Reuters, and the New York Times, reported Monday that the owner, Hussain, had been an FBI informant whose work led to counterterrorism convictions in 2006 and 2010.

On Monday, an attorney who represented Hussain in a legal issue involving a motel he owned — with the same address as his limousine company — told BuzzFeed News her former client was an informant.
In a statement, an FBI spokesperson told BuzzFeed News the agency would not confirm or deny Hussain's work as an informant.

Attorney Dana Salazar told BuzzFeed News she represented Hussain about eight or nine years ago regarding his motel, Crest Inn Suites and Cottages, in Saratoga County. She learned about his cooperation with the FBI years later, through news reports and documentaries.
Hussain's troubles appeared to have begun in 2001, when the FBI began investigating his activities as an employee of the New York Department of Motor Vehicles, where he was suspected of being part of a scam to provide people with fake IDs for $1,000 apiece, according to an FBI affidavit.
Hussain, also known as "Malik," pleaded guilty but spent no time behind bars. Instead, court records indicate he began to work with federal officials as an informant, including on two high-profile counterterrorism cases.
In the first case, Yassin M. Aref and Mohammed M. Hossain were convicted in 2006 on suspicion of trying to launder money from the sale of shoulder-to-air missiles. According to reports at the time, Hussain befriended Hossain at the latter's pizza shop. Hussain offered to lend Hossain money and, during recorded conversations, said he earned money selling weapons to terrorists.
Weeks later, Hussain was sentenced to "time served" and no supervision by federal authorities, due in large part to what federal prosecutors in court documents said was "substantial assistance" from Hussain in one fraud and drug case, involving 11 people, and a counterterrorism sting case that lead to the conviction of two people.
At the time, his involvement with the FBI and the resulting convictions were the subject of scrutiny and criticism from civil rights organizations and Muslim advocacy groups, who raised concerns that the men convicted were victims of entrapment by Hussain and his agency handlers.

Hussain's work with the FBI was not over. In 2009, he was again involved in a counterterrorism investigation, this time involving four men accused of plotting to shoot down military planes and plant bombs in New York synagogues.
The four men, James Cromitie, David Williams, Onta Williams, and Laguerre Payen, were convicted in 2010.
The convictions were again criticized by defense attorneys, who said the FBI and its confidential informant, Hussain, orchestrated the entire plot and entrapped the four defendants.
Hussain is now believed to be in Pakistan, according to officials with the National Transportation Safety Board, which is investigating Saturday's limousine accident. Three other vehicles he owned have been seized by authorities in connection to the investigation.