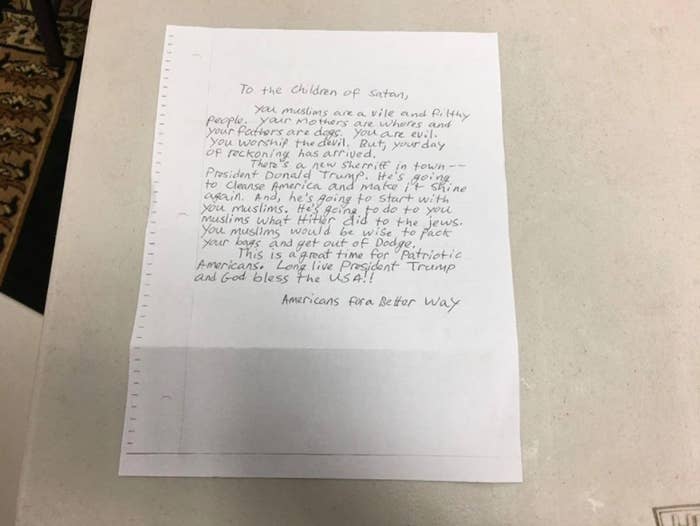 A civil rights group is asking for more cops at multiple California mosques after a threatening letter praising Donald Trump and calling for a Muslim genocide was sent to the mosques.
The letters were addressed "to the children of satan," and warned that President-elect Donald Trump was "going to do to you muslims what Hitler did to the jews."
"This hate campaign targeting California houses of worship must be investigated as an act of religious intimidation, and our state's leaders should speak out against the growing anti-Muslim bigotry that leads to such incidents," said Hussam Ayloush, executive director of the Council on American-Islamic Relations' (CAIR) Los Angeles chapter.
The handwritten and photo-copied letters were delivered to the Islamic Center of Long Beach, the Islamic Center of Claremont, and the Evergreen Islamic Center in San Jose.

The letter calls Muslims "vile and filthy people," and labels Muslim mothers "whores" and fathers "dogs."
"There's a new sheriff in town -- President Donald Trump," the letter reads. "He's going to cleanse America."
The letter goes on, threatening that Muslims in the US would see the same fate as the millions of Jews who were slaughtered under Adolf Hitler.
"He's going to do to you muslims what Hitler did to the jews," it read. "You muslims would be wise to pack your bags and get out of Dodge."
The letters come after several violent and racist incidents have been reported since the presidential election, including several aimed against Muslims in the country.
CAIR has recorded more than 100 anti-Muslim incidents across the country since the election, while the Southern Poverty Law Center has reported more than 700 incidents of "hateful harassment."