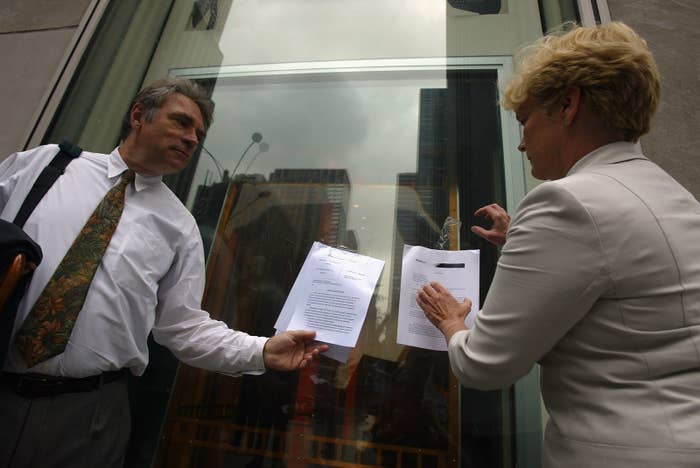 Don Hazen, an executive at progressive outlets since the 1980's and executive editor of AlterNet, resigned late Friday from the website after a BuzzFeed News report detailing allegations from five women who said they were sexually harassed by him in the workplace.
The women told BuzzFeed News Hazen touched them inappropriately while working at AlterNet, discussed their sex lives, made unwanted advances, sent lewd emails, and showed them explicit photographs, including one of his erect penis.
"After 25 years of dedicated service as the leader of the Independent media Institute and Alternet, I have decided to submit my resignation, in order to best support his organization, whose mission and goals I care about deeply," Hazen wrote to the board in an email Friday night.
Hazen was placed on indefinite leave after BuzzFeed News presented the board of the Independent Media Institute with the allegations against him Wednesday.
"The Board of Directors of the Independent Media Institute takes these allegations extremely seriously," the board said in a statement at the time. "We are now investigating the allegations in detail."
In an interview with BuzzFeed News, Hazen said he may have "lost track of some boundaries I needed to keep" when discussing editorial topics such as sex and drugs with reporters.
AlterNet had an early presence online as a news outlet in the 1990's, at one point syndicating 150 newspapers in the US and Canada, with up to 7 million unique visitors.
Hazen was also, for a time, publisher of the influential progressive magazine Mother Jones.
The women who spoke with BuzzFeed News said several of the incidents in question dated back to 2008, and they took place in AlterNet's San Francisco office and various New York locations.
One woman, Kristen Gwynne, said Hazen helped start her career in publishing as a journalist, offering her an internship and later a full-time job.
"There was inappropriate touching — hugs and kisses on the cheek at the office," she said. "He would be pointing and somehow my boob was in the way of the direction he was aiming for."
In another incident, Gwynne said Hazen told her he had seen a picture of a woman who "looked just like her" on the internet, then showed her a picture of a nude porn actor.
Another journalist, who now works for Democracy Now!, said Hazen would require mandatory in-person meetings when she was in town, which she referred to as "mandatory sexual harassment meetings."
During those meetings, she said Hazen would ask about her sex life and find excuses to touch her.
"He would kiss me on the cheek or neck without my consent even as I pushed him away and strained physically to avoid his touch," she said.
In a message posted on its website Friday night, AlterNet's board of directors confirmed Hazen's resignation.
"Don has had a long and distinguished career, and his stewardship of AlterNet has been dedicated and imaginative for more than two decades," the statement read. "We all regret his tenure ended this way, but we want to reassure our readers and the broader AlterNet community that we are deeply confident about the future of AlterNet and are dedicated to continuing to work for its stability and success."