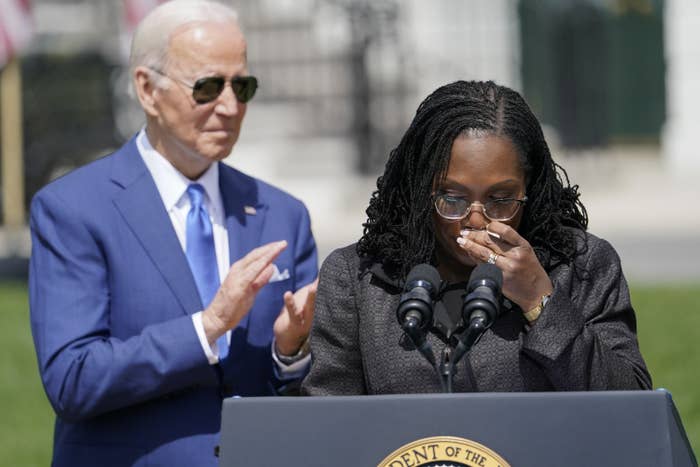 Justice Ketanji Brown Jackson marked her confirmation to the Supreme Court with an emotional speech at the White House on Friday, noting how she was standing on the shoulders of "generations of Americans who never had anything close to this kind of opportunity."
Jackson's confrontation was at times contentious and confrontational, with Senate Republicans diving into political grievances with Democrats or culture wars. And at the South Lawn of the White House, President Joe Biden called the process "verbal abuse," and commended Jackson not just for her composure and poise during the hearings but for her "brilliant legal mind with deep knowledge of the law."
At times wiping away tears, Jackson thanked Biden and supporters, including children who sent notes, letters, and drawings during the nomination process. She also said her confirmation was not just the result of her hard work, but the sacrifices and toil her family and ancestors endured before her.
"I know I'm not alone," Jackson said. "I'm standing on the shoulders of my own role models, generations of Americans who never had anything close to this kind of opportunity, but who got up every day and went to work believing in the promise of America, showing others through their determination and, yes, perseverance that good things can be done in this great country."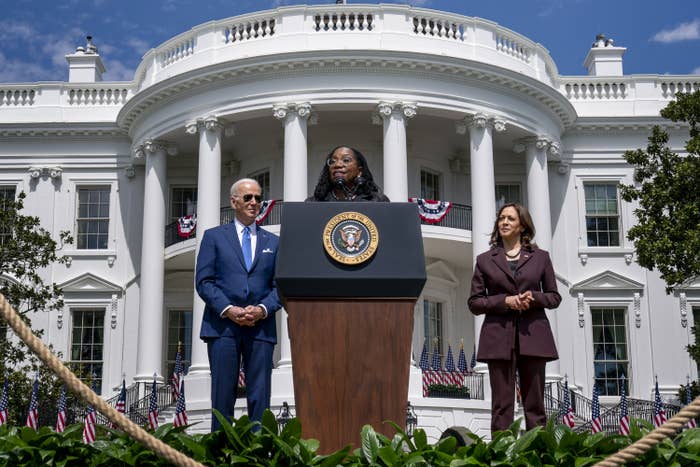 Jackson's appointment fulfills one of Biden's goals as president to appoint the first Black woman to the Supreme Court. Jackson would also join the bench as just the third Black person and the sixth woman in its history.
"It has taken 232 years and 115 prior appointments for a Black woman to be selected to serve on the Supreme Court of the United States, but we've made it," she said.
Jackson also joins the court with similar accomplishments as other justices, including Harvard degrees and selective clerkships. But the new associate justice also carries with her experience as a federal public defender and member of the US Sentencing Commission.
The historic weight of the event was clear for Jackson, who noted the fact that her parents were victims of segregation.
"I am also ever buoyed by the leadership of generations past who helped light the way," Jackson said, mentioning Dr. Martin Luther King Jr., Justice Thurgood Marshall, and Judge Constance Baker Motley, who served as the first Black woman on a federal court.

"For all the talk of this historic nomination and now confirmation, I think of them as the true path-breakers," she said. "I'm just the very lucky inheritor of the dream of liberty and justice for all."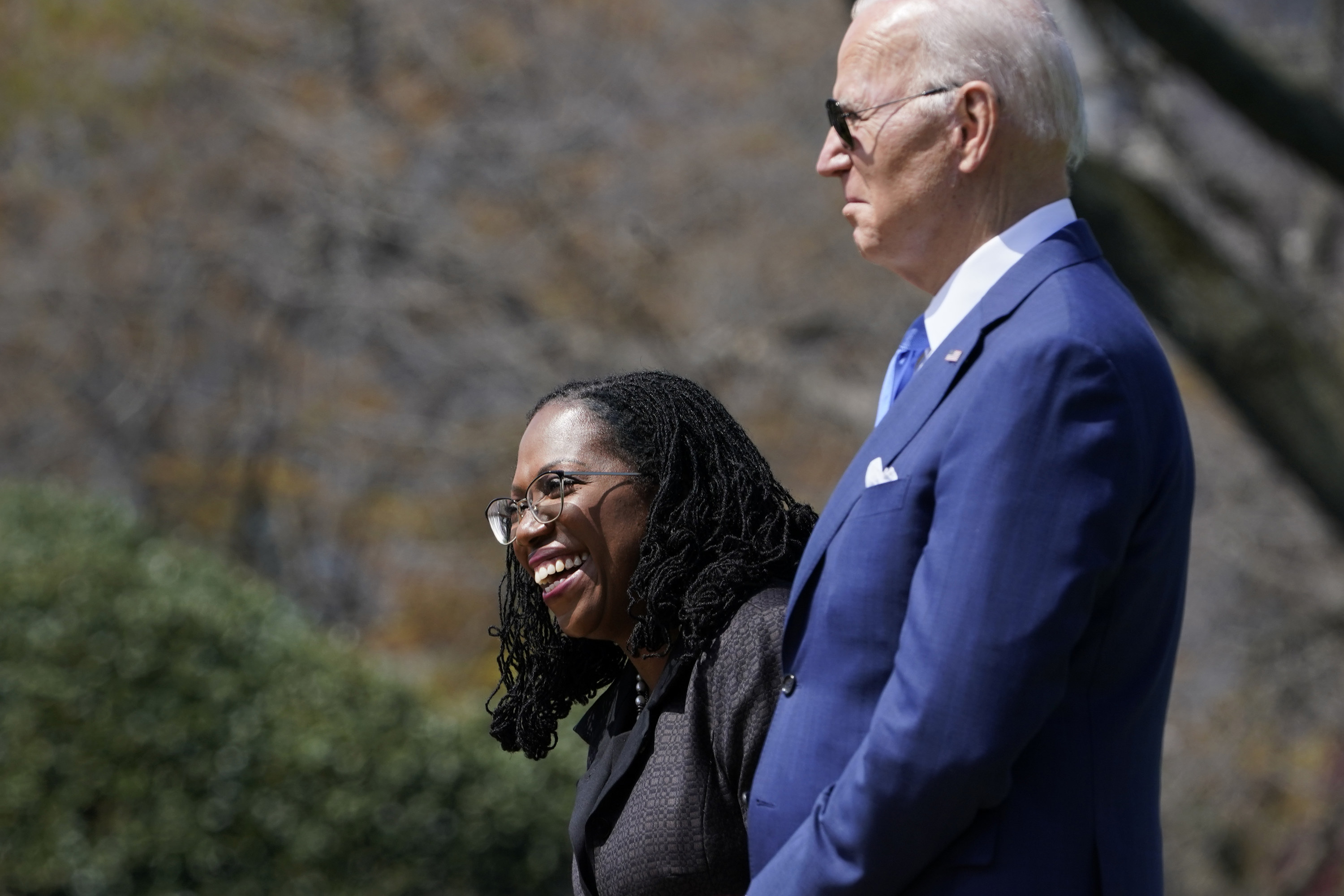 Biden and Vice President Kamala Harris both wiped tears away during Jackson's speech.
"To be sure, I have worked hard to get to this point in my career and have now achieved something far beyond anything that my grandparents could have possibly imagined," Jackson said. "But no one does this on their own. The path was cleared for me so that I might rise to this occasion and, in the poetic words of Dr. Maya Angelou, I do so now while bringing the gifts my ancestors gave: I am the dream and the hope of the slave."