Amnesty International, in partnership with BuzzFeed News, is holding an immigration-focused forum Thursday in Las Vegas, where Democratic presidential campaigns will discuss where they stand on the controversial topics of asylum, immigration enforcement, and the role of ICE.

With much of the focus of the Democratic primary focused on top-tier candidates arguing over issues of electability ahead of Super Tuesday on March 3, immigration policy — a big priority for President Donald Trump — has largely taken a backseat during the past nine debates.

Immigration has been at the front and center of Trump's administration since the beginning, from his rally cry of building a wall at the Southern border, to his push to implement what he initially called a "Muslim travel ban," and forcing asylum-seekers to wait in countries like Mexico, Guatemala, and El Salvador while their US cases are under review.
Tom Steyer is the only Democratic candidate who agreed to appear at Amnesty International's forum, which is being hosted by BuzzFeed News' own Hamed Aleaziz, who has broken multiple stories about the treatment of asylum-seekers under the Trump administration.
Other candidates sent surrogates in their stead. They include Minnesota state Sen. Melisa Franzen for Amy Klobuchar, Rep. Joaquin Castro of Texas for Elizabeth Warren, Nevada state Sen. Yvanna Cancela for Joe Biden, and Bernie Sanders' campaign manager, Faiz Shakir.
We'll be updating this post as the participants wade into a one-on-one discussion with Aleaziz on some of the most pressing issues facing US immigration policy.
Minnesota Sen. Melisa Franzen for Amy Klobuchar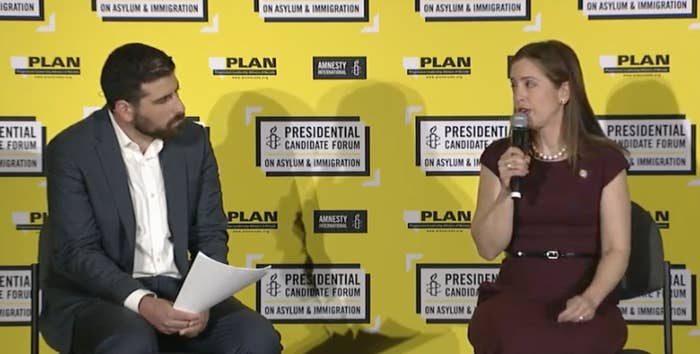 Restructuring ICE — but not doing away with the organization like some critics of the immigration agency have called for — would be one of the first priorities for Amy Klobuchar during her first 100 days in the White House, Franzen said.
"It certainly needs to be revamped and restructured and it's something that is very toxic in our communities," Franzen said, adding that the enforcement activities of the agency have festered fears in immigrant communities.
Klobuchar's plan would also include doing away with private detention of immigrants and the detention of children in cages, the state senator said.
Franzen, however, would not say whether Klobuchar supported local law enforcement agencies not cooperating with agencies like ICE, but said the presidential candidate wanted immigration officials to focus on those who "are real criminals and treat them differently than someone who is trying to do better for their lives."
Bernie Sanders' campaign manager Faiz Shakir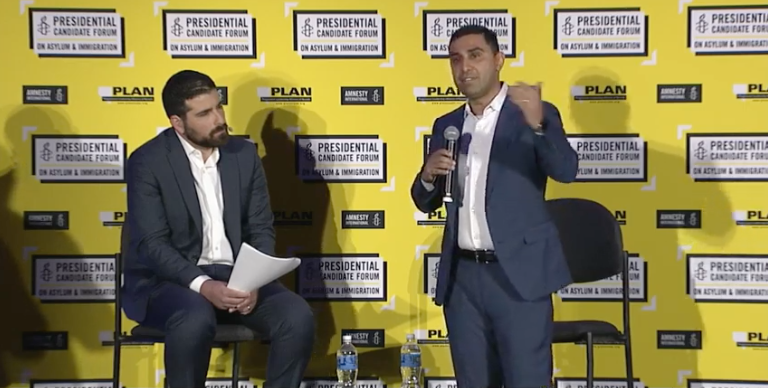 If elected president, Sen. Bernie Sanders would look at revamping current immigration policies to increase the number of refugee visas and break up ICE as part of a system that is based on fear and racism, his campaign manager said.
"If you're brown-skinned, you're treated differently and we find a way to cut you out," Faiz Shakir said. "We have to rethink the whole damn system. We have to break down the whole deportation machinery."
Sanders would also end the Trump administration's "Remain in Mexico" program, which has forced roughly 60,000 people to wait in Mexico while their asylum cases are considered, Shakir said, adding that the senator would consider allowing those currently affected to come back to the US.
"Right now, the standard that we are setting is embarrassing," he said. "We're basically projecting to the world: close your border, build walls, shut people out, call them the 'other,' and don't let them in. We have to reverse that entirely."
Sanders has also committed to a temporary moratorium on deportations, although "case-by-case" considerations would be made for people who have been convicted of serious and violent crimes, Shakir said.
Rep. Joaquin Castro for Elizabeth Warren
Sen. Elizabeth Warren would try to work with Congress to implement "humane" immigration policies and reverse many of those put in place by President Trump, Castro said. But, he added, Warren would also not be timid about wielding presidential executive power to carry out the changes.
"The first thing that as president she would do is undo some of the dangerous and harmful policies that President Trump has put into place," he said. "She also won't be shy about using her executive authority to do positive things."
That would include stopping the deportation of veterans, stop the detention of children in cages, and repeal the policy known as Migrant Protection Protocols, or MPP, to wait in Mexico while their immigration cases are reviewed in the US.
Although Warren has not called for abolishing ICE, Castro said the senator would push for "top to bottom" reform of the agency, along with Customs and Border Protection. That effort would include taking away the enforcement responsibility from ICE, although he did not offer specifics on what agency would take on the added role in that case.
"You're still going to enforce US law, but it wouldn't come from an agency that has been fairly rogue," Castro said.
Warren would also raise the cap to 175,000 for refugees admitted into the US in her first year, Castro said, and allow asylum-seekers to remain in the US while their cases are reviewed.
Immigrants would also have a right to counsel for their court cases, although Castro said he had not spoken to Warren about how that would be provided.
Tom Steyer
Steyer would stop deportations of anyone not convicted of a serious crime and would also look at providing amnesty for the millions of undocumented immigrants who are currently in the country, the Democratic presidential hopeful said.
"I believe amnesty is what I'm searching for the 12 million people who are here," he said.
Like other Democratic candidates, Steyer was deeply critical of ICE as an organization but said he would rather institute wholesale reform.
"I believe that ICE has been used as an improper organization to terrorize people at the border," he said.
Steyer said he would also end the relationship between immigration agencies and local law enforcement.
"This immigration system has turned to being a system of torture and, you know, breaking international law in a way that is entirely un-American," he said.
Nevada State Sen. Yvanna Cancela for Joe Biden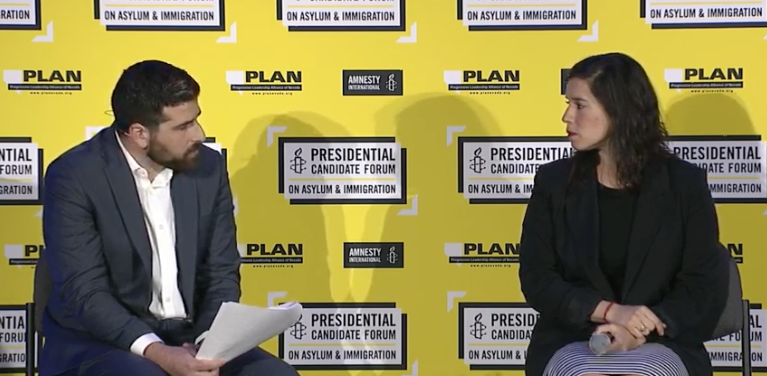 Former vice president Joe Biden wants to end the use of private companies for immigration detention facilities and the practice of separating families detained by officials, Cancela said.
Despite the practice being ramped up under the Obama administration, Cancela said Biden has heard the calls from activists and critics to find a better way.
"One of the things that the vice president talked about recently...was that he understood that it took long too long to get it right on immigration under the Obama administration," she said.
Cancela also said Biden was moved by the stories of asylum-seekers at the border, particularly the struggles of LGBTQ asylum seekers, like that relayed by an audience member Thursday of a trans woman who was sent back to El Salvador, where she was later killed.
The fight to protect the most vulnerable is a personal one for Biden, Cancela said.
"What Trump has done to vilify immigrants, to physically punish immigrants, is wrong," she said. "That should be the courage we use, the energy we use, to make sure he is not in office come next January."