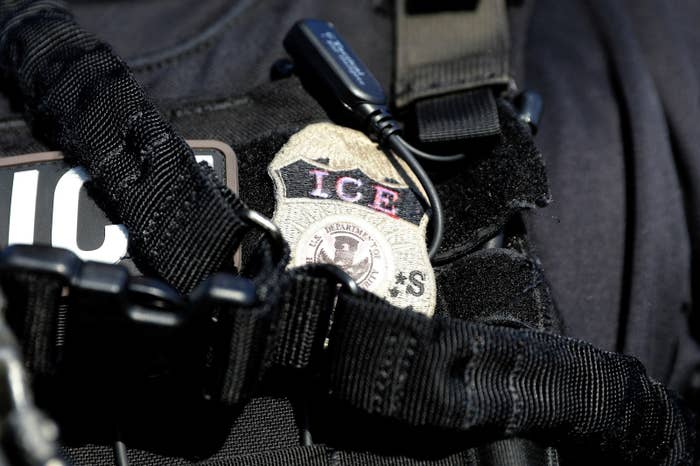 The former chief counsel for US Immigration and Customs Enforcement in Seattle pleaded guilty to stealing the identities of multiple immigrants, using their information to open up credit cards and loans in their names while their immigration cases were under review.
Raphael A. Sanchez, who oversaw ICE's immigration removal proceedings for immigrants across four states, used the agency's database to get immigrants' personal information, according to a statement released by the Department of Justice Thursday.

According to a plea agreement, Sanchez admitted to taking payments of more than $190,000 from the false accounts.

"Raphael Sanchez betrayed that solemn responsibility and abused his official position to prey upon aliens for his own personal gain," Acting Assistant Attorney General John P. Cronan said in a statement. "We should not let one bad actor detract from the dedicated work done by all ICE agents and attorneys to keep our neighborhoods safe, and ICE should be commended for quickly and fully investigating this matter and referring it to the Justice Department for prosecution."
According to an indictment filed this week, ICE's top attorney in its Seattle office allegedly devised a plan to steal the identities of seven immigrants over a four-year period while their cases were being processed by the federal immigration agency.

Sanchez pleaded guilty to one count of wire fraud and aggravated identity theft.

"Raphael Sanchez is a good person who has made serious mistakes in violation of the law," his attorney Casey Stamm told BuzzFeed News in a statement Thursday. "He has voluntarily surrendered to effectively begin serving his forthcoming sentence of imprisonment today. Mr. Sanchez looks forward to fully repaying all those affected by his crimes."
A Justice Department official told BuzzFeed News Sanchez resigned from the agency effective Monday, the same day the indictment against him was filed.
Sanchez used the identifying information of the seven immigrants to "defraud financial institutions" including American Express, Bank of America, Capital One, Citibank, Discover, and JPMorgan Chase, according to the charging document. He also allegedly used his official ICE email address to forward personal information of one of the victims, including an energy bill, a US residence card, and copy of a Chinese passport.

Sanchez allegedly used his work computer to forge identifying documents, including social security cards and driver licenses.

According to the Department of Justice, Sanchez also listed three immigrants as dependents in his tax returns in 2014, 2015, and 2016.
A spokeswoman with ICE's Seattle office referred all questions about the indictment and Sanchez's employment with the agency to the Department of Justice. According to the complaint, the case was spearheaded by the DOJ's Public Integrity Section in Washington, DC, which oversees corruption cases involving public officials.

As chief counsel, Sanchez lead one of 26 ICE offices across the nation overseeing removal proceedings in Alaska, Idaho, Oregon and Washington.
"While I am appalled by these egregious, independent acts of criminal misconduct by Mr. Sanchez, I am grateful to the men and women of ICE who do their job with the utmost professionalism every day," ICE Deputy Director Thomas Homan said in a statement.

Sanchez is scheduled to be sentenced on May 11.