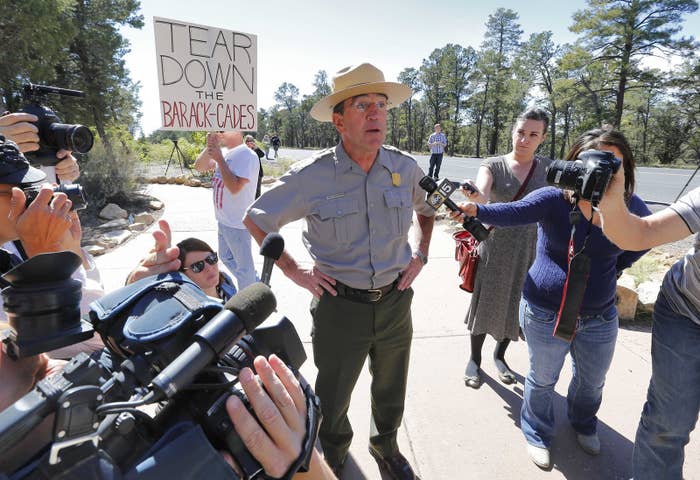 The superintendent of the Grand Canyon National Park will step down in June after a scathing report found female employees faced a sexually hostile environment, discrimination, and retaliation at the park for years.
When Superintendent Dave Uberuaga was handed the results of the investigation, the Office of Inspector General found that the 31-year veteran of the National Park Service didn't share it with human resources or managers to discipline those accused of wrongdoing.
On Monday, Uberuaga announced he would be retiring from his post in June.
A statement from the National Park Service noted Uberuaga's "dedication to the agency" and his post at the Grand Canyon National Park "does not come without controversy."
An email from Uberuaga obtained by the High Country News stated his decision came after he met with the National Park Service Director Jon Jarvis to discuss the report, who told him the park needed "a change in leadership."

The Office of Inspector General for the Department of the Interior found many of the sexual harassment incidents reported by former and current employees happened during regular river trips that can take several weeks each, during which the park employees take samples or work to eradicate evasive species.
The incidents date back to the early 2000's, investigators found, and included repeated unwanted propositions for sex, inappropriate touching, and threats.
One employee reported that co-worker who operated the boats took a picture under her dress during a trip in 2005.
Another said she was threatened by another boatman with an axe. Another said the boatman repeatedly touched her back and butt, and belittled her on the job.
Eight of 19 employees who spoke to investigators said the boatmen "would behave in a hostile manner" if their sexual advances were declined, such as taking them to a different site, or refusing to transport them to where they needed to work.
What's more, investigators found that Uberuaga was aware of the sexual harassment.
Though he and other managers tried to address it by updating procedures, requiring briefings, and requesting an investigation, officials found no discipline was handed out to those who were found to have harassed fellow employees.

Sexual harassment on the river trips, the OIG found, continued.