Friends Remember California Student Killed In Paris Attacks
Hundreds gathered at Cal State Long Beach Sunday to remember Nohemi Gonzalez, a California student and the only known American killed during the Paris attacks.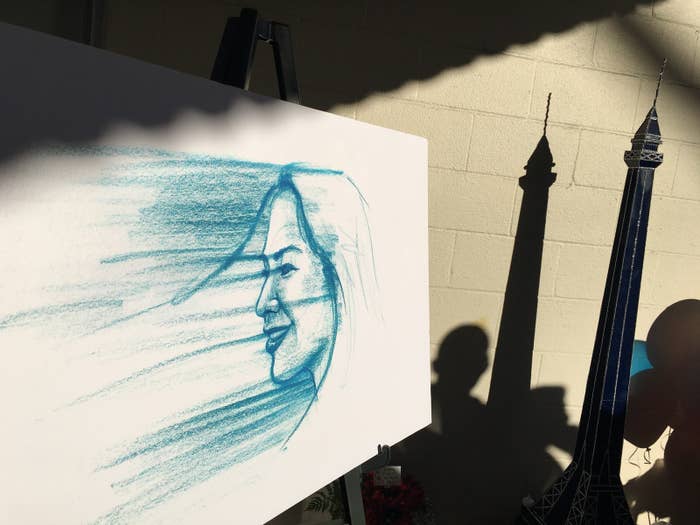 LONG BEACH, CALIFORNIA — She was the first one to walk into Cal State Long Beach workshops in the mornings, the last one to walk out at night, and it was that determined energy that took 23-year-old Nohemi Gonzalez to Paris.
The City of Light was the perfect environment for the California student, friends and classmates said. But it was in the French city known for fostering young artistic minds that Gonzalez was killed — the only known U.S. casualty in the devastating Paris attacks that have killed 129 and injured 352 so far.
On Sunday, hundreds gathered in Cal State Long Beach to pay homage to their friend and classmate, a senior industrial design student who was known as a hard worker and kind friend.
"She was the one that was here all the time," Britt Griffith, a part-time lecturer at Cal State Long Beach, told BuzzFeed News. "Everyone knew her."
Gonzalez was a teaching assistant for his course, a required class for design students. She was energetic, hard working and determined to keep the shop neat and safe, he said.
But she also ran a tight ship there, even more so than he, Griffith said.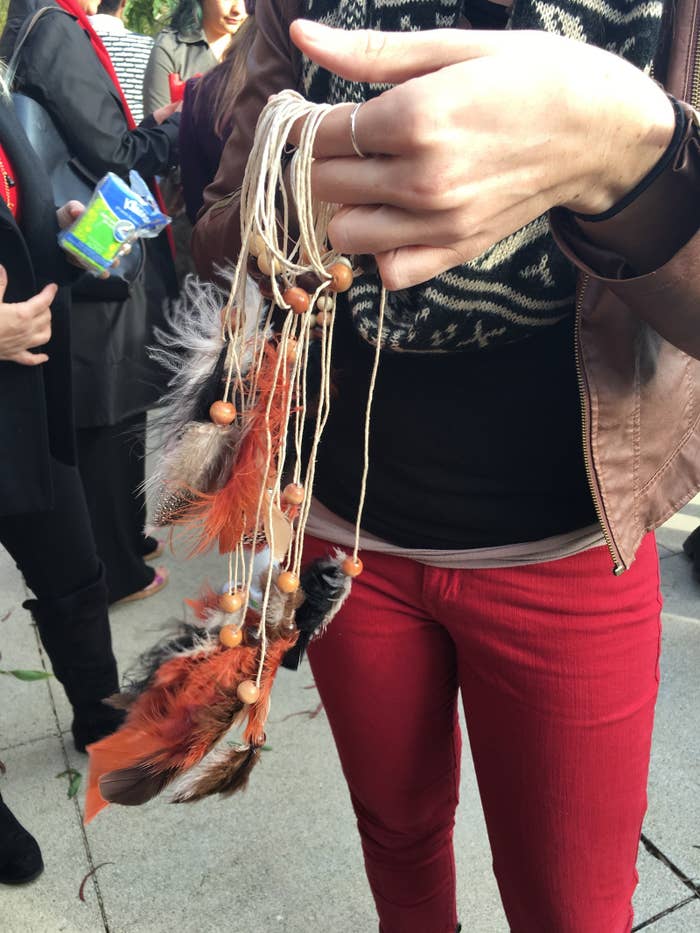 "She'd yell at you if you didn't clean up your station, but she was also the first one to help you if you needed help," said Alex Schumacher, a senior at the university and one of Gonzalez's classmates.
Before the university's candlelight vigil, students of the design department met outside of the design building, where many said Nohemi Gonzalez spent countless hours honing her craft.
Students passed strings with a bead and feather to wrap around their arms to remember their friend — similar to the tattoo Gonzalez had on her left arm.
The vigil was attended not just by students, but local officials, a representative from the French consul and international media. The ceremony began as a choir performed "Sing Me To Heaven" and included a reading of a poem written by U.S. Poet Laureate Juan Felipe Herrera that morning for Gonzalez.
Though a somber mood, many of the people in attendance tried to remember happier times spent with her.
"She was my Pocahontas, you know," Tim Mraz, her boyfriend said, referring to her by her nickname. "She always said I was her John Smith.
Although there are more than 37,000 students enrolled in the state university, the design department is a relatively small, close-knit group that graduates about two dozen students a year.
Which meant most students there probably met Gonzalez at some point.
She was one of four Cal State Long Beach Students studying abroad at the Strate School of Design in Paris and was at La Belle Equipe when a gunman fired into the crowd.
"Nohemi's senseless murder is our worst nightmare," said Cal State Long Beach President Jane Close Conoley during the vigil, calling the terrorist attacks, "an assault on our hearts."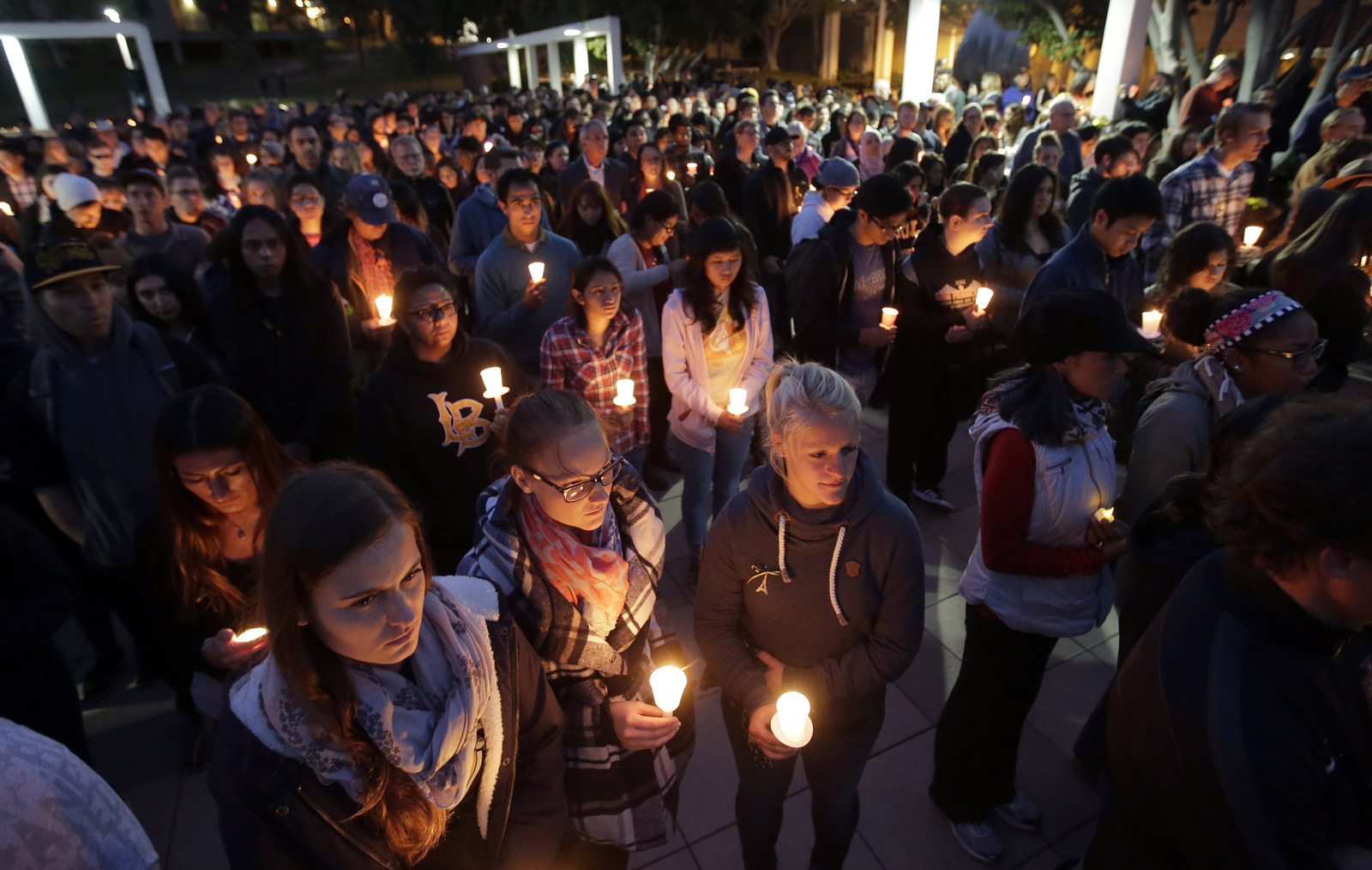 Martin Herman, chairman of the design department, said Gonzalez was confident and positive, someone who could change the mood of a classroom by the "sheer virtue of her presence."

He recalled a class trip where Gonzalez began talking to classmates about their future and creativity, and it was around then she had decided to study abroad.
She was at the time, he said, excited about new opportunities and exploring her creativity.
"What I saw coming from her through her eyes, if there's a way to describe it, it was an openness of wonder," Herman said. "She was so excited to be in Paris."
One of her friends, posted a picture of the two during the trip and wrote he was devastated over the "unspeakable, horrible thing that happened last night."

"I lost one of my good friends and I'm still trying to process this all, but it's just too much to take," wrote Niran Jayasiri. "I can't even begin to think what your family is going through now. You were one of the most down to earth, cheerful, bubbly, helpful and honest people I knew. I'm grateful that you were my classmate and a true friend. We had some truly great experiences in the past few years."
"I hope heaven has unlimited supply of baby pugs for you," he wrote.
Others recalled their time with Gonzalez, how she was strict but positive. How she was rarely angry, unless she was hungry. She loved ketchup.
Rosi Gonzalez, Nohemi's aunt, looked around the ballroom where students and faculty gathered. Hundreds filled the room, standing shoulder to shoulder.

Several of them wiped away tears and laughed at the same time.
"I can't believe it," she said, taking in the size of the crowd and the number of friends with stories of her niece. "So many kids, my God. This is wonderful."