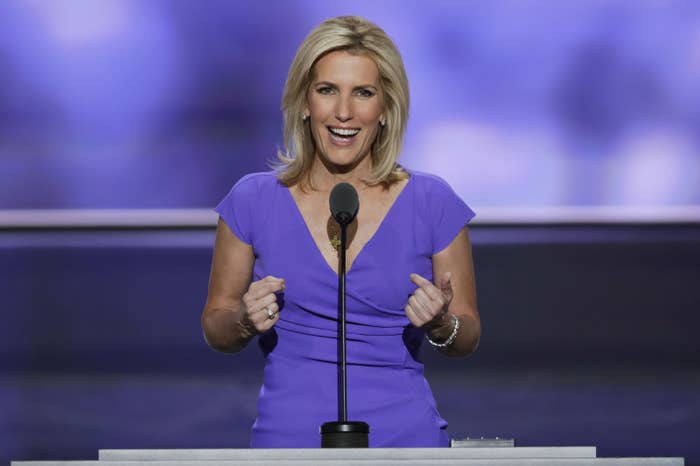 Fox News is defending conservative commentator Laura Ingraham after she ridiculed a Parkland shooting survivor in a tweet, sparking an online boycott campaign that caused more than a dozen companies to end support of her show.
In a statement, the co-president of Fox News called the campaign against Ingraham an "agenda-driven intimidation" effort.
"We cannot and will not allow voices to be censored by agenda-driven intimidation efforts," Jack Abernethy, co-president of Fox News said in a statement to BuzzFeed News. "We look forward to having Laura Ingraham back hosting her program next Monday when she returns from spring vacation with her children."
The statement comes five days after Ingraham tweeted that David Hogg, one of the most visible and recognizable survivors of the Marjory Stoneman Douglas High School mass shooting, "whined" about not being accepted to four colleges he applied for.
Later that day, Hogg published a list of companies that advertise on Laura Ingraham's Fox show, The Ingraham Angle, prompting more than a dozen companies to stop running ads on the show, including Jenny Craig, Honda, Office Depot, Miracle Ear, Hulu, Bayer, and others.
Ingraham ended up apologizing Thursday to Hogg in a tweet after several companies had already pulled their ads, saying, "Any student should be proud of a 4.2 GPA," and adding he was welcome to come back to her show.

Hogg responded by calling the apology "an effort to save your advertisers."
Fox News executives at the time declined to comment on the boycott campaign, and a spokeswoman for the network instead pointed to Ingraham's apology on Twitter.
Then on Friday, Ingraham announced at the end of her show she would be taking a week off "for Easter break with my kids."
Ingraham did not address the controversy during her show Friday before going off the air, but on Monday tweeted out a story citing Abernethy's statement backing her during the dispute.