Suspect Arrested In Connection To Fire At Southern California Mosque
The acting imam of the mosque said the mosque was "fire-bombed" Friday afternoon. No injuries were reported, but the FBI is investigating.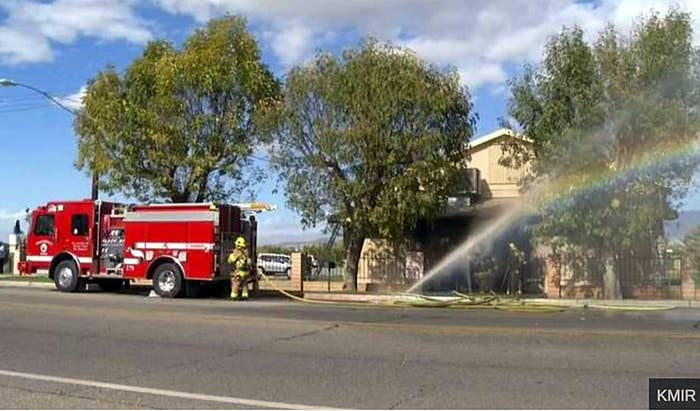 A suspect has been arrested and booked with five felonies in connection to a fire Friday afternoon at a mosque in Southern California, officials said.
Authorities arrested 23-year-old Carl James Dial Jr., of Palm Desert, according to the Riverside County Sheriff's Department.
Charges against Dial, who was arrested Friday night, include commission of a hate crime, arson, maliciously setting a fire, and second-degree burglary, according to his booking record.
Officials told BuzzFeed News that FBI and ATF agents are investigating the arson along with investigators from the Riverside County Sheriff's Department. They believe the fire was intentionally set.
No injuries were reported in Friday's blaze, but FBI officials told BuzzFeed News that agents assist in such investigations when there is a concern that a house of worship might have been targeted.
The fire was sparked just after noon at Masjid Ibrahim, also known as the Islamic Society of Coachella Valley. It was contained to the lobby of the building, according to Cal Fire officials.
The flames were extinguished within 40 minutes, but the mosque suffered smoke damage throughout the building.
FBI spokeswoman Laura Eimiller said agents were assisting in the investigation, which is currently being led by the Riverside County Sheriff's Department.
"We are using all available resources to follow up on any leads that are brought to our attention," sheriff officials said in a statement.
Reymundo Nour, the mosque's acting imam, told the Associated Press that people there heard a loud boom before flames were seen in the building. He was not at the mosque when the fire broke out.
He said the mosque had been "fire-bombed."
Cal Fire officials earlier told BuzzFeed News an official cause of the fire had not yet been determined, but the Riverside County sheriff said it "believes this is an intentional act."
The fire was sparked as concerns spread of anti-Islamic sentiment after the deadly terrorist attack in San Bernardino, California, where 14 people were killed.
On Thursday, offices for the Council on American-Islamic Relations in Washington, D.C., and Santa Clara, California, were evacuated after letters containing a suspicious white powder were discovered.
The Coachella Valley mosque that caught fire Friday has also been targeted in the past. Last year, someone fired a gun at the building before dawn.