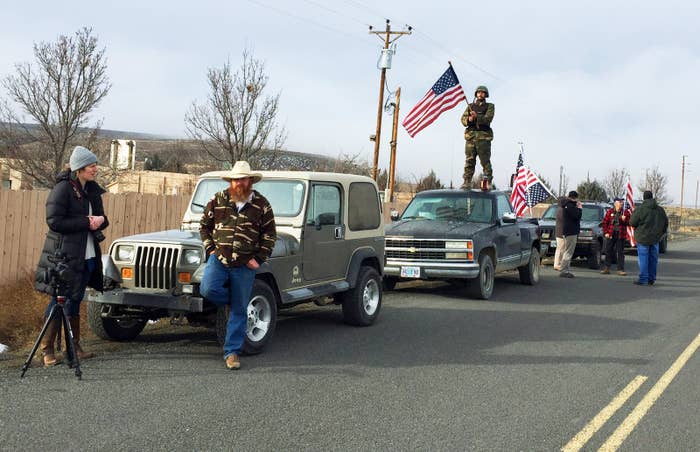 The four remaining occupiers at the federal wildlife refuge in Oregon surrendered on Thursday after hours of negotiations, the FBI announced, officially ending the 40-day long protest — but not without some tense moments until the very end.
Occupiers Jeff Wayne Banta, Sandy Anderson, and her husband, Sean Anderson, face a federal felony count of conspiracy after they surrendered together Thursday morning, following negotiations with the FBI.
David Fry was the last to turn himself in, and remained holed up at the refuge for several hours — refusing to leave and threatening suicide. His conversation with supporters of the Oregon occupation, Gavin Seim and KrisAnne Hall, was broadcast via livestream on Seim's YouTube channel.
Fry spent over an hour talking to Seim and Hall — as well as members of the FBI surrounding the refuge, Christian evangelist Franklin Graham, and Nevada Assemblywoman Michele Fiore, who traveled to Oregon to help encourage the four holdouts to surrender.
Fry attempted to negotiate protection from arrest, expressing concerns that they would shoot him before he had the chance to surrender.
"I declare war against federal government," Fry said. "There's no way to beat this anymore. Liberty or death."

Fry was lying on his bed in the compound staring at the ceiling, he said, throughout most of the conversation with Hall and Seim. He alternated between impassioned declarations of anger at the U.S. government and citizens, and personal fears and anxieties over the potential outcomes of his actions.

"If I go to prison I'll probably be raped," Fry said to the moderators.
"People in prison like patriots," they responded. Hall and Seim repeatedly attempted to lead Fry in prayer.
At one point, Fry said that he had a gun to his head and was strongly considering pulling the trigger.
The entire dramatic exchange was broadcast live on YouTube to more than 60,000 listeners, including FBI negotiators and agents who were trying to bring Fry out.
"We were very aware of it," Greg Bretzing, FBI Special Agent In Charge of the Portland office said during a press conference Thursday. "Most people in the United States were aware of it."
Fry told Hall and Seim he felt his life was over and that his message would be better heard if he were dead. Fry often compared himself to Jesus Christ throughout the conversation, saying that Jesus died for his cause.

"Jesus wouldn't kill himself," Seim responded.
Toward the end of negotiations, Fry could be heard talking to authorities waiting outside of the refuge.
"I'm tired everybody," Fry said. "I don't care about the movement anymore I'm doing this for me."

"If everybody says hallelujah, I'll come out," Fry said at around 2 p.m. ET. He then told Hall and Seim that he was having one last cigarette as he walked slowly out of the refuge.
Just before Fry's phone cut off from the live stream, a number of voices could be heard yelling "Hallelujah." Once he hung up, Hall began to sob.
As the 41-day-long armed occupation came to an end, the U.S. Attorney's office in Oregon announced nine additional people were facing federal charges in the case.
The indictment meant a total of 25 people involved with the occupation have been charged in the case.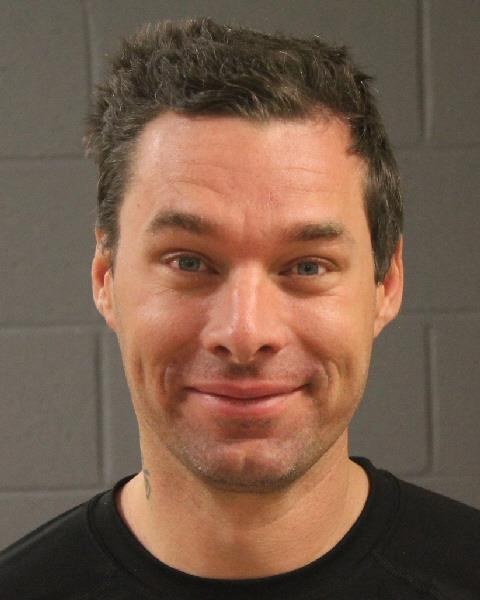 All defendants are facing a felony count of conspiracy to impede U.S. officers from discharging their duties through the use of force, according to a statement released by the U.S. Attorney's office.
Blaine Cooper, another one of the armed occupiers who took over the refuge back in Jan. 2 was also arrested in Utah.
According to Washington County Sheriff's office arrest records, the Humboldt, Arizona, resident was taken into custody on a federal warrant Thursday morning.
Wesley Kjar, of Utah, Corey Lequieu, of Nevada, Neil Wampler, of California, Jason Charles Blomgren, of North Carolina, Darryl William Thorn, of Washington, and Eric Lee Flores of Washington were also named in the indictment.
Two additional defendants remain at large, the U.S. Attorney's office in Oregon said.
The FBI would now start processing the area as a crime scene, Bretzing said during a Thursday press conference, including looking for possible traps left behind by the occupiers and evidence for their criminal cases.
Officials would also be searching the area for any possible damages caused to Native American burial sites in the refuge and artifacts, he said.
Bretzing stressed that the FBI's investigation of the occupation was still ongoing, and would take several weeks before they would be able to return the refuge back to the U.S. Department of Fish and Wildlife.
"We'll do everything we can to return the refuge back to the citizens of this county and all the people that work there, and all the people that come to visit the refuge," Bretzing said.
He also tried to allay fears that the FBI would prosecute local citizens who supported or provided support to the occupiers, saying agents were "not looking into that kind of activity."
"What we are concerned about is those who traveled here with violent and criminal intent," he said.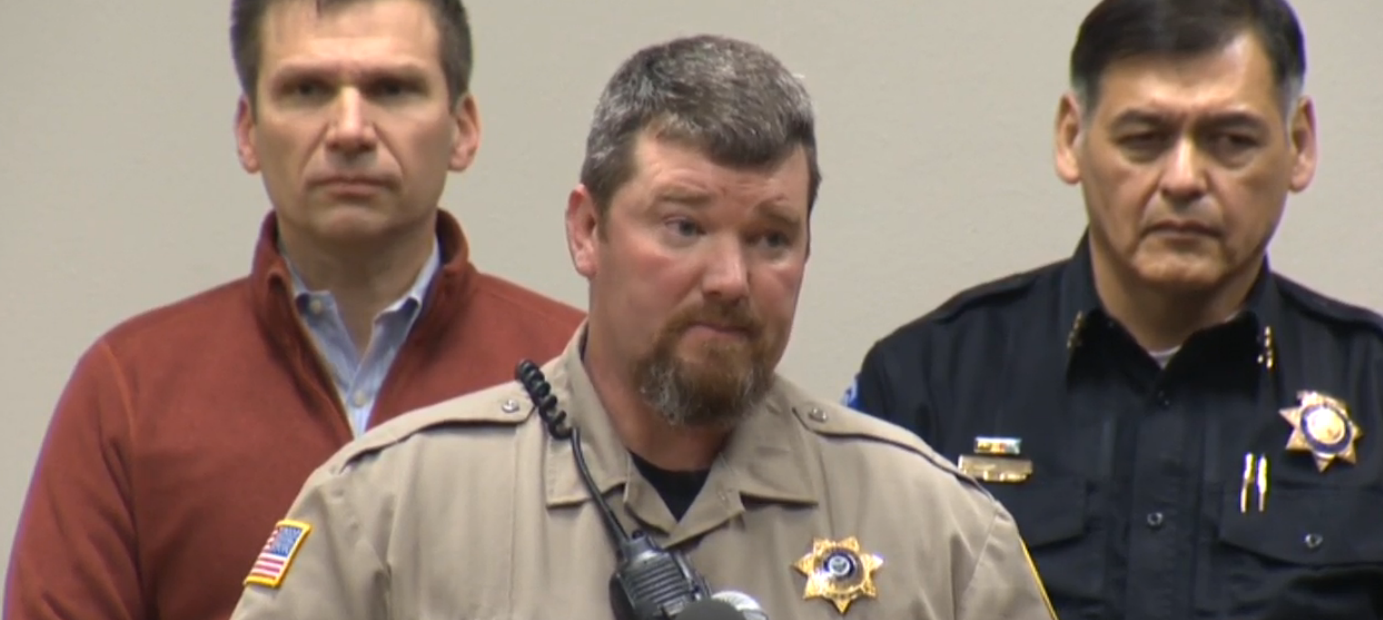 Harney County Sheriff Dave Ward asked residents to come together now that the occupation was over, and look past the divisions that were created since the entire episode began.
"We can't continue to go on tearing each other apart, hating each other because of differences of opinion," Ward said in an emotional address, noting that division in the community had run deep between neighbors and families. "There's no way we're going to fix this country if we're just mad at each other."
U.S. Department of Fish and Wildlife officials said statement they were relieved the occupation had finally come to a close.
Earlier, FBI agents had been surrounding the four remaining occupiers at the federal wildlife refuge in Oregon since Wednesday, increasing tensions as Fiore raced to the scene to act as a negotiator.
Earlier on Thursday, on Seim's livestream, Fiore — who has expressed support for the occupiers — could be heard telling the four holdouts that she was en route to the refuge from Portland and would arrive around 1 a.m. Both Fiore and one of the militants also discussed meeting with the FBI Thursday morning, and "turning themselves in" around 8 a.m.

Fiore also prayed with the occupiers, urged them to stay calm, and said she would negotiate with law enforcement.
In an unexpected development, Nevada rancher Cliven Bundy — who is the father of Oregon militia leader Ammon Bundy — also was arrested Wednesday night at the Portland airport. The arrest came hours after the Bundy family posted a message to its Facebook page saying Cliven was headed to Burns, Oregon.

On Thursday afternoon, in the midst of negotiations with Fry, Bundy was charged with assault by federal prosecutors in Las Vegas.
Authorities did not immediately say why Bundy was arrested, but Oregonian journalist Les Zaitz reported that it was over conspiracy charges stemming from his own 2014 standoff with federal officials in Nevada.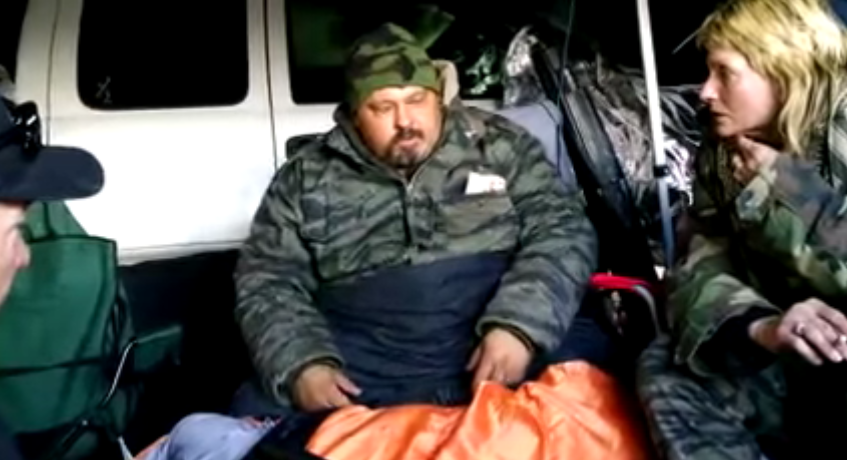 The FBI earlier said in a statement its agents had surrounded the four remaining occupiers.

"We reached a point where it became necessary to take action in a way that best ensured the safety of those on the refuge, the law enforcement officers who are on scene, and the people of Harney County who live and work in this area," Special Agent in Cahrge of the FBI in Oregon Greg Bretzing said.
One of the occupiers allegedly rode an ATV outside the barricades set up by the FBI surrounding the refuge, but drove away before agents were able to approach him.
Agents placed barricades ahead and behind the area where the four people last holdouts camped, the FBI said.
In the live audio stream Wednesday evening, the occupiers could be heard shouting to the agents that had surrounded them, saying at one point that they were armed but wouldn't fire first.
"You guys killed LaVoy," Fry could be heard yelling, referring to the deadly shooting of occupier Robert LaVoy Finicum. "You let Obama bring terrorists into this country. You continue to let Hillary run for president."
At another point, it seemed Fry was on the phone with an FBI negotiator, but the four continued to say they would not surrender.
"They don't want a peaceful resolution. They want to kill us," a woman who identified herself as Sandy Anderson said. "I'm not going to jail for standing up for my rights."
Fiore continued talking to the occupiers after she arrived in Portland and began the five hour drive to the refuge, telling them she would walk them out of the refuge.
"I'm here, and I will not leave you in a prison cell," she told them.
When an agent asked them to walk out without their weapons, they said they would not.
"Not without our weapons," Sandy Anderson said. "We're not leaving without our weapons."
The occupation began on Jan. 2, when Cliven Bundy's son, Ammon Bundy, and several other people headed to the rural community to protest the arrest of two local ranchers.
Some of the protesters then headed to the refuge, where they demanded federal lands be turned over to local ranchers.
On Jan. 26, authorities arrested the leaders of the occupation, and killed Robert LaVoy Finicum after he sped away as authorities tried to pull over his truck.
FBI officials said Finicum was reaching for his left side, where he had a 9 mm handgun, when he was shot by an Oregon State Police officer.
Sixteen people involved in the occupation have so far been indicted by a grand jury on federal charges.