FBI Director Calls Out "Unconscious Biases" Among Police Officers
FBI Director James B. Comey delivered a blunt speech on race and the justice system on Thursday, saying law enforcement authorities needed to address "hard truths" of unconscious biases, cynicism, and "lazy shortcuts." He even quoted from Avenue Q.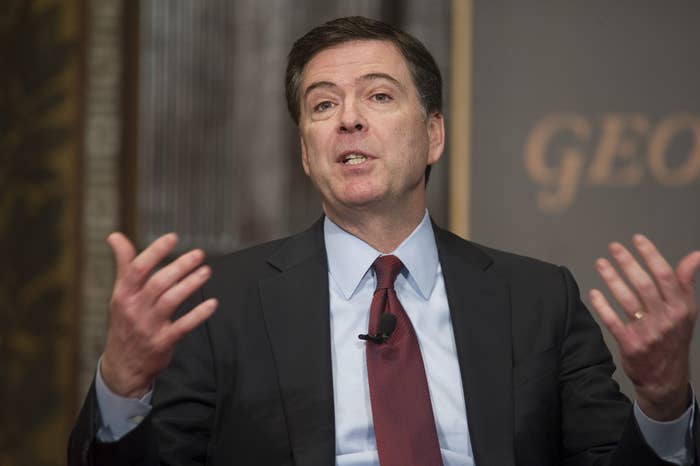 FBI Director James Comey said Thursday that "unconscious biases" and "lazy shortcuts" have helped drive a gap between law enforcement and the communities they serve around the nation.
He also said it was "ridiculous" that there is not comprehensive data collection of the number of people killed by police officers every year.
Although the topic of race, police, and law enforcement's use of force has been addressed previously by Attorney General Eric Holder and President Obama, Comey's speech at Georgetown University was the first time a director with the FBI has publicly addressed these issues.
"With the death of Michael Brown in Ferguson, the death of Eric Garner in Staten Island and the angry protests around the country, and the assassination of NYPD officers Wenjian Liu and Rafael Ramos, we are at a crossroads," he said.
Comey noted the disconnect between some minority communities and law enforcement authorities, while still urging people to understand the "frightening and difficult work" that police do "to keep us safe."
He urged for a national conversation to bridge the gap between communities of color and law enforcement to address "hard truths."
Appointed to lead the FBI in 2013, the director even quoted a song from the musical Avenue Q – "Everyone's a Little Bit Racist" – to point out that biases in the public and within law enforcement must be confronted.
"Look around and you will find no one is really color-blind. Maybe it's a fact we all should face: Everyone makes judgements based on race," the director quoted.
"You should be grateful I did not try to sing that," he quipped.
Comey's comments follow the killings of Eric Garner in July and Michael Brown in August. Both men were unarmed, and the decisions by two grand juries not to indict the officers involved sparked protests throughout the country.
"All of us in law enforcement must be honest enough to acknowledge that much of our history is not pretty," he said.
Communities had a right "to protest peacefully and convey frustration and even anger in a constructive way," he said.
The lack of comprehensive national information on the number of people killed by law enforcement helped spur the frustration of communities, he said, and pushed ideological arguments instead of an informed debate.
"You could tell me how many people, the absolute number, bought a book on Amazon," he said. "It's ridiculous I can't tell you how many people were shot by police in this country last week, last year, the last decade. It's ridiculous."
Some law enforcement agencies provide data on justifiable homicides, but the information is voluntary, is not provided by all departments, and is not detailed and accurate.
"I wanted to see trends, I wanted to see information" on African-Americans shot by police, Comey said.
"They coudn't give it to me," he said. "The first step to understanding what's happening in our communities and in our country is to gather better data."
Comey also addressed the topic of police militarization, arguing that "we in law enforcement need this stuff, unfortunately."
However, law enforcement agencies needed better training in how and when to use the equipment, he said.
Using tanks during peaceful demonstrations, or using a rifle's scope to look into a crowd, he said, "That's where it breaks down."