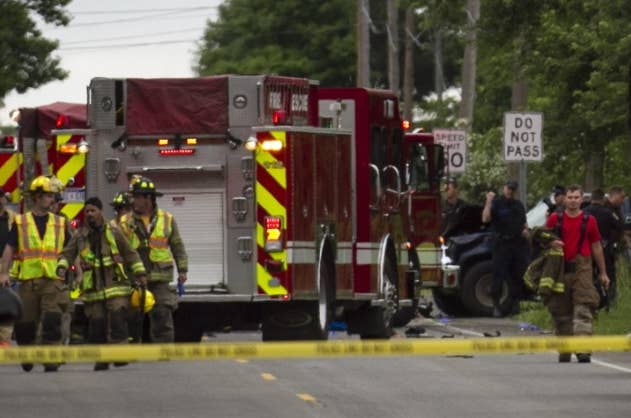 A 50-year-old was charged Thursday with five counts of second-degree murder in connection with the deadly crash that left five cyclists dead and four others seriously injured in Kalamazoo, Michigan.
Charles Edward Pickett Jr., of Battle Creek, is also facing four counts of reckless driving causing serious impairment after allegedly plowing into the cycling group along the road.
On Friday, Pickett appeared for the first time in court via video conference for an arraignment hearing and ordered by the judge to be held without bond.
Though he was formally charged Thursday, Pickett was unable to appear in court until Friday because of a "medical condition," officials said.
Pickett's blue truck was found on the side of the road, rendered immobile after it hit multiple people. He was found and taken into custody a short distance away from the crash.
"The investigation is not over and the police will continue to gather information on what led up to the crash," Kalamazoo Prosecuting Attorney Jeff Getting said in a statement to BuzzFeed News.
The five cyclists killed have been identified as Debra Ann Bradley, 53; Melissa Ann Fevig-Hughes, 42; and Suzanne Joan Sippel, 56, all of Augusta; as well as Fred Nelson, 73, and Larry John Paulik, 74, both of Kalamazoo.
Douglas Gobble, 47, Sheila Diane Jeske, 53, and Paul Lewis Runnels, 65 — all of Richland — and Jennifer Lynn Johnson, 40, of Kalamazoo, also suffered serious injuries.

Authorities said they received at least three calls from people who witnesses the blue pickup truck driving erratically before the crash occurred. However, authorities were unable to locate the truck before the crash.
Prosecutors would not state whether Pickett is suspected of being intoxicated at the time of the crash, but said they are looking into where he was before the crash.
Getting also said Michigan State Police are analyzing "evidence that was seized from him."
In similar fatal car crashes, it is common for investigators to seize blood to determine whether a suspect is under the influence of alcohol or drugs, he said during the press conference.
"As members of the Kalamazoo community we have all been dealt a devastating blow by the deaths and injuries of so many innocent people," Getting said. "Our hearts are saddened for the victims, their families and friends who are trying to cope with this tragedy.
Pickett could face up to life in prison if convicted of any of the five second-degree murder charges, Getting said.