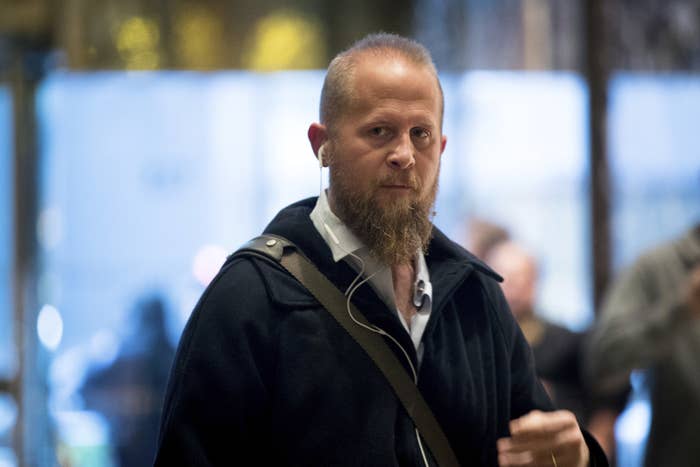 This never happened to Karl Rove.
Brad Parscale, the man who was recently given the reins to President Donald Trump's 2020 re-election campaign, was handed a stinging and absolute defeat in a much smaller political arena Tuesday night, when the candidate he personally backed for Texas's 21st congressional seat finished sixth in a crowded Republican primary.

The candidate, Robert Stovall, has close ties to Parscale, whom he hired to design his campaign website when he ran for Bexar County tax assessor-collector in 2012. Stovall also recently appointed Parscale's father as vice chairman of the county's Republican Party, and his son has worked for Parscale's firm.

Parscale has rapidly ascended to larger and higher-profile jobs, working as the data and digital director for Trump's 2016 campaign and now as the president's campaign manager going into 2020. But he took an outsize interest in Stovall's 2018 bid, telling the San Antonio Express-News that it would "probably be the only race in the country that I will personally support."
That foray into local politics floundered miserably Tuesday, with Stovall ending up in sixth place in a crowded field of 18 Republican candidates, with just 4.8% of the vote. Parscale's father, who was also on the ballot Tuesday, was similarly defeated, taking third in the race for Bexar County Republican Party chairman.
Parscale, in a brief exchange Wednesday morning with BuzzFeed News, said he never ended up assisting Stovall's bid and that the extent of his work for his father's campaign was one robocall.
According to Federal Election Commission data, however, Parscale's firm, Parscale Digital, was paid $2,137.94 by Stovall's campaign on Jan. 12 for digital design and marketing services.
Stovall, a former chairman of Bexar County's Republican Party, was a staunch Trump supporter who, in a primary campaign ad, wore a distinctive white baseball cap with the president's signature "Make America Great Again" motto in gold lettering.

Standing in swamp water that reached above his knees, Stovall explained in the ad that he was running for Congress "to help President Trump get rid of the establishment politicians that have failed to support his agenda."
Although Parscale's firm, Parscale Strategy, is based in Florida — and though he was recently tasked with running what will undoubtedly be a difficult national campaign in 2020 — the race to replace Republican Rep. Lamar Smith in Texas's 21st congressional district, which includes San Antonio, hit close to home.
In the lead-up to Tuesday's vote, Trump's strategist had touted his personal ties to Stovall, whose wholesale flower business was an early client of Parscale's firm, and whose son has worked for the digital strategist. Local media had referred to Parscale as Stovall's "not-so-secret weapon" in the race.
"Robert's a friend and I've known him a long time," Parscale told the Express-News. "He was very supportive with me during the [Trump] campaign when I had things going a million miles an hour. I believe that he'll be a good candidate and a strong advocate for Trump's agenda."
"I have considerable data on that congressional district and have a pretty good road map of what it looks like," he told the paper. "It will be a big help to him to have the kind of data that I have, in understanding what the turnout model looks like there. I just have a pretty big arsenal, comparable to other people running down there."

But Trump's data guru, who only recently ascended to the national stage, was pitted against some political heavyweights in the district's GOP primary, including Rove, the political strategist behind George W. Bush's 2000 presidential win.
Rove had thrown his support behind Texas state Rep. Jason Isaac, who finished ahead of Stovall with 10% of the vote. And the eventual winner was Chip Roy, a former top aide to US Sen. Ted Cruz, one of Trump's own primary rivals in 2016. Roy, who finished Tuesday with 27% of the vote, will face businessman Matt McCall in a May 22 runoff.
Henry Gomez contributed to this report.
UPDATE
This story has been updated with comment Wednesday from Brad Parscale.