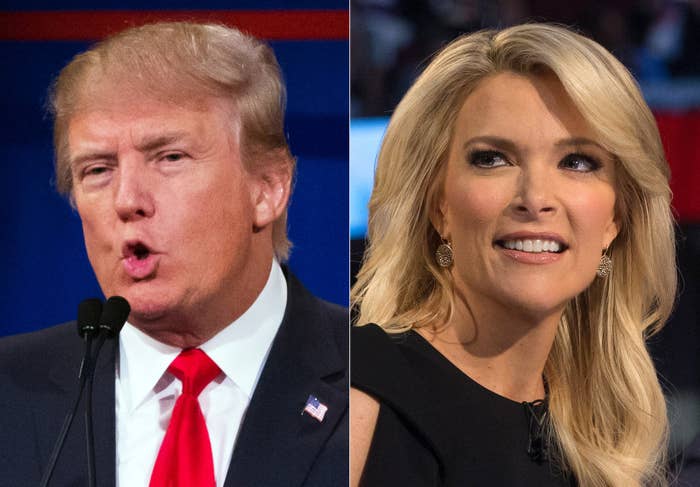 Donald Trump escalated his feud with Fox News host Megyn Kelly on Friday, calling for a boycott of her program and attacking the journalist as "sick" and "overrated."
Trump's call to boycott The Kelly File is just the latest in what has been a continuous squabble between the leading Republican presidential candidate and one of the most recognizable faces on cable news.
From early on in the presidential primaries, Trump has publicly clashed with and complained about Kelly almost as often as he has with his political rivals.
Fox News swiftly defended the anchor after Trump's attack.
In a statement, a spokesperson for the network said "his extreme, sick obsession with her is beneath the dignity of a presidential candidate who wants to occupy the highest office in the land."

"We're extremely proud of her phenomenal work and continue to fully support her throughout every day of Trump's endless barrage of crude and sexist verbal assaults."
The network pointed out The Kelly File held the second-highest ratings in cable news, and said it was "especially deplorable for her to be repeatedly abused just for doing her job."
Trump's statement came shortly after More Magazine published an interview with the journalist titled, "Megyn Kelly: The Bully Slayer."
In it, Kelly suggested her Fox News colleague Bill O'Reilly should have defended her more fiercely from statements Trump made about her on his show.
"I do wish that O'Reilly had defended me more in his interview with Trump," she said. "I would have defended him more."
The Trump campaign did not return a request for comment from BuzzFeed News.
The campaign, however, released a statement to Politico, calling Kelly "a highly overrated reported and anchor that constantly disparages Mr. Trump."
"Despite the fact he wants nothing to do with her and will not appear on her show due to her extremely biased reporting, much of the program is about him anyway," the statement read.
The Trump campaign also claimed the candidate has repeatedly declined to appear on debates and shows pitched by Fox News that Kelly was expected to host.
"Mr. Trump will continue to defend himself against the inordinate amount of unfair and inaccurate coverage he receives on her second-rate show every night," it said.
The ongoing dispute between Kelly and Trump has been ongoing since August, after the candidate claimed he was treated unfairly during a presidential debate.
Trump subsequently stated Kelly had "blood coming out of her eyes, blood coming out of her wherever."
On Twitter Trump has continued to call the Kelly "Crazy Megyn" and claim that she is "anti-Trump."
Kelly has ignored much of Trump's comments, but in August said:
"I certainly will not apologize for doing good journalism," she said. "So I'll continue doing my job without fear or favor. And Mr. Trump, I expect, will continue with what has been a successful campaign so far."