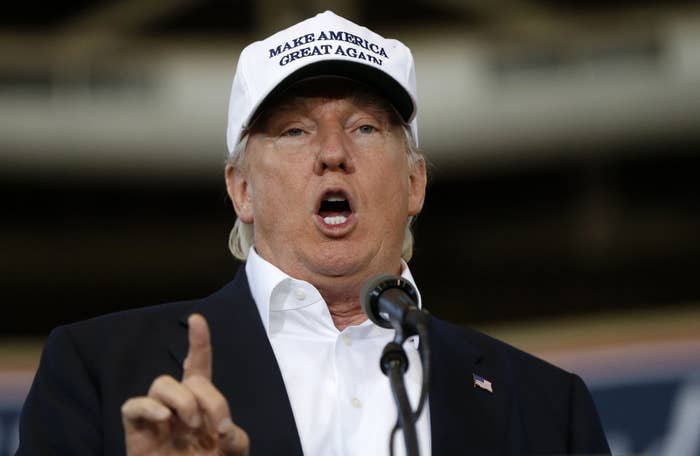 Donald Trump met with Mexican President Enrique Peña Nieto Wednesday in Mexico, a meeting that took place just hours before the Republican presidential nominee was expected to deliver an address on his immigration policy.
The two met for more than an hour behind closed doors, where they discussed trade, immigration, and security, but when it came to Trump's signature campaign stance about making Mexico pay for a wall, the Republican candidate said it wasn't broached.
"We didn't discuss who pays for the wall," Trump said. "We didn't discuss that."
Speaking after the hour-long meeting, the two stepped in front of reporters at the Mexican presidential residence of Los Pinos.
Peña Nieto said whoever wins the election on Nov. 8 would find a friend in their neighbor to the south, which he said was a relationship based on mutual respect between the two nations for several years.
The Mexican president, however, also noted points of disagreement between himself and stands taken by Trump during his campaign, including the North American Free Trade Agreement that Trump has repeatedly criticized during his campaign rallies.
Peña Nieto argued that the agreement has been beneficial to both countries.
And although the Mexican president did not directly mention previous statements by Trump calling Mexican immigrants rapists, drug dealers and criminals, Peña Nieto said some of the comments of his campaign have been hurtful.
"The Mexican people have been hurt by the comments that have been made," he said. "The Mexican people in the United States are honest, hardworking and people of good. They respect the law, and as such, they deserve to be respected.
Trump's tone during his statements were also much different than statement's he's made during his presidential bid.
"Mexicans are just beyond reproach," Trump said. "I have such great respect for them and their strong values of faith, family and community."
Trump said NAFTA has been more beneficial to Mexico than the US, and said immigration was a "humanitarian disaster" that the two countries should work together to address.
Peña Nieto sent out an invitation to both Trump and Hillary Clinton last week, the office of the Mexican president said. Trump began considering the offer as he faced increased scrutiny over contradicting statements about his immigration policy.
The Washington Post first reported the possible visit, citing sources in Mexico and the US. Mexico's government later confirmed Trump and Peña Nieto would meet privately.
Trump has made immigration a hallmark of his campaign, repeatedly stating he would build a wall along the US–Mexico border and make the Mexican government pay for it.
But Trump's comments have caught the ire of current and former Mexican officials, who have criticized him and said repeatedly Mexico will not be paying for the wall.
Peña Nieto himself has not criticized Trump, but has said "there is no way that Mexico can pay [for] a wall like that." The visit comes as the Mexican president faces an approval rating of just 23%, the lowest recorded since he took office in December 2012.

However, former President Vincente Fox said Trump was "not welcome" in Mexico.


Appearing on CNN Tuesday, Fox apologized for Peña Nieto's invitation.
"I really apologize for our president taking this step forward," Fox said, adding that Peña Nieto was taking an "enormous political risk" by hosting Trump and that he could be considered a "traitor."

"I think this is a big mistake on the part of President Peña," Fox said.

The former president also got in to a Twitter spat with Trump after the Republican nominee said Fox invited him to Mexico after apologizing for using "the f bomb."
Responding to Trump, Fox said he was lying and that he invited him to apologize to all Mexicans.
Even as Fox and former First Lady Margarita Zavala de Calderon expressed displeasure at Trump's visit, only a handful of anti-Trump protesters showed up at a demonstration in Mexico City on Tuesday.
"He's visiting?!" Anna, a 22-year-old tourist from Germany who passed by the protest, asked BuzzFeed News. "He's got nerves."
Trump has talked on the campaign trail about creating a deportation force and has repeatedly tried to link crime rates with illegal immigration from Mexico.

But in recent days, Trump indicated to Latino leaders that he would be open to the legalization of immigrants.
During a recent interview on Fox News, the candidate said he would be open to "softening" his position on deportation.
Days later, however, Trump and his campaign appeared to backtrack. He and surrogates of his campaign stated his immigration policy remained the same, but offered no specifics about his previous comments about a "deportation force" or what he would do with approximately 11 million undocumented immigrants in the US.
Clinton released a statement on the visit Tuesday night, recalling instances in which Trump has threatened to deport immigrants.
"From the first day of his campaign, Donald Trump has painted Mexicans as 'rapists' and criminals and has promised to deport 16 million people, including children and US citizens. He has said we should force Mexico to pay for his giant border wall. He has said we should ban remittances to families in Mexico if Mexico doesn't pay up," the statement read.
"What ultimately matters is what Donald Trump says to voters in Arizona, not Mexico, and whether he remains committed to the splitting up of families and deportation of millions," the statement concluded.