Diamond and Silk, the pro-Trump personalities who have gained a massive online following, claimed last week they were being censored by Facebook and that the social media giant had deemed their page "unsafe to the community."
The pair pushed back, appearing on multiple TV programs, particularly on Fox News, and claimed conservative voices were being censored on social media. Their Facebook pages had not been taken down, they said, but the platform's algorithms were affecting how many people saw their posts.
Diamond and Silk said that they hadn't spoken to anyone at Facebook about the issue, telling Fox News on Wednesday night that they were still being censored and that Facebook did not reach out to them.
After the interview Wednesday night, Facebook posted screenshots showing a message the company had left on the pair's Facebook page Tuesday in an attempt to remedy the situation, as well as phone calls and emails it made in the days after the duo claimed they had been censored.
Facebook admits it made a mistake in how it initially communicated with Diamond and Silk and in deeming their page "unsafe," a spokesperson told BuzzFeed News, but the company has been attempting to get in touch with the pair since Monday via phone, email, voicemail, Facebook, and Twitter to resolve the situation.
Conservative commentator Erick Erickson obtained copies of two emails Facebook sent to Diamond and Silk that were dated Monday and sent to the private email addresses that the pair used to sign up for their Facebook accounts.
In the emails, the company apologizes for the "mishandled communication with you over the last six months" and states that Facebook was "eliminating the restrictions associated with your Page so that you can apply to monetize content."
"We are here to be a resource to you in the future should you have any questions on monetization or content-related issues," the email read.
In a second attempt, a Facebook employee forwarded that email to the public Diamond and Silk email account, with an added note that it had "previously sent the following email to the accounts you had on file."
Despite those attempts, the two have continued to criticize the social media network.
The two have said their posts on the social network were not getting the exposure they once enjoyed because of changes made to the site's algorithm, and claimed Facebook was censoring conservative voices.
Diamond and Silk gained a national following after they began appearing at Donald Trump's rallies during the 2016 election and, according to Federal Election Commission filings, were paid by the campaign for "field consulting" services.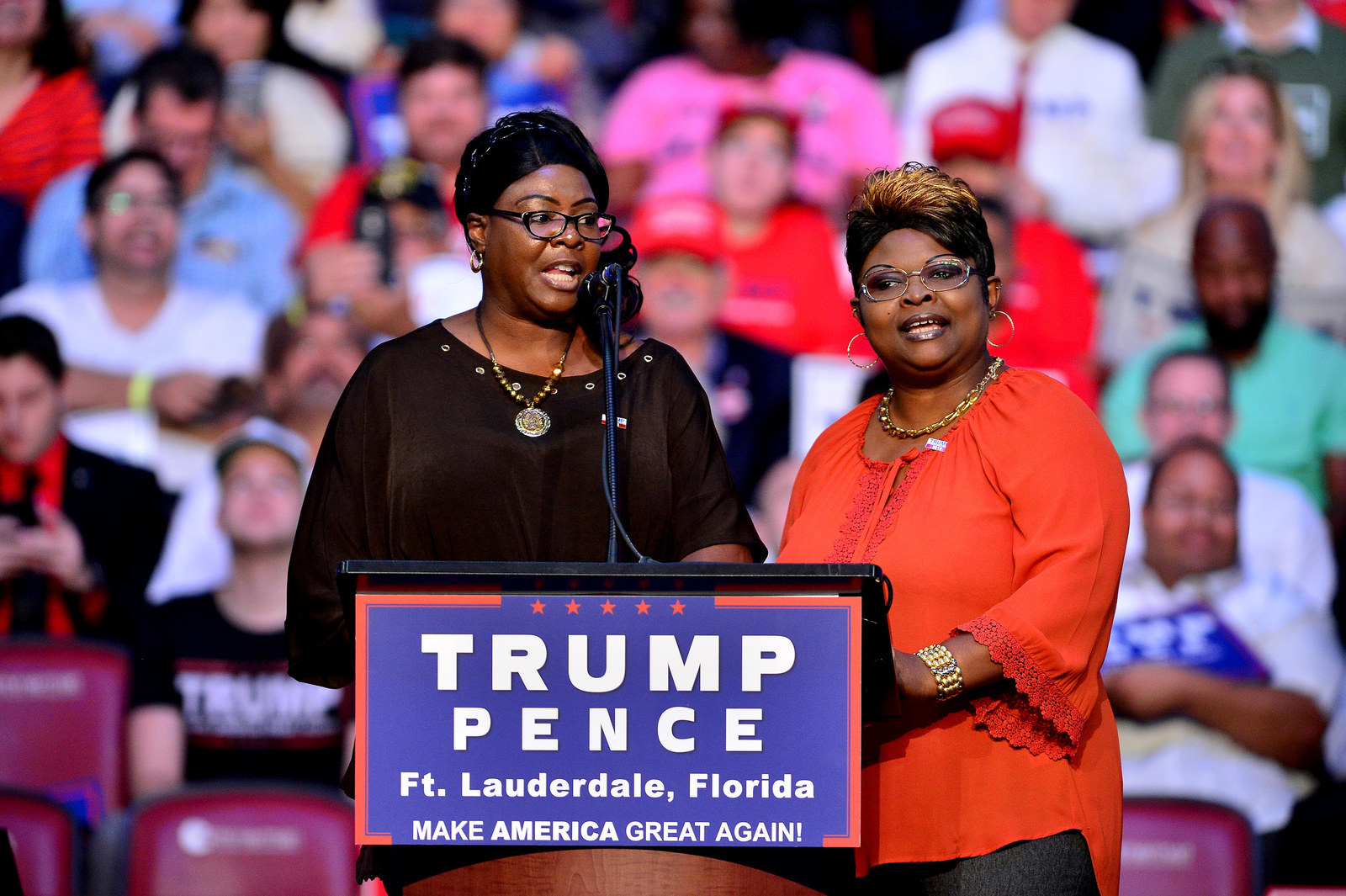 Their claim of censorship was enough to get members of Congress to question Facebook CEO Mark Zuckerberg about their page. During testimony, Zuckerberg said Facebook had made an "enforcement error" and had reached out to Diamond and Silk to reverse it.
But the two continued to say on social media, and in Fox News interviews Wednesday night, that they had not communicated with anyone at Facebook, and that they were still being censored on the platform.
On Wednesday night, however, Facebook responded to the conservative duo on Twitter and included a screenshot of a message it posted on Diamond and Silk's page Tuesday. That post stated that Facebook's earlier message deeming their page "unsafe" was incorrect, and also referenced an email that Facebook had sent the pair on Monday.
Facebook also tweeted a second message, pointing to a phone call and voicemail left on Tuesday — meaning the company had reached out to them three times during the week — in addition to the tweets.
Facebook even replied to a tweet from Fox News host Laura Ingraham, pointing out the company's efforts to reach Diamond and Silk.
A spokesperson for Facebook told BuzzFeed News the tweets were an earnest effort to get in contact with Diamond and Silk after the company saw that the two commentators had apparently not seen the Facebook post, email, phone call, or voicemail that were made throughout the week.
The earlier message that had declared their posts "unsafe," the spokesperson said, had been a mistake. Diamond and Silk had been in contact with Facebook reps asking about monetization changes made to public pages — mainly how and what posts can make money — back in September 2017.
The spokesperson said the wrong "team" handled the inquiries and gave the commentators incorrect information. The site also did not effectively communicate the changes to Diamond and Silk and other page administrators.
Diamond and Silk's Facebook page was also affected by other changes made to the platform, including an update in 2016 that affected posts with "clickbait headlines" and a more recent change made to the News Feed in January, which prioritized posts by family and friends over those made by public pages.
The changes affected all public pages, she said, and the impact was not targeted to pages with any particular political lean.
Diamond and Silk did not immediately return BuzzFeed News requests for comment.
In a Fox News interview Thursday, the two said Facebook had reached out to them via Twitter, but did not mention the other attempts to contact them during the week.
Diamond and Silk, however, are continuing to say Facebook is cutting their exposure. On Friday, they wrote that one of their previous posts had received only five views after an hour. The post itself, however, had received more than 2,000 reactions and 300 shares after five minutes.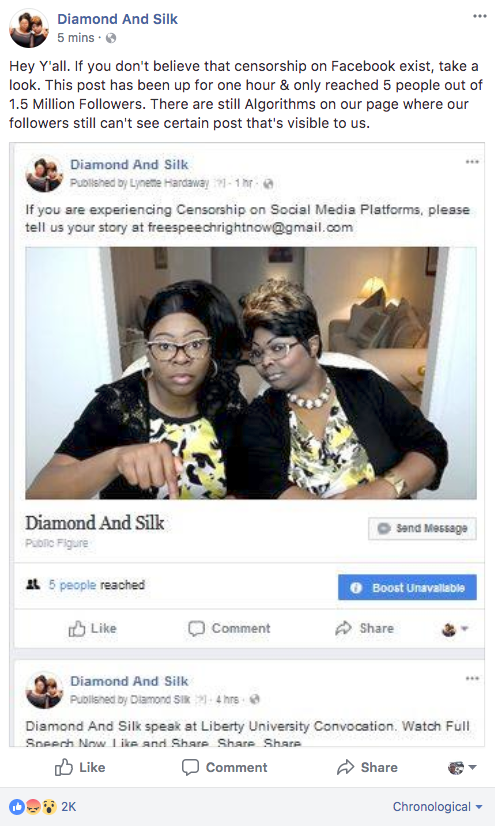 A spokesperson for Facebook said Diamond and Silk had not responded to their messages as of Thursday afternoon.