Meet Damaris Fregoso, a normal 17-year-old from California who was looking forward to taking her senior portrait for high school this year. She is also a HUGE fan of the Netflix series Stranger Things.
And for those of you who aren't fans, this is David Harbour, who plays Sheriff Hopper on the show.
Late one night in October, Damaris decided on pure impulse to tweet at Harbour, her favorite character from the series — because how cool would it be if he took her senior picture with her?
"I would have never thought that in a million years that I would be able to be in a photo with David," Damaris told BuzzFeed News.
She said Harbour is her favorite character in the series because of his portrayal of Hopper, who seems "mean" and jaded in the beginning, but evolves into a kindhearted person. Damaris said that she also thought Harbour came off as a down-to-earth and humble person in interviews.
"He just seems like a genuine guy," she said, adding that she thought, I freaking love David, so let me just ask him.
But when Damaris sent the tweet on Oct. 29, just as she was falling asleep, she never thought that Harbour would actually see it, let alone respond.
Then this happened.
Damaris said she was just stoked by the fact that Harbour had seen her tweet.
"I honestly didn't think it was going to happen," she said. "I only had 400 followers at the time. Dude, there's no way."
Then Noah Schnapp, who plays Will Byers on the show, retweeted Damaris's message, prompting a bunch more people to retweet in order to help her reach the 25,000 target Habour had set.
"Out of nowhere a whole bunch of people started retweeting," she said.
Damaris said she began to think she might get to the 25,000 goal, but she was getting so many retweets her phone started to freeze, which kept her from being able to check her total.
Even Harbour noticed that his fellow costars ~really~ wanted him to show up in Damaris's yearbook in a school sweatshirt and trombone.
And so without further ado...
The two took the pictures at Netflix's studios in Los Angeles Wednesday, which Damaris said was an unbelievable experience.
Harbour even read the rules that Damaris's school lays out for the senior portraits.
"I was so starstruck," Damaris said.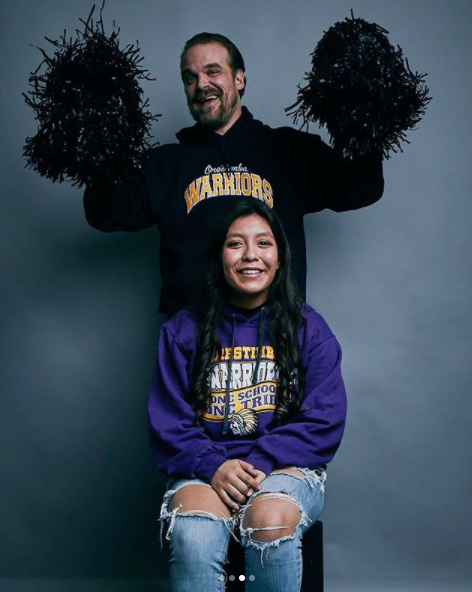 Though the teen was initially nervous meeting the actor, she said Harbour made jokes and tried to help her relax.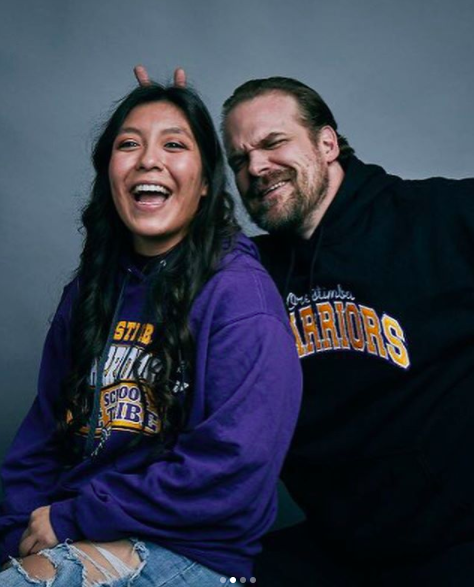 Damaris said she's still not sure if her high school will allow her to use the pictures as her official senior portrait in their yearbook. There may be an issue since there are two people in the photos, she said, but added that she tried to take a closely cropped shot as well, just in case that helps.
If not, she said she might have to buy a page in the yearbook to make sure the pictures make it in.
I mean, look at that school spirit!
Harbour even kept the school sweatshirt, as his own souvenir of the occasion.