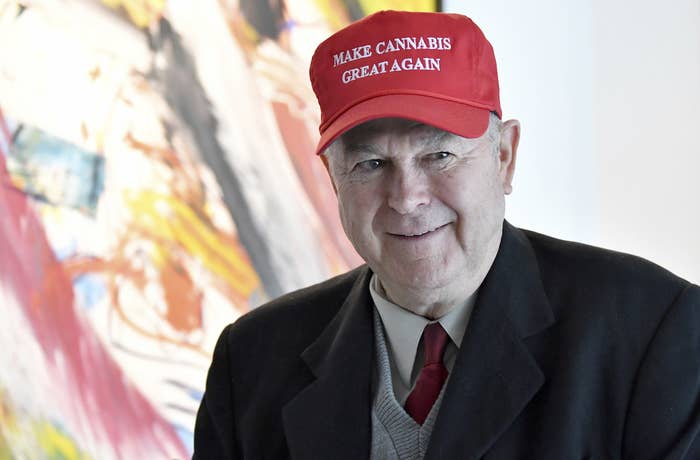 LOS ANGELES — For the first time in two decades, US Rep. Dana Rohrabacher of California is facing a serious challenge to his seat in Congress. A 15-term incumbent Republican who occupies what has long been considered a safe red district in deep-blue Southern California has spent months effectively tied with his Democratic challenger, in what has become one of the most closely watched, and competitive, congressional races this year.
If Rohrabacher loses, his supporters and detractors will likely chalk it up to Orange County's "blue wave," as well as the eccentric congressman's unusual and unabashed support for Russia and its president, Vladimir Putin. If he wins, however, he will owe much of the credit to his support for another pet cause — legal pot.
For years — long before recent ballot initiatives to legalize recreational marijuana gained traction in several states — marijuana has been a peculiar side interest for Rohrabacher, a congressman from a tony, and reliably red, district that includes some of Southern California's most affluent coastal communities.
Now that longtime support for cannabis, and the budding industry around its legal use, has become something of a political lifeline, fueling his campaign with much-needed infusions of cash.
"Cannabis is going to be the difference for him in this election," Rohrabacher's campaign finance chair, Jason Beck, told BuzzFeed News this week.
In the 2018 race — which has shaped up to be Rohrabacher's toughest fight since being elected to Congress in 1988 — advocacy groups and businesses with direct interests in marijuana have donated more than $121,000 to the Republican's campaign and political action committee, according to BuzzFeed News' analysis of campaign donation data compiled by the Center for Responsive Politics.
Though the donations make up just a fraction of Rohrabacher's $2.4 million campaign war chest, the money ranks the cannabis industry as the third-most generous to the Orange County Republican's campaign, after reliable GOP cash cows like the real estate industry and retirees.
Beck said that the cannabis industry's financial impact on Rohrabacher has been more significant than the $121,000 found by BuzzFeed News, taking into account other businesses and individual donors that might not have an obvious connection to the legal cannabis trade, but who nevertheless have interests related to the industry and are backing Rohrabacher because of his support for it.
"Way more than that. I think you could safely say between $500,000 to a million," Beck said. "There's people with children in the industry, there's attorneys, there's insurance companies; all these different companies that work with the cannabis industry. There's been so much support from the cannabis base."
"If the cannabis industry hadn't come through with him, I think he would be much further behind than what he's doing now," Beck said.
Perhaps not coincidentally, Beck himself has been in the marijuana business in California since 2001, and in addition to being Rohrabacher's finance chair, also serves as his lead adviser for marijuana policy. He is also familiar with the risks associated with the legal pot business, having faced federal raids on his medical marijuana dispensaries in 2007, 2011, and 2013.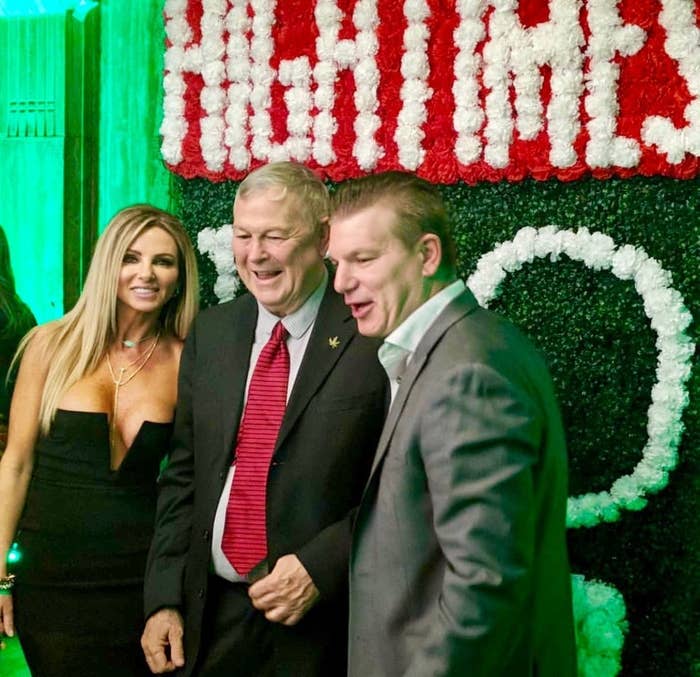 The pot industry's support for Rohrabacher in the 2018 race represents a sharp increase from past election cycles, including in 2016, when California's own initiative legalizing recreational cannabis was on the ballot. In that race, donors affiliated with the marijuana industry and related advocacy groups donated just $7,600 to Rohrabacher's reelection campaign, according to data from the Center for Responsive Politics. Before 2016, contributions from the cannabis industry never ranked among the top 20 industries contributing to the congressman's campaign.

The significant increase is a demonstration of how marijuana businesses, once hidden from public view, are now willing and eager to flex their political muscle the old-fashioned American way — with cash.
And although there are now more members of Congress willing to push for a loosening of federal restrictions on the sale and use of marijuana and hemp-related products, many emerging titans of the pot industry have been willing to reward Rohrabacher for his early support.
"You don't take any risk supporting cannabis now, and Dana [Rohrabacher] has been doing it for a long time," said Tim McGraw, founder and CEO of Canna-Hub, a Sacramento-based real estate firm that develops zone-compliant properties for marijuana businesses. "We don't agree on everything obviously, but he has been a very outspoken advocate."
McGraw was one of seven pot industry donors to make a symbolic contribution of $420 to Rohrabacher's campaign. Other major pot industry contributors to Rohrabacher include Budtrader CEO Brad McLaughlin, who contributed $4,200, and Weedmaps' president Doug Francis, who gave $2,700.
For years, the marijuana industry had to remain discreet when looking for political help. Not only were politicians largely unwilling to be associated with pot, but businesses involved in the cultivation, distribution, and sale of medical and recreational cannabis products — even in states where such activities were legal — sought to keep a low profile for fear of drawing the attention of the federal government.
"It's just the way the industry is evolving. It's growing and becoming like every other business and it's no longer in the dark," McGraw said. "Drug dealers don't make political donations."

An early convert to the nascent potential of the cannabis industry, Rohrabacher is credited with helping pass one of the most significant pieces of legislation related to legal pot businesses, the so-called Rohrabacher–Blumenauer amendment, which passed in 2014 and prevents the US Department of Justice from spending money to enforce federal laws against marijuana in states where medical cannabis has been legalized. Although 31 states and Washington, DC, now allow some form of marijuana sales, the federal government still strictly prohibits it, classifying cannabis as a Schedule I drug, meaning that is believed to have no medical value and a high potential for abuse.
The Rohrabacher–Blumenauer amendment is credited with helping some dispensaries — though technically not those that distribute marijuana to recreational consumers — operate without fear of federal law enforcement raids, while also giving local jurisdictions cover to let medical cannabis businesses open in their jurisdictions.
"If you really ask them in private, most members of Congress would support marijuana legislation," Morgan Fox, a spokesperson for National Cannabis Industry Association, told BuzzFeed News. "The rubric is whether they support bills in committee and become cosponsors. This is an issue where being a leader on it is useful."
The association, a trade group for the legal marijuana and cannabis industry, has donated $10,000 to Rohrabacher's campaign this cycle.
With the increased financial support from the industry, and his congressional seat up for grabs, Rohrabacher has become more vocal about his open support for pot. Recent campaign events have included taking a group of Orange County senior citizens to a dispensary in Santa Ana, California, and appearing at the "High Times 100" gala honoring leading influencers in the legal cannabis industry and related political movement — a list that included Rohrabacher this year.
Touting his early support of President Donald Trump, Rohrabacher has also reassured supporters that he's been in contact with the White House about loosening federal restrictions. "I'm the point guy on medical marijuana," he touted in a recent interview with the Pacific Standard. "Actually, I'm point man on marijuana legalization."
In an October interview with Fox Business Network, Rohrabacher went further, stating that he had "been reassured" the administration would be on board with some sort of marijuana reform legislation.

The comments contradict the administration's adversarial stance toward marijuana distribution and sales, and belies the White House's creation of a Marijuana Policy Coordination Committee, a multi-agency initiative that appears to take a broad view of cannabis as a public threat. As BuzzFeed News first reported in August, the committee has asked 14 federal agencies, and the Drug Enforcement Administration, for data on "the most significant negative trends" and threats that the plant poses to the public.
In California, like in similar states, the legality of medicinal and recreational marijuana has sparked a "green rush" that includes not just a growing number of growers and shops, but businesses and services eager to serve, and cash in on, new young industry. Real estate companies catering to dispensaries, law firms focused on the evolution of marijuana laws, and investment firms looking to inject capital and make a profit have all sprung up through California — and many have donated to Rohrabacher's campaign.
But the infancy of the industry has also raised questions and concerns about these new businesses as to whether those cashing in on the recreational pot boom are abiding by the patchwork of local, state, and federal regulations governing — or prohibiting — legal weed. At the local level, obtaining local permits and meeting zoning requirements to open marijuana businesses can be a politically volatile process, and businesses and cities trying to cash in on the "green rush" still operate in a sort of wild west for the industry.
Rohrabacher has encouraged California cities to adopt marijuana-friendly statutes and expand zoning, even outside of his district. Though doing so has at times led to politically uncomfortable situations for the congressman.
In Adelanto, for example — a high desert city in San Bernardino County, 90 miles from Rohrabacher's coastal district, he met with city officials to encourage them to expand zoning to allow marijuana businesses to open and operate. In August, the former city manager accused Adelanto Mayor Rich Kerr and the then-interim city manager of receiving kickbacks in the sale of a city-owned building to a marijuana cultivator, and claimed that the sale was brokered on behalf of Rohrabacher — a claim the congressman has denied.
The would-be buyer of the property, C.B. Nanda, has donated $6,600 to Rohrabacher's campaign this election cycle.
Beck said the allegations were baseless and that Rohrabacher had no hand in the land deal, which was eventually dropped when the allegations surfaced.
"That was about the city passing an ordinance, and that he agreed with them passing the ordinance" to expand marijuana growth zoning, Beck said. "Ultimately he has no say in that, but he can say as a congressman, 'I support this happening in this city.'"
Beck added that it was not unusual for Rohrabacher to advocate for marijuana businesses outside of his district. "It's just like when other cities say they endorse what other cities do," the campaign finance chair said. "They don't have any jurisdiction, but they're just expressing an opinion."
He conceded that some of Rohrabacher's pot industry donors have faced federal raids on their businesses, in some cases leading to criminal charges. But he attributed that to the evolving regulatory and enforcement climate around legal marijuana, and noted that many of the businesses and executives who faced raids in the years after California legalized medical pot have seen that risk lessened as a result of Rohrabacher's advocacy work.
As Rohrabacher fights for his political life on Tuesday — and with the GOP's majority in the House potentially hanging in the balance — the Orange County Republican's supporters hope that the marijuana industry's support will be enough to push his campaign across the finish line.
Already, it is clear that the money from the pot industry has helped keep Rohrabacher in the race — his Democratic opponent, businessman Harley Rouda, has outraised Rohrabacher three times over, and liberal donors, including former New York City mayor Michael Bloomberg, have also poured money into the race. A Monmouth University poll taken at the end of October showed Rohrabacher with 50% support among his district's likely voters, giving him the slightest of edges over Rouda, with 48%.
Yet despite the financial support for Rohrabacher, cannabis industry donors to his campaign told BuzzFeed News that the outcome of his House race is unlikely to affect the broader trend toward support for legal marijuana. An October Pew Research poll found that 62% of Americans favor legalization, up from just 31% in 2000.
"We've reached the tipping point," McGraw said. "It's hard to be anti-cannabis nowadays. They're the minority. We're the majority now. People who oppose this are the ever-shrinking minority."
"Of course if you lose someone who is an advocate, that's a loss," McGraw said. "But as far as losing the movement, no. That ship has sailed."