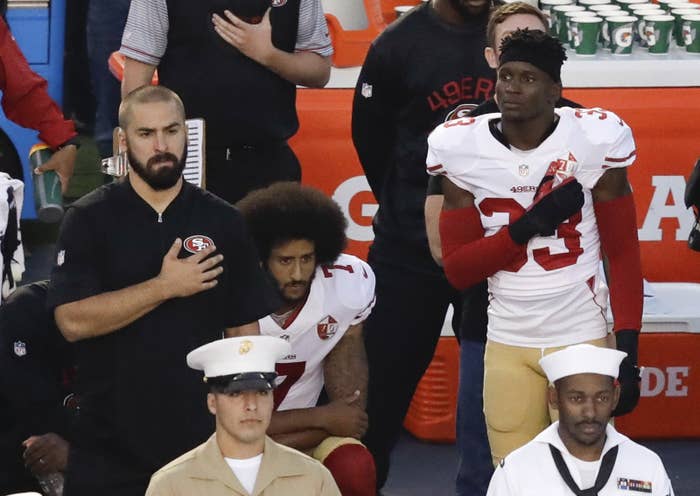 San Francisco 49ers quarterback Colin Kaepernick kept his promise not to stand during the national anthem Thursday, taking a knee before facing the San Diego Chargers.
This time, the quarterback was joined by safety Eric Reid, who also took a knee during the anthem ahead of the Chargers' annual Salute to the Military Game in San Diego.
Before the game, Reid wrote several tweets commenting on police use of force against African Americans, and aired support for Kaepernick.
Several people in the crowd booed while the two refused to stand as the anthem was sung by a sailor.
Kaepernick caused a national stir after refusing to stand during while the anthem was sung at preseason games, saying he refused to support a country that he believed was oppressing minorities.
"I'm not going to stand up to show pride in a flag for a country that oppresses black people and people of color," he told NFL Media. "There are people in the street and people getting paid leave and getting away with murder."
"To me, this is bigger than football and it would be selfish on my part to look the other way. There are bodies in the street and people getting paid leave and getting away with murder," he said.
Kaepernick has faced a wave of criticism for his decision, but also received support from teammates and others.
In a statement, the 49ers said all players have the right to exercise their freedom of expression. Veterans were also using the hashtag #VeteransForKaepernick to show support for the athlete.
ESPN reported that Seattle Seahawks cornerback Jeremy Lane also joined Kaepernick in his silent protest, sitting Thursday night while the anthem was sung before a game against the Oakland Raiders.