California's chief justice on Thursday asked the federal government stop using courthouses as bait for arresting undocumented immigrants, saying the tactics amount to "stalking."
Attorneys and civil rights groups have blasted the Department of Homeland Security for the practice, where they say Immigration and Customs Enforcement (ICE) agents detain undocumented immigrants in courtrooms while they tend to unrelated cases.
On Thursday, California Chief Justice Tani G. Cantil-Sakauye spoke out in a letter addressed to Attorney General Jeff Sessions and Homeland Security Secretary John Kelly.
"Enforcement policies that include stalking courthouses and arresting undocumented immigrants, the vast majority of whom pose no risk to public safety, are neither safe nor fair," she wrote. "They not only compromise our core value of fairness, but they undermine the judiciary's ability to provide equal access to justice."
After the statement was issued, ICE defended the practice of arresting undocumented people in courthouses, saying the decision on where to carry out operations is done on a case-by-case basis.
Arrests in courthouses also allow suspects to be screened for weapons before arrests, and done when other options have been exhausted, ICE spokeswoman Virginia Kice told BuzzFeed News in a statement.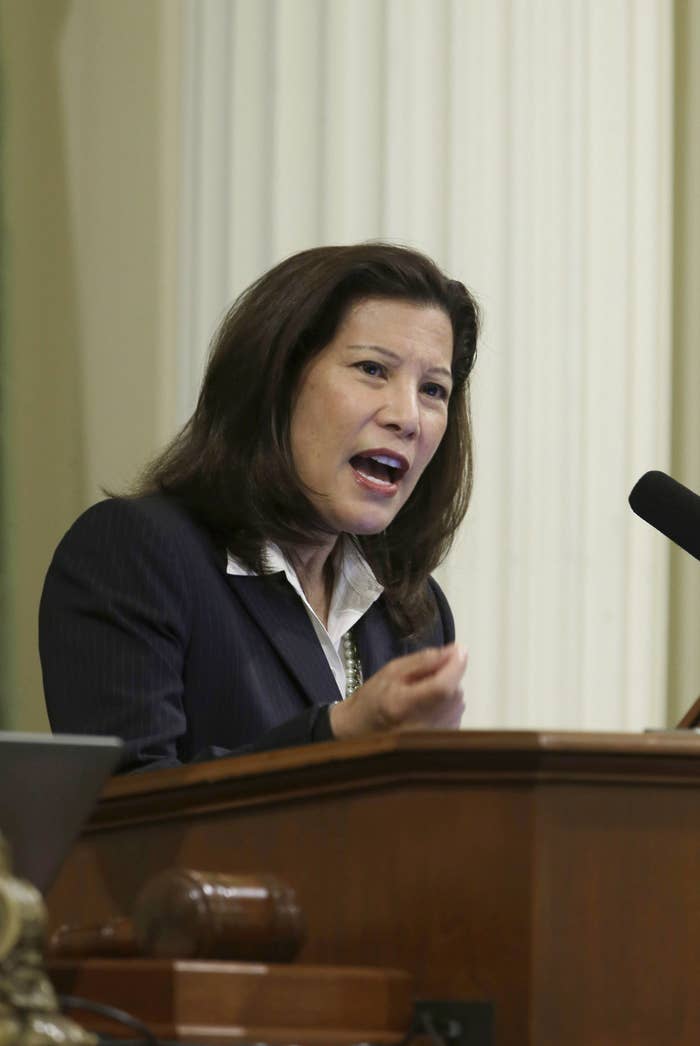 Operations in courtrooms are also done when agents have "exhausted other options," she added.
But Cantil-Sakauye argued in her letter that bringing ICE agents into courtrooms can be detrimental to the public's trust in the court system, where undocumented immigrants may be entering as crime victims, sexual abuse victims, witnesses, or seeking other legal services.
"Courthouses should not be used as bait in the necessary enforcement of our country's immigration laws," she wrote.
Attorneys and civil rights groups have also spoken out against the practice.
One attorney told The Los Angeles Times that one of his clients was detained in a Pasadena courthouse.
"They show him a badge, and they say, 'We're from Immigration and Customs,' and they took him in," Octavio Chaidez told the newspaper.
The Times noted similar incidents that have been reported in Colorado, Arizona, and Texas.
The ACLU has also criticized ICE and urged the agency to follow Cantil-Sakauye's recommendation to stay away from courthouses.
Los Angeles City Attorney Mike Feuer also issued a statement in support of Cantil-Sakauye,
"ICE's practice deters residents concerned about their immigration status from appearing in court, including as crime victims and witnesses," Feuer said in a statement. "No one should fear that their immigration status prevents them from seeking justice, whether asa crime victim or otherwise."
Concerns about increasing immigration enforcement and raids taking place in communities across the US have increased during the Trump administration after the president promised to increase the number of ICE agents while expanding the priority for deportation to include practically all immigrants living here illegally.
ICE, however, noted that agents have detained people in courtrooms in the past, and that they are targeted for having criminal pasts, and would have been turned over to immigration officials at local jails.
In California, however, a court found that jails cannot hold inmates longer than the time designated for their charges, even if ICE issues a detainer request.
"Now that many law enforcement agencies no longer honor ICE detainers, these individuals, who often have significant criminal histories, are released onto the street," Kice said.