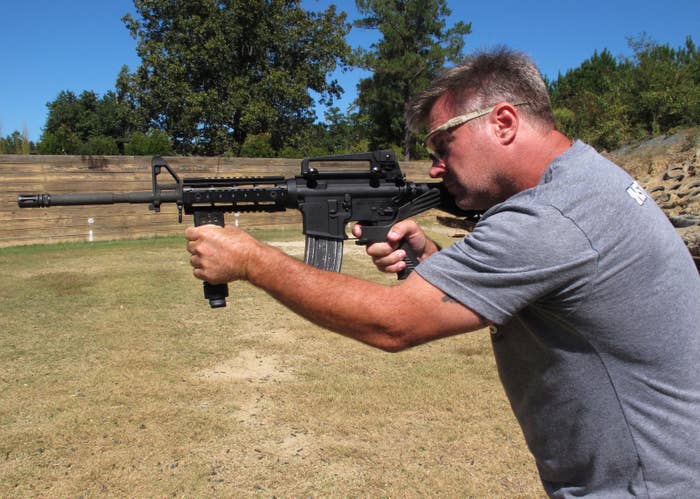 The leading maker of "bump stocks" currently advertises them as a legal way to make a rifle shoot like automatic weapons, but that wasn't always the case. To get them approved by federal regulators, Slide Fire Solutions initially pitched the devices as a way to help people with "limited mobility" fire their weapons.
For a few hundred bucks, bump stocks allow semi-automatic weapons to fire nearly as fast as machine guns, a modification that authorities say was used by the Las Vegas gunman on 12 of the rifles found in his Mandalay Bay suite.

With rapid fire effect from this 32nd story window on Sunday night, gunman Stephen Paddock mowed down hundreds of outdoor concertgoers, killing 58 people.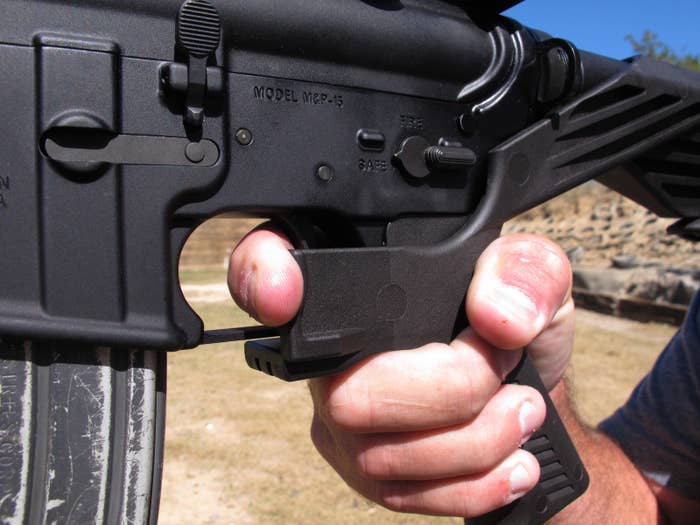 Since the worst mass shooting in modern US history unfolded, the devices have come under bipartisan scrutiny in Congress. Questions are also being raised about how one of the leading manufacturers, Slide Fire Solutions, got them approved by regulators.
"This company is presenting that their intention is to manufacture a device for people with a handicap, so they could do the technique," retired ATF Special Agent David Chipman told BuzzFeed News. "We're not selling toasters here. These are weapons of war."

The evolution of the devices from an assistant for the disabled to a tool for thrill seekers dates back to 2010, when it was approved by federal regulators.

Even though new automatic weapons have been banned since 1986, bump stocks have been sold legally since 2010 when the Bureau of Alcohol, Tobacco, Firearms and Explosives (ATF) determined the device was not regulated under the Gun Control Act or the National Firearms Act.
But the four-paragraph letter from the ATF that made the device legal and sparked a new multi-million dollar market in the firearm industry suggests one of the leading manufacturers of bump stocks described them as way to help people with disabilities shoot.
"Your letter advises that the stock (referenced in this reply as a "bump stock") is intended to assist persons whose hands have limited mobility to "bump fire" an AR-15 type rifle," the letter, dated June 7, 2010, states.
The letter refers to a form of trick shooting known to gun enthusiasts as "bump fire," where the recoil caused by the firearm is used to pull the trigger faster.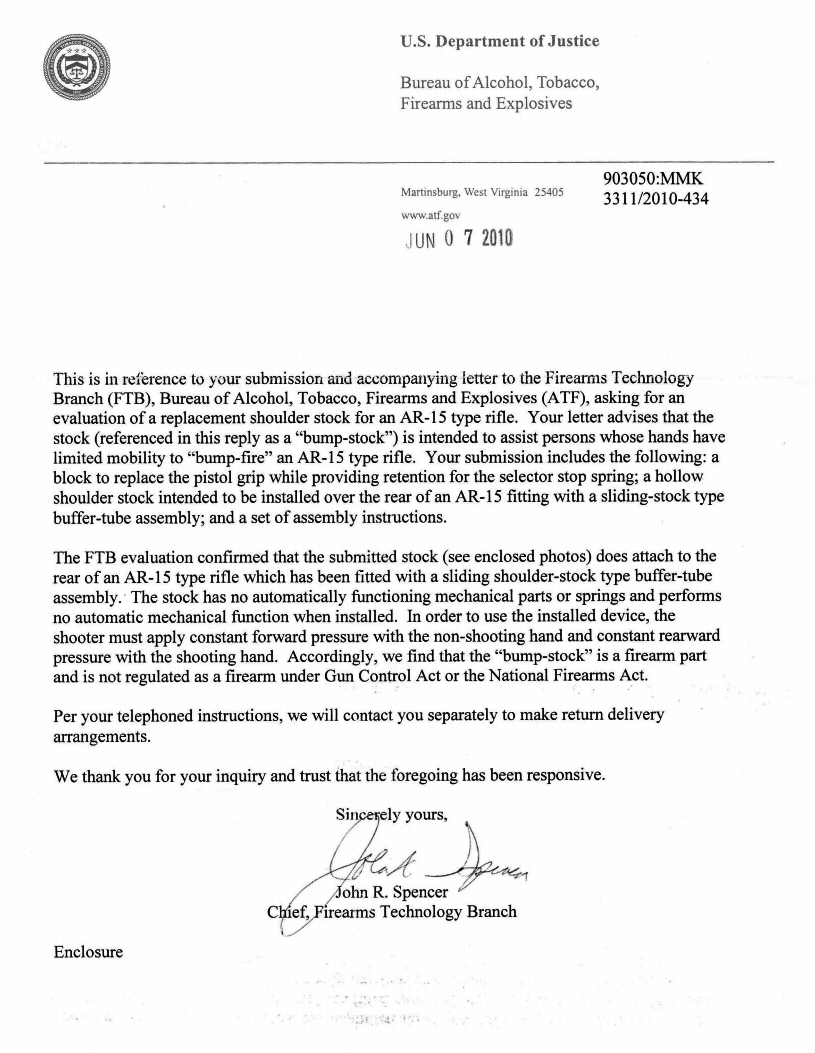 The letter is posted on the Slide Fire Solutions website, whose CEO, Jeremiah Cottle, claims to have invented the first model. The company states that the letter is included in each bump stock that is sold to assure the buyer of its legality.
Chipman, who now works for the gun control advocacy group, Americans for Responsible Solutions, said the ATF receives hundreds of similar letters like the one that approved bump stocks in 2010, and suspects it may not have received the attention it deserved.
"They would have thought this was just a gimmick," he said.
By definition, automatic guns continue to fire rounds by holding down the trigger. Bump stocks use the movement of the weapon itself to continue rapidly moving the trigger. The trigger finger of the person holding the weapon, however, remains still.
"The way the law is written, [bump stocks] doesn't turn it into a machine gun," Chipman said. "The reality is, there is a huge gap in the law."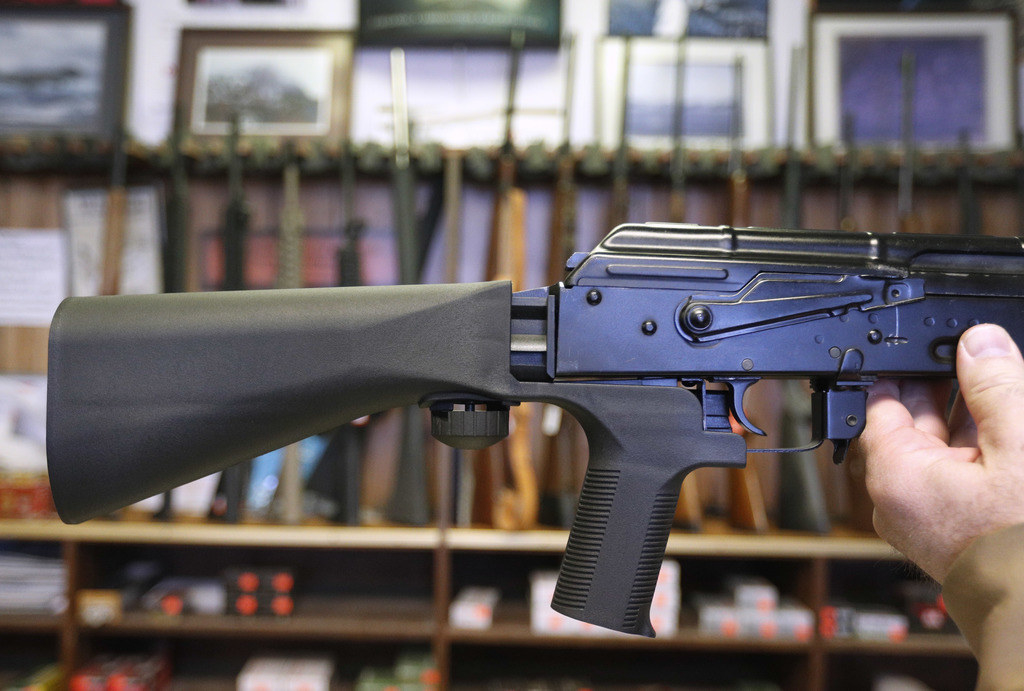 Despite their description to the ATF, Slide Fire Solutions currently is not marketing their products for people with limited mobility. Instead, the company's social media account is filled with videos of people firing rifles fitted with their products, sometimes with music in the background and often with dramatic slow-motion endings showing streams bullet casings raining down to the ground.
"I don't need no stinking tax stamp," one Facebook post, referring to the required registration of automatic weapons, states before referring to the bump stock model. "The SSAR15 MOD stock allows for 100% legal rapid fire without a tax stamp."
Videos promoting their products strike a strong patriotic tone, with one referring to the Founding Fathers as a "bunch of amazing guys."
"I think Jefferson, Jay, Adams, Madison, Mason, Franklin, I think they're looking down at us," the narrator says as a man fires continuously at what appears to be nothing. "I think they understand what we're trying to do."
Another video, which was removed from Slide Fire Solutions' website Thursday but remained on their Instagram account, shows someone shooting in a US flag jumpsuit, surrounded by fireworks and asking, "On a scale of 1 to America, how free are you today?"
Last year, Ken Jefferies & Associates, a manufacturer who represents the Slide Fire brand, said in a statement that their goal was to "spread the joy of shooting full auto to gun guys across America."
None of the promotional material reviewed by BuzzFeed News showed any mention of marketing their product for people with "limited mobility."
Slide Fire Solutions and it's CEO did not immediately respond to requests for comment, nor did officials at Ken Jefferies & Associates.
But on Thursday, the National Rifle Association took the unusual step of calling for the ATF to review the "to immediately review whether these devices comply with federal law."
It was a surprising announcement coming from a powerful interest group who has usually played a key role in blocking any type of gun control legislation. There are signs other big names are also pushing back on bump stocks.
Big retailers, including Walmart, Cabela's, and Bass Pro Shop have pulled the devices from their online stores.
A spokesperson for Walmart told BuzzFeed News bump stocks have been prohibited from being sold in the company's website all along, but did not specify when the item was pulled. Walmart does not sell bump stocks in its physical stores.
Still, it seems the bump stock may not be having trouble moving product.
Fear that Congress might move to regulate the devices appeared to spark a surge of orders, with online retailers on Wednesday reporting that they had sold out.
A notice on Slide Fire Solutions site also said they were no longer taking new orders in order to fulfill those that had already placed.

Another company that sells the stocks, Bump Fire Systems, announced Tuesday that their website due to increased traffic. The site was still down as of Thursday.
If bump stocks do become regulated, it could have a huge impact on what has quickly become a multi-million-dollar industry.
In an interview with The Albany News in 2011, Cottle said he sold 35,000 units in the first 11 months after starting Slide Fire Solutions and surpassed $10 million in sales that year.
Demand was growing so quickly, he said, that he was looking at buying eight homes and a residential compound for the employees he was looking to hire. That's because the town of about 250 residents, he said, didn't have a large enough workforce to accommodate the company's growth.