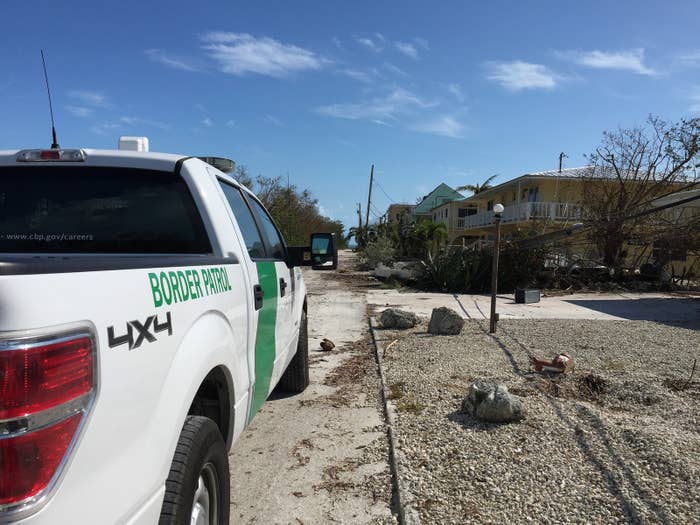 As Hurricane Irma barreled toward Florida in the early days of September, immigration advocates and public safety officials raised concerns that people living in the US illegally would not seek help or shelter for fear that doing so would expose them to arrest and possible deportation.
Hoping to ease those fears, the US Department of Homeland Security stepped in with a public promise: noncriminal immigration enforcement would be temporarily put on hold, while agents with US Customs and Border Protection (CBP) and US Immigration and Customs Enforcement (ICE) focused on Irma rescue and relief efforts.
"In evacuation or response, we are committed to making sure that we can assist local authorities quickly, safely, and efficiently. DHS will not conduct non-criminal immigration enforcement operations in the affected area," the department said in a Sept. 6 statement. "At the request of FEMA, local and state authorities, DHS law enforcement personnel will be in the affected area to conduct search and rescue, air traffic de-confliction and public safety missions. When it comes to rescuing people in the wake of Hurricane Irma, immigration status is not and will not be a factor."
But for four days after the statement was issued, officials with CBP in Florida continued to take undocumented immigrants into custody, changing little in the agency's local day-to-day operations as the state braced for the oncoming Category 4 storm.

CBP officials told BuzzFeed News that though priorities shifted to focus on life-saving operations in the days before Irma made landfall, immigration enforcement actions and arrests continued until Sept. 10, four days after DHS issued its statement pledging that such activity had ceased.
CBP declined to provide details on how many people were picked up by immigration agents during that period. But court documents show that on Sept. 6 — the same day DHS issued its statement — border patrol agents in Brevard County, Florida, took three men into custody after they were unable to provide identification to local police.
The filings also show that the men were later placed on GPS monitoring by ICE, which had already shut down detention operations in preparation for Hurricane Irma. ICE declined to provide numbers on how many people were put on GPS monitoring during the storm.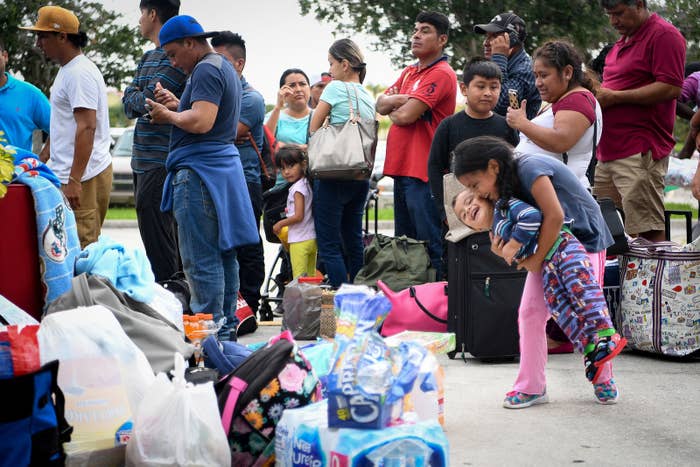 When asked why enforcement operations continued even after DHS declared that such actions would cease, Peter Daniel, assisting chief patrol agent of the US Border Patrol's Miami sector, noted that the Sept. 6 statement did not specify when the directive should take effect.

"Well, is there a starting date in the document?" Daniel asked BuzzFeed News. "There you go."

CBP's decision to continue enforcement appears to validate some of the fears held by immigrants, particularly those living in the country illegally, about seeking assistance or shelter during natural disasters like the series of deadly hurricanes that hit the southern United States this fall.

In the days before Hurricane Irma made landfall in Florida on Sept. 10, local authorities began issuing evacuation orders for much of the state, eventually calling for more than 6 million residents to leave their homes. On Sept. 6, the same day that DHS issued its statement regarding enforcement activity during Hurricane Irma, Florida Governor Rick Scott deployed 1,000 members of the National Guard to help prepare for the storm.
Schools statewide closed the following day, and by Sept. 9, Scott had warned that Floridians living in or near evacuation zones needed to leave immediately. "You need to go, right now," he said.
Still, CBP agents continued immigration enforcement operations until Sept. 10, the same day Hurricane Irma made landfall in the Florida Keys, forcing agents to hunker down in their offices or homes, officials told BuzzFeed News.

Neither DHS, ICE, or CBP responded to BuzzFeed News' requests for information about immigration enforcement activity during Irma. But at least three Mexican nationals were taken into custody by CBP and put under GPS surveillance on Sept. 6, following a minor traffic collision in West Melbourne, Florida.

The incident occurred after the West Melbourne Police Department responded to a call about a noninjury car accident. Police officials confirmed to BuzzFeed News that no laws were broken during the incident, but said the officer who responded to the scene called CBP when three male passengers were unable to provide identification.
About 30 minutes after she responded to the scene, the officer told police dispatch that CBP agents were taking the three men into custody, according to call logs of the incident.
Capt. Richard Cordeau of the West Melbourne Police Department told BuzzFeed News the men were not required to provide an ID, but said the department maintains a close relationship with immigration enforcement officials and the officer decided to reach out.
"As a matter of fact, the officer had talked to [the CBP supervisor] that morning and he said, 'If you need anything give me a call,'" Cordeau said.
John Modlin, chief of CBP's Miami sector, told BuzzFeed News that this type of informal cooperation between local law enforcement and immigration agents is routine, and continued in the days leading up to Hurricane Irma. Specific numbers for how many people were picked up during this period were not immediately available, Mordin said.
He added that he did not believe the agency's response to the car accident in West Melbourne contradicted DHS's promise not to conduct noncriminal enforcement during Irma.
"We didn't perform any targeted enforcement or placed checkpoints with people moving out of the way of the storm," he said. "In regards to criminal activity, like in this case, we take the appropriate action."
However, court documents reviewed by BuzzFeed News, including an affidavit signed by an ICE deportation officer, make no mention of any criminal charges, or suspected criminal activity, that prompted CBP to take the three male passengers into custody.
Instead, the affidavit states that Supervisory Border Patrol Agent Victor Colon picked up the men after "all three passengers admitted to being citizens of Mexico and illegally present within the United States."
CBP officials also pointed out the arrest of the three men occurred a few hours before DHS issued its statement regarding Hurricane Irma operations. But ICE, which is responsible for most detention and deportation operations, was already operating under the department's emergency guidance by that time.

According to court documents, ICE's Enforcement Operations and Removal office in Orlando declined to take the men into custody because it was "currently operating under an Emergency Operation (EMOP) due to Hurricane Irma and was unable to receive any new detainees."
ICE agents subsequently put the men under GPS monitoring and ordered them to return to the office on Sept. 19, after Hurricane Irma was expected to pass. One of the men, identified in court documents as Jose Carlos Hernandez-Lopez, was later arrested and charged with removing the GPS device.
Placing the three men on GPS monitoring, in lieu of detention, was part of the emergency procedures that had been put in place because of the hurricane, according to the affidavit.
An ICE spokesperson told BuzzFeed News that agency does not have details on how many GPS monitoring devices were used while enforcement operations were suspended for Hurricane Irma.
At least part of CBP's decision to continue enforcement activities in the lead-up to Irma seems to hinge on the definition of "criminal enforcement," which some immigration law experts say has expanded under President Donald Trump's executive orders on immigration.

Modlin, the Miami sector chief, pointed out that one of the men who was taken into custody on Sept. 6 was found to have been convicted of illegally entering the US twice after previously being deported. That, he said, made the incident a criminal immigration case, even though there was no crime reported at the time the CBP officer was called.

"This is how CBP works," said César Cuauhtémoc García Hernández, an associate professor at the University of Denver Sturm College of Law. "We have seen a loosening of definition of what constitutes illegal activity and a viable target for what are limited immigration enforcement activities."
Under the Trump administration, Hernández said, the term "criminal alien" now applies to virtually anyone suspected of being the US illegally.
Asked whether CBP concurred with the Miami sector's interpretation of DHS's statement regarding enforcement activities during Hurricane Irma, national spokesperson Michael Friel said the department's notice was meant to convey a shifting of priorities as the hurricane approached, not delineate a specific timeline or strategy by the agencies.
"There's no light switch that goes on and says, we're going to do enforcement or we're not," Friel said. "The posture is we're going to be focusing on the response in the sense of keeping people out of harms way."
DHS did not respond to questions from BuzzFeed News regarding the timing of the order, and whether CBP's operations in Florida complied with the department's stated priorities for immigration enforcement agencies during Hurricane Irma.
But in a statement sent to BuzzFeed News Sunday, after this story was published, DHS spokesperson Tyler Houlton said that the actions of CBP's Miami sector in the days before Hurricane Irma did not violate the guidance issued by the department.
"Any suggestion that DHS policy was violated is not supported by their own reporting, and the premise of BuzzFeed's story is inaccurate," Houlton said in a statement.

Houlton did not address whether the department's policy allowed CBP to continue making arrests during emergency preparations, and did not respond to questions about what, if any, directives DHS provided to immigration agencies in addition to the public statement regarding enforcement activity during Irma.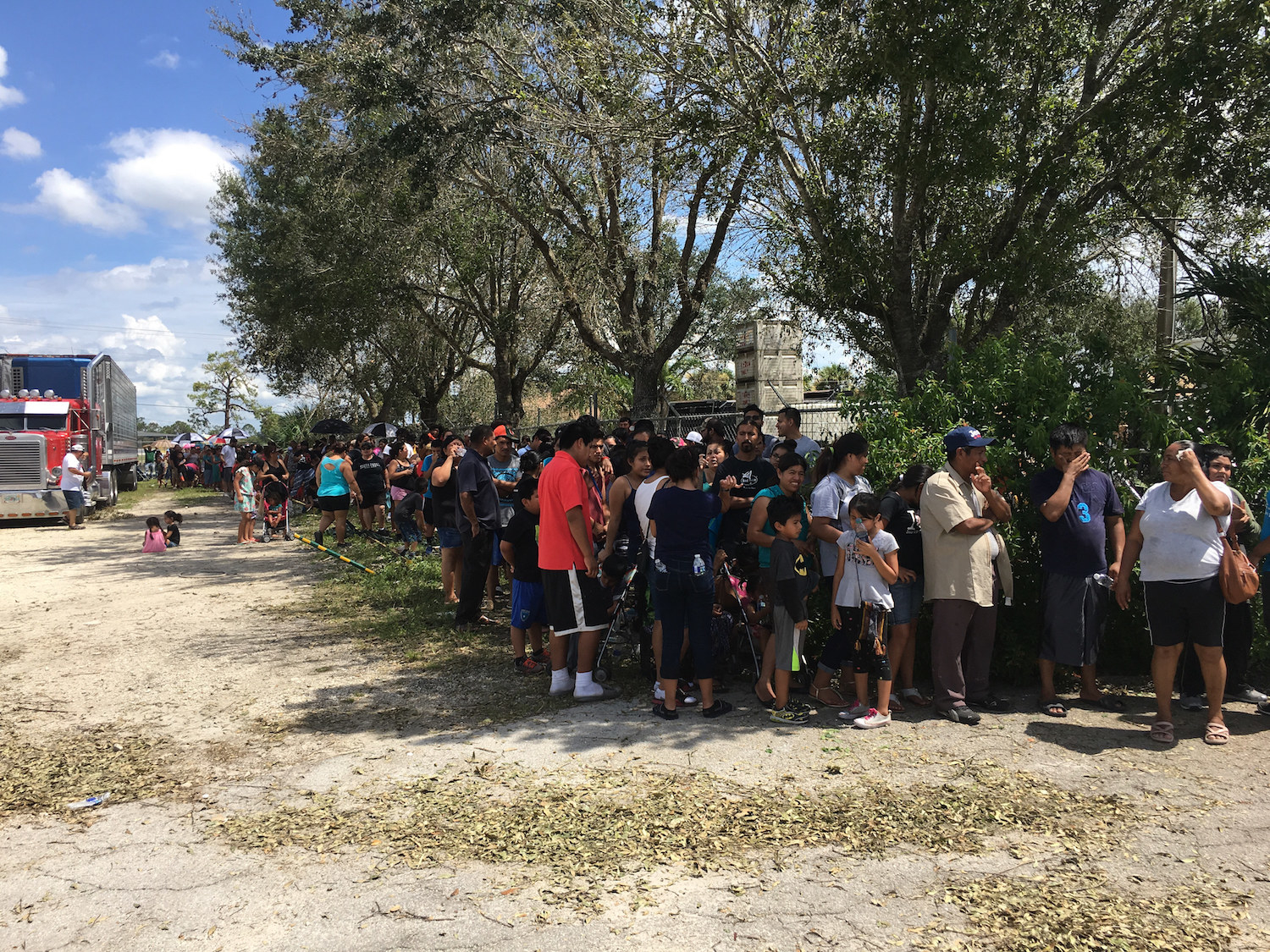 In the aftermath of the storm, Modlin said, CBP prioritized relief efforts, with agents focused on clearing debris and assisting people affected by the storm.

"None of that included asking people what their immigration status was," he told BuzzFeed News. "All of the resources in the Miami sector were focused on life saving."
But Adonia Simpson, director of the family defense program for Florida's Americans for Immigrant Justice, an immigrant advocacy group, said the presence of immigration agents at incidents like minor traffic collisions has raised suspicions of local law enforcement among Florida's immigrant community, prompting concerns that people will not seek help in emergency situations.
DHS's promise to suspend enforcement during Hurricane Irma was seen as an attempt to allay those fears, she said.
"Given the panic and fear that surrounded Irma's impending landfall, as well as Florida officials stressing the need to seek safety, we find it shameful that enforcement actions were undertaken on noncriminal immigrants after DHS's public statement to the contrary," she told BuzzFeed News. "Events such as these only compound the fear and lack of trust in the community."