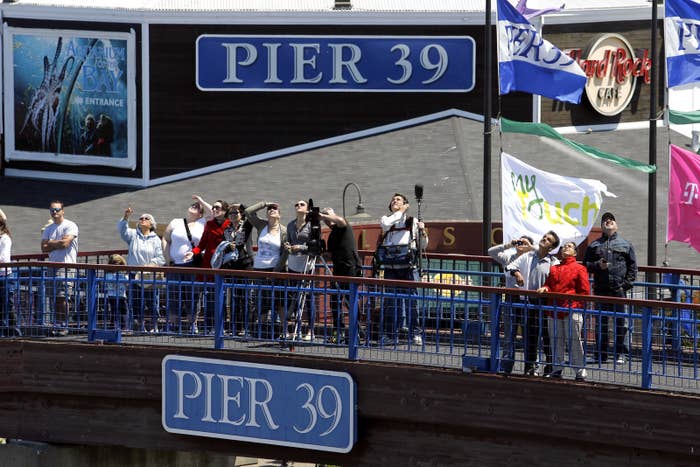 A former Marine sharpshooter has been arrested for allegedly planning to bomb and shoot up San Francisco's popular Pier 39 on Christmas in support of ISIS.
Everitt Aaron Jameson of Modesto, California, was arrested Wednesday and has been charged in federal court with attempting to provide material support to a foreign terrorist organization.
According to a criminal complaint filed Friday, Jameson came to the FBI's attention on Sept. 19, when a source who has previously reported to the agency on national security matters flagged his Facebook profile, where he appeared to be "liking" pro-ISIS posts.
About one month later, an FBI "confidential source" reached out to Jameson via Facebook Messenger. Two days later, on Oct. 29, according to the FBI's affidavit, the former Marine responded to the source, who he thought was a member of ISIS, and expressed his desire to help.
"I am here to beg to join the cause against darul kuffar," Jameson allegedly wrote, referring to non-Muslims. "I'm ready."
Eventually, Jameson allegedly arranged a meeting with someone he thought was a member of ISIS leadership but who was in fact an undercover FBI employee. During that Dec. 16 meeting, according to court documents, Jameson suggested he could orchestrate an attack similar to those in New York on Oct. 31, in which a rented truck was used to mow people down, and San Bernardino in 2015.
"Jameson specifically named Pier 39 in San Francisco as a target location because he had been there before and knew that it was a heavily crowded area, and that, according to Jameson, no reconnaissance or site survey would be necessary," FBI Agent Christopher McKinney wrote in the affidavit.
According to the FBI, Jameson suggested using a mix of a car to run down people and a firearm to inflict mass casualties. He also suggested using explosives to "funnel" people into a particular area to increase the number of people injured or killed on Christmas.
The former Marine also allegedly said he did not need to plan an escape because he was willing to die and even submitted a last will and testament.

According to court documents, Jameson enrolled in the Marines and attended basic training in June 2009. He eventually earned sharpshooter qualifications.
He was discharged, however, for "fraudulent enlistment" because he had not disclosed he had asthma.
His military background, according to the complaint, is something he touted, telling the undercover FBI officials he could use his skills for an attack in the US, or to be sent abroad to fight.
"I was a soldier in the Kufar army before I reverted," Jameson told one of the undercover officials, using an insulting term for non-believers. "I have been trained in combat and things of war."
He told the undercover employee he would need ammunition, powder, tubing, and remote detonators for the explosive devices. He also said he preferred to use an assault rifle in the attack.
His Facebook profile, which was deleted Friday afternoon, included football memes and posts on Islamic sayings and lessons, known as hadiths.
Earlier this week, the criminal complaint states, Jameson tried to back out of the attack he had described to undercover officials.
"I don't think I can do this after all. I've reconsidered," Jameson said, according to the FBI.
Jameson's sudden change of heart allegedly came after an FBI employee, on the same day, called his cell phone from a line in the FBI's Washington, DC, office. The employee, according to the complaint, hung up immediately when Jameson answered the phone speaking Arabic.
The affidavit does not state why the FBI employee was reaching out to Jameson.
Two days later, the FBI moved, raiding his home, where they allegedly discovered multiple guns and fireworks.
Agents also discovered a letter Jameson had allegedly written in anticipation of and taking credit for the attack.
"You all have brought this upon yourselves," the letter states, according to the FBI. "You've Allowed Donald J Trump to give away Al Quds to the Jews. Both You and he are wrong, it belongs to the Muslemeen [sic]. We have penetrated and infiltrated your disgusting country. These acts will continue until the Lions of Islam overtake you."
Jameson's aunt, Sarah Jameson, told KTVU she and other relatives were aware that he had converted to Islam, but were shocked after learning of the charges.
"We just had no idea. That's not the Everett I know," she told the station.
The 26-year-old, she added, had been "hardened" after a bad divorce and losing custody of his two children.
"That is when he turned to the Muslim thing," she said.
The San Francisco Police Department in a statement said they were notified of the operation by the FBI, and that security had been increased in the city during the holiday season.
San Francisco acting Mayor London Breed praised law enforcement for foiling the alleged plot and said that while there were no known additional threats, police would be increasing their presence.
"San Francisco is a city that proudly champions democracy, freedom and liberty. Sadly, that makes our home a target," she said in a statement. "We will not allow the thwarted attempts of one dangerous individual to disrupt our way of life."