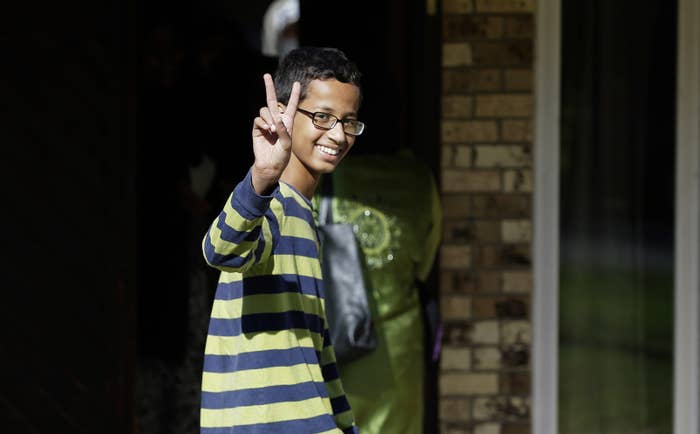 The image of 14-year-old Ahmed Mohamed at school — a NASA shirt over his thin frame, his arms handcuffed over fears his homemade clock was a fake bomb — may have spurred shock and outrage in much of the U.S., but it was not entirely surprising to Muslims in North Texas.
What many people — all the way up to the White House — saw as an overreaction to a young boy's ingenuity struck a familiar chord with many in the growing Muslim community in the greater Irving area, where Muslims say a series of incidents and Islamophobic rhetoric has taken root in recent years. That, they say, has fed into a collective suspicion and fear that this week ensnared Mohamed.
"This is part of a broader pattern," Sahar Aziz, a professor and researcher at Texas A&M University School of Law, told BuzzFeed News. "This is an example of why it matters when you have national or state-level events that demonize Muslims as terrorists, and how that can impact individual lives."
Anti-Islamic sentiment spiked in Irving, Texas, and across the nation shortly after the 9/11 terrorist attacks. On Sept. 12 that year, six bullets were shot at the local mosque.
In the years since, the targeting subsided, but Muslim professionals and Irving leaders say they've seen a resurgence recently in their North Texas community. From Facebook posts and hiring practices to disparaging public comments made by city and school leaders in the Dallas-Fort Worth area, Muslim residents say incidents like that 14-year-old Mohamed faced are becoming all too commonplace.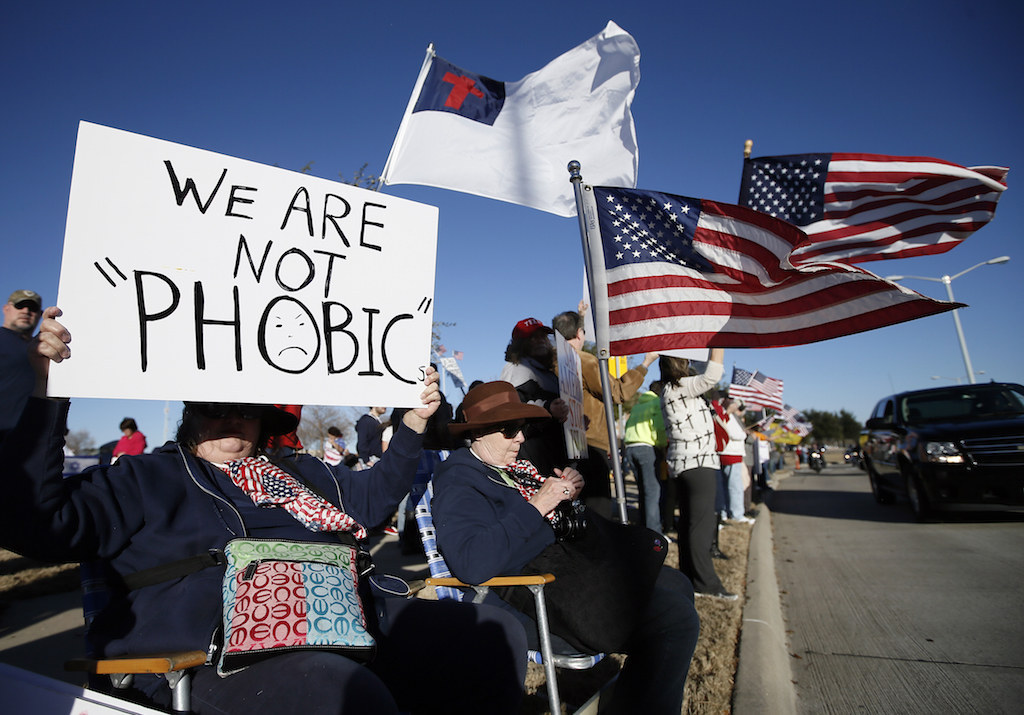 With a population just shy of 230,000 residents, Irving sits about 11 miles east of Dallas, a city five times its size. Irving residents are used to its larger neighbor taking the national spotlight, but that changed earlier this week with Mohamed's arrest.
Muslims in Irving have faced false rumors that Sharia was being implemented, and disparaging comments from city and school officials have helped spread hate and fear, said Khalid Hamideh, an attorney and spokesman for the North Texas Islamic Association.
"I can tell you without a doubt that the incidents of Islamophobia have increased," Hamideh, who also represents imams at Irving's Islamic Tribunal, told BuzzFeed News. "It all relates back to the manufacture of hate and fear by elected officials."
On May 3, anti-Islamic activist Pam Geller held a "draw Muhammad" contest in the city of Garland, about 20 miles east of Irving. Muslims believe it is an insult to draw the Prophet Muhammad, so the event was denounced as an effort to incite protest and possibly violence.
Two gunmen did end up opening fire on security guards at the event, but were killed almost immediately. ISIS supporters later claimed responsibility for the attack, but even though the gunmen traveled from out of state, Irving residents say they have faced the ensuing consequences — Islamophobia.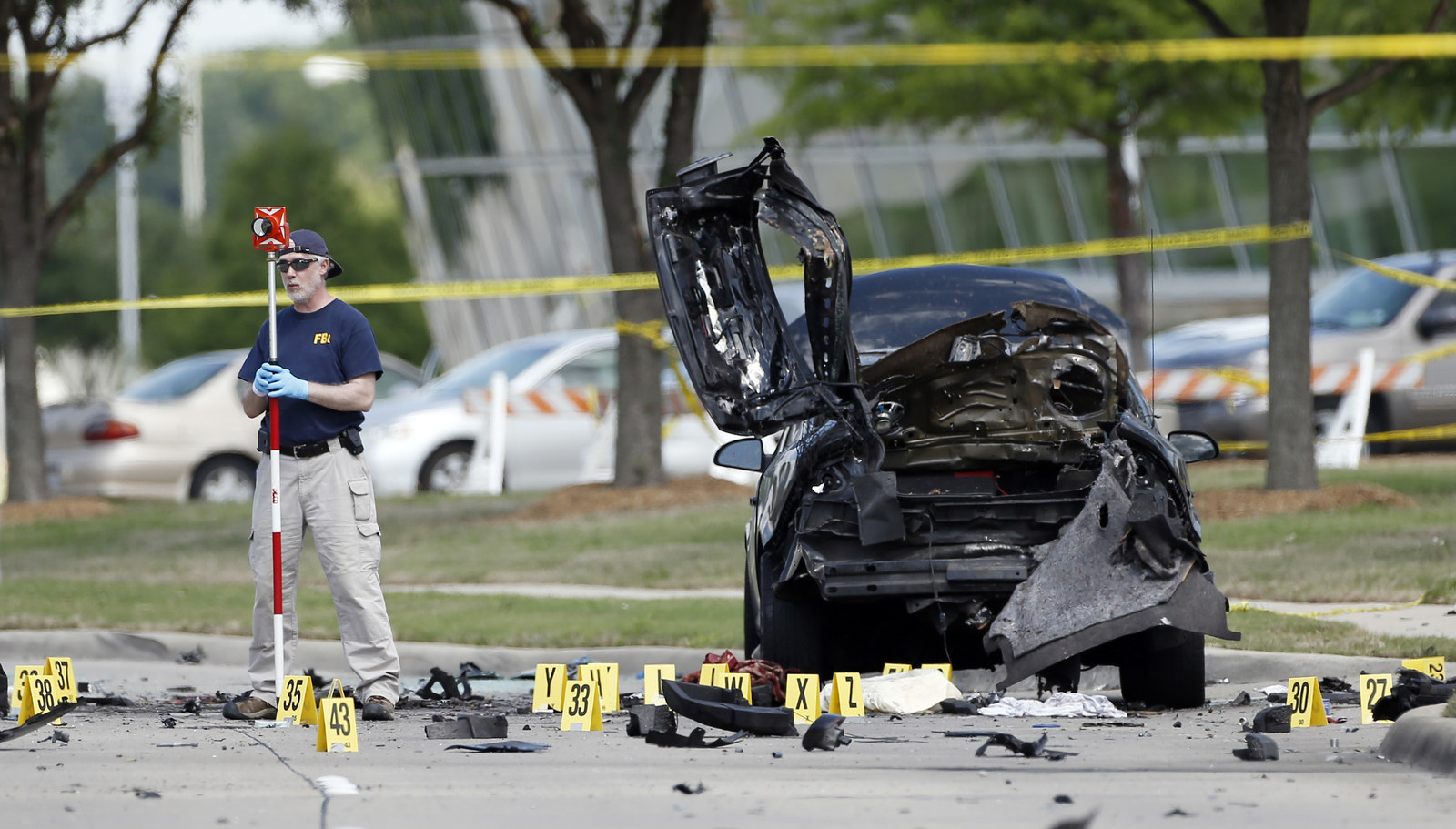 Then in September, when the president of the Garland Independent School District dressed in African garb during a graduation ceremony, Supt. Bob Morrison commented that he was "lucky with the Garland PD here, dressed like that, that bad things didn't happen to him out in the parking lot."
The comments were made at the Curtis Culwell Center, the place where Geller had held her Prophet Muhammad drawing event. (Morrison later apologized for his comments.)
Some pointed to the Garland shooting as the source for much of the recent anti-Muslim sentiment, but others said it was visible well before then.
In February, news of a Islamic tribunal in Irving sparked fears that its members were seeking to implement Sharia, though members of the tribunal explained they were there to provide voluntary, religious, nonbinding guidance to the community in matters such as divorce, family, and business disputes. The tribunal would act similarly to Christian and Jewish religious leaders who offer guidance.
But that didn't stop Irving Mayor Beth Van Duyne to ask the city council to pass a measure supporting a state bill known as the "American Laws for American Courts," which according to supporters would keep "foreign laws" from being recognized in Texas.
The measure brought protesters to City Hall who called it a thinly veiled jab at Islam. They also said it was only stroking public fears of Sharia being implemented within the city.
It also placed Van Duyne in the national spotlight.
Though she pointed out that the bill did not mention Islam or the tribunal, she got a popular boost shortly after she posted on Facebook that she would work with state legislators to "clarify and strengthen" prohibitions of "foreign law."
"If it is determined that there are violations of basic rights occurring," Van Duyne wrote, "I will not stand idle and will fight with every fiber of my being against this action."
Van Duyne was criticized for the post, which she has stated was wrongly interpreted as anti-Islamic. But with the national spotlight already trained on her, the mayor was invited to speak with a range of conservative icons, such as Glenn Beck and Dana Loesch from The Blaze.
Van Duyne read the post like part of a stump speech at speaking engagements, pausing between lines and punctuating the end for the expected applause from friendly audiences.
"The mayor should be focusing on economic development and lifting education in this city, but instead she's being divisive," Tariq Jaffery, who works with the Texas Democratic party mobilizing Muslim voters, told BuzzFeed News. "And this is not the first time we've had problems like this."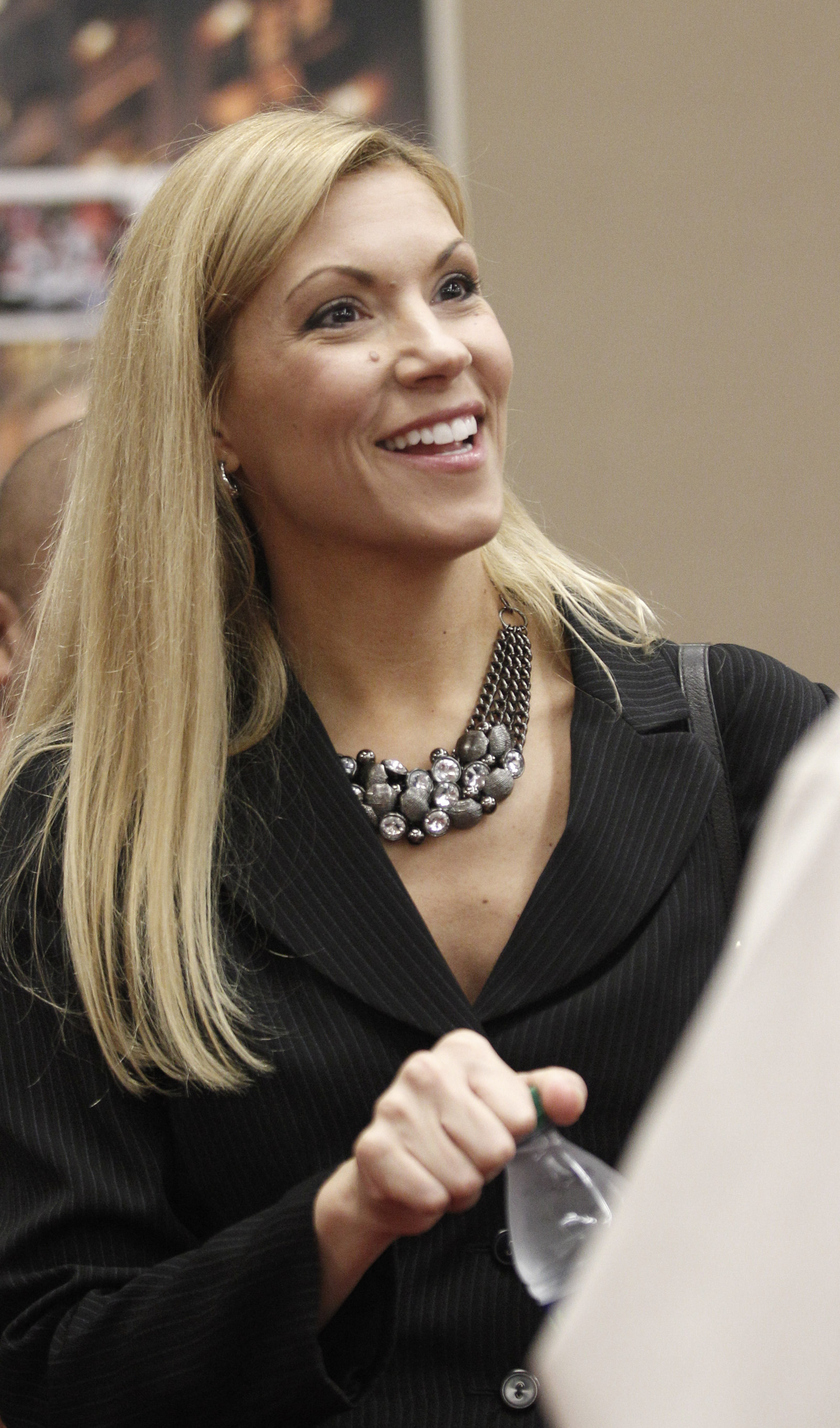 Van Duyne, who did not respond to request for comment, has said her support for the bill has nothing to do with Islam, yet has often pointed to the tribunal to explain her popularity.
"I think you need to put your foot down and say, 'This is America,'" she told Glenn Beck.
In another interview on June 23, she said her intent was not to offend members of the mosque and decried the response to her support.
"We were called racists, we were hateful, we were bigots," she said. "It was ridiculous."
Later in the interview, she criticized lawmakers who weren't supporting the bill.
"I think one, that you have elected officials that don't respect what we have in our country," she said. "They're seeing the destruction of our culture, and that bothers me."
There are no hard numbers as to how many Muslims live in the Dallas-Fort-Worth area, but there are clear indicators that the community is steadily growing — and growing more active.
Hamideh, who is also an attorney for imams at the Islamic Tribunal, said there are likely between 300,000 to 600,000 Muslims living in North Texas.
A Texas resident for decades, he remembers that in the 1980s the only mosque in the area was in Richardson. Today, there are 27 mosques, with many of them seeing about 5,000 people for Friday prayer.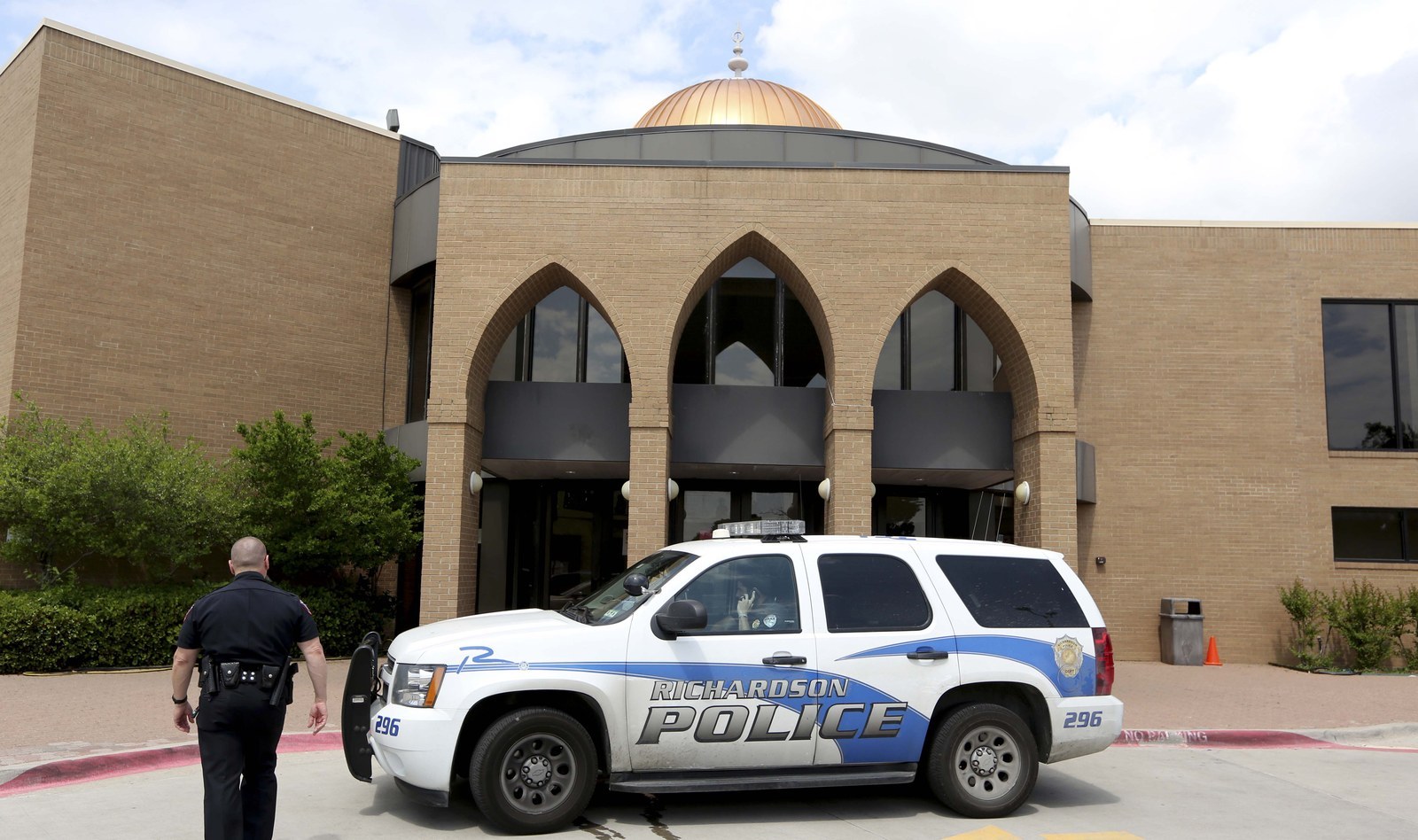 "The number of Muslims have expanded by leaps and bounds," Hamideh said.
Aisha U-Kiu, president of the American Muslim Professionals of Dallas, points to her own organization. Founded in 2012 with 35 members, it has since grown to more than 300.
Though her organization deals more with networking and opportunities for professionals, she often hears from professional Muslims in the area who have concerns about anti-Islamic sentiment, including women who struggle to find jobs because they wear hijabs — which cover the head but show the face.
"The environment is really getting more hostile," she said.

U-Kiu remembers the anti-Islamic sentiment shortly after 9/11, but said she remembers a diverse, unified, and accepting student body in MacArthur High School when she graduated as valedictorian in 2004 — the same high school where Mohamed was suspended for bringing his clock.
It wasn't until during and after college that U-Kiu noticed a lack of diversity on campuses and in the workplace, but groups like Muslim student associations helped build connections and support, she told BuzzFeed News.
In recent years, not only are more Muslims moving to the Dallas-Fort Worth area, they are organizing and becoming politically and professionally active, U-Kiu said.
"Our parents came and established the religious foundations," she said, referring to community hubs in mosques. "Now I feel that as the next generation of Muslim Americans, it's on us to build on that and improve it."
Aziz, the professor and researcher at Texas A&M, said that growth might be part of the growing xenophobia faced not just by Muslims, but all immigrants in the state.
"When groups start to get large enough and hit a critical mass, they start to be viewed as more threatening," Aziz told BuzzFeed News. "At the same time, you're not having a commensurate growth of political power by these minorities."
It's a problem that stretches across the U.S., Aziz said.
Many hope that as the Muslim population grows and becomes more politically active, incidents like what happened to Mohamed will become less frequent. The fact that Ahmed and his family spoke out also helped to serve as an example to other Muslims in the future, Hamideh said.
The challenges they face is also serving to unite a Muslim community that is itself diverse, he added.
"The irony is that this discrimination that we're seeing against Muslims is in fact helping them unite and overcome those differences," Hamideh said. "In fact, you're seeing more mobilization with time."