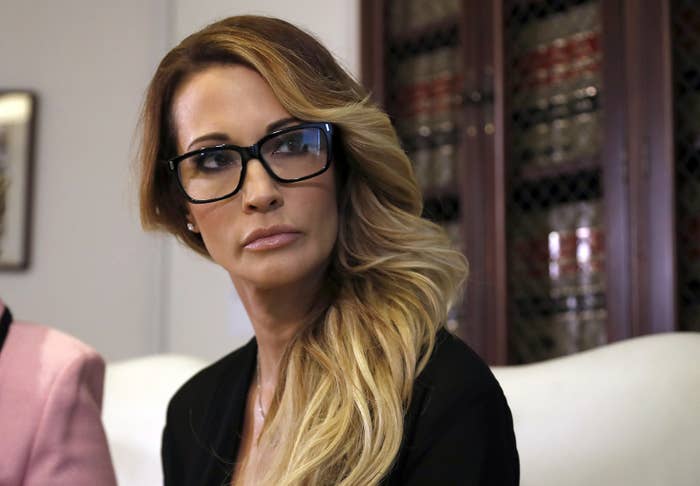 Adult film actress Jessica Drake said Donald Trump, or someone on his behalf, offered her $10,000 and the use of his private jet to come to his suite, becoming the 11th woman in recent weeks to accuse the Republican presidential nominee of an inappropriate sexual advance.
Drake said she declined the money and did not sleep with the billionaire, but she decided to tell her story publicly because of the other women who have accused Trump of sexual assault in the past, and his denial of the multiple claims.
"His words and actions are a huge testament to his character — that of uncontrollable misogyny, entitlement, and being a sexual assault apologist," Drake said at a press conference with her attorney Gloria Allred.
In a statement, the Trump campaign later called Drake's claims "false and ridiculous."
An adult film actress since she was 24, Drake is now 42 and has performed in more than 200 films. In recent years, she has written and directed educational-style hardcore adult films, including one released last year that centers on the topic of consent.
Drake alleges the incident involving Trump occurred 10 years ago during golf tournament at Lake Tahoe. She was there with adult film company Wicked Pictures, which had set up a booth at the event.
"He flirted with me and he invited me to walk on the golf course along with him, which I did," Drake said, reading from prepared statements.

During that walk, Drake said Trump asked her for her phone number. Later that day, he invited her to his room and she went with two of her friends because "I didn't feel right going alone."
At the suite, Drake said Trump was wearing pajamas and "grabbed each of us tightly in a hug and kissed each of us on the lips without asking permission."
Drake and her friends were at the suite for about 45 minutes, where Trump asked questions about their work in porn and whether they were single or in a relationship.
"After I returned to my room, I received a call from a man calling on Donald's behalf," Drake said. "He said that Donald wanted me to come back upstairs to Donald's suite."
The man told her Trump wanted to have dinner with her and invite her to a party, but Drake said she declined.
Trump then called her suite, she said, repeating the invitation that she refused, again.
"Donald then asked me, 'what do you want? How much?'" she said.
Drake said she said she had to return to Los Angeles for work.
"I said that as an excuse because I didn't want him to continue asking me to go to his room and I didn't want to be with him," she said.
The two hung up, but she said she received a third call "from Donald or a male calling on his behalf offering me $10,000."
Drake said she refused again, repeating that she had to return to Los Angeles, and that the male on the other end of the line said she could use Trump's private jet.
Drake, in her prepared statement, does not specify whether or not she declined the last offer. She and her attorney would also not explain whether the caller was Trump or someone else, or why there was uncertainty over who made that third call.
Drake, however, said she declined again and later told friends about the experience, though she said she would not name them.
Along with allegations, Drake and Allred handed out to reporters a picture of her and Trump, which she said was taken during the golf tournament.
"This is not acceptable behavior for anyone — much less a presidential candidate," she said. "I am not looking for monetary compensation, I do not need additional fame or the type of attention this will bring."
Trump's campaign released a statement on Saturday saying Drake told a "totally false and ridiculous" story.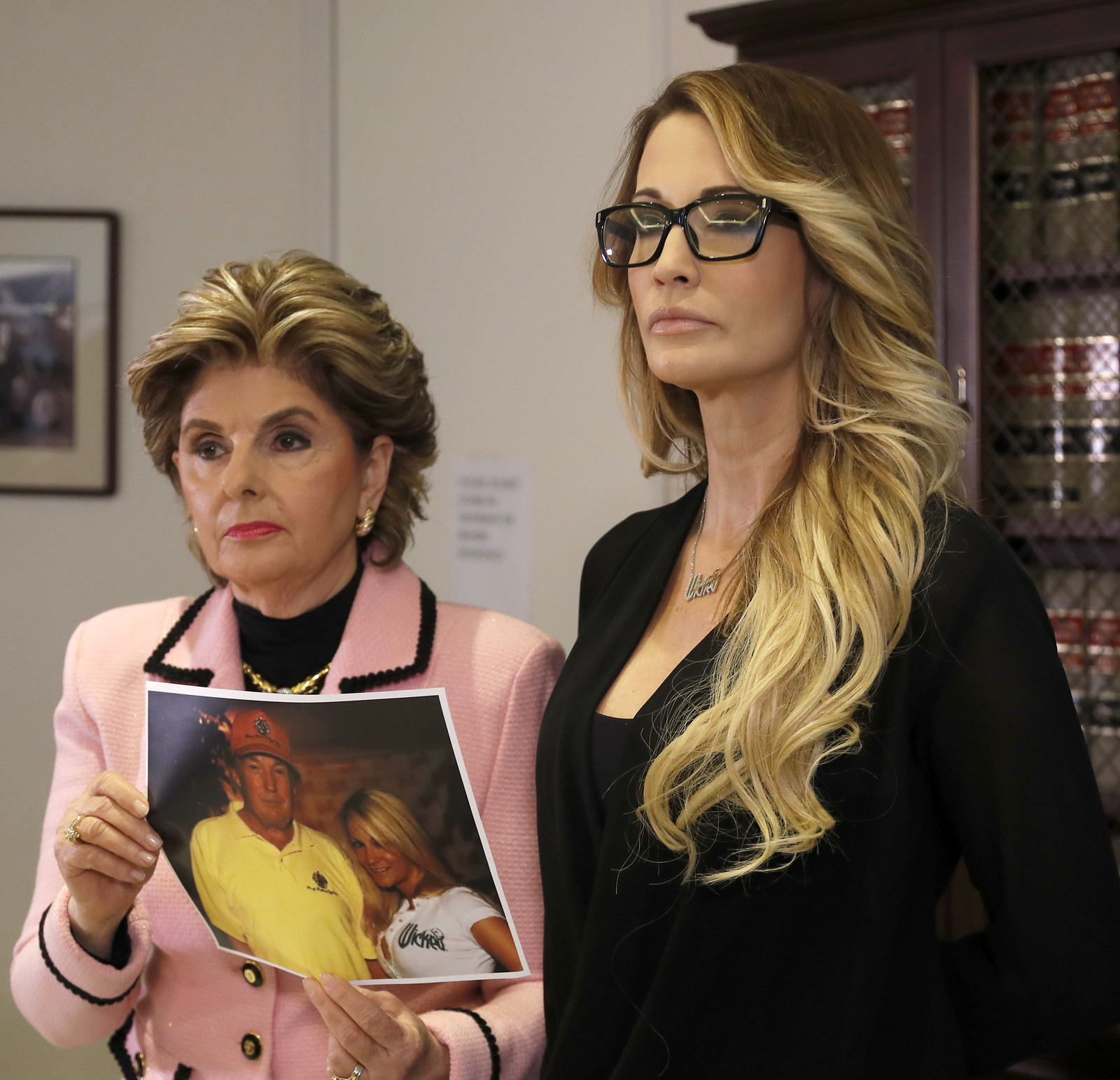 "This story is totally false and ridiculous. The picture is one of thousands taken out of respect for people asking to have their picture taken with Mr. Trump. Mr. Trump does not know this person, does not remember this person and would have no interest in ever knowing her," the statement read, referring to a photo of Trump and Drake together that was shown at the press conference.
"This is just another attempt by the Clinton campaign to defame a candidate who just today is number one in three different polls," the statement continued.

Trump has accused the women that have come forward in recent weeks accusing him of sexual assault of being "liars" and part of an operation of the Hillary Clinton campaign.
At a campaign rally earlier Saturday, Trump also said he would sue the women that have spoken out for levying false accusations against him.
Allred, who is also representing other women accusing Trump of sexual assault, said the threats would not silence his accusers.
"If he sues them, we are confident that an army of lawyers will step forward to represent them and we believe that the public will financially support their legal defense," Allred said.
A lawsuit filed by Trump's attorneys, Allred said, would also open the Republican candidate to be deposed.
"Be careful Mr. Trump," Allred said. "In plain English, you will be require to testify under oath and the women's lawyers will welcome the opportunity."