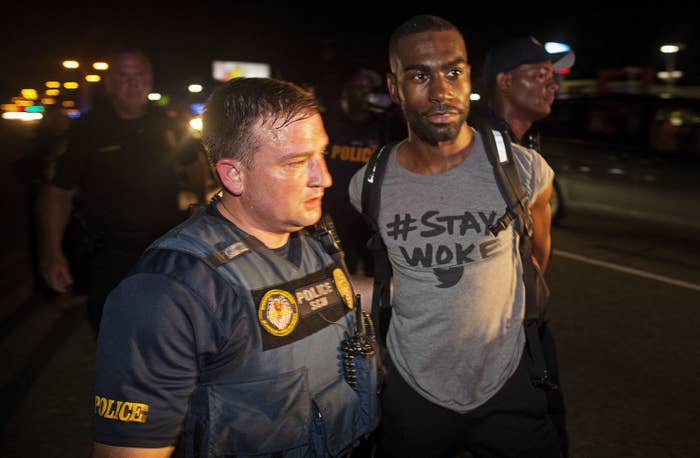 DeRay Mckesson, one of the leaders of Black Lives Matter, was released on bond Sunday following his arrest during a protest against police violence in Baton Rouge Saturday night.
Mckesson had taken into custody as he live streamed the encounter on Perisope.
In addition to Mckesson, 131 people were arrested, 19 of them from out of state, authorities said in a press conference Sunday.
A New York Times reporter on Sunday tweeted an image of Mckesson's affidavit of probable cause, which stated he was charged with simple obstruction of a highway.
"During the protest, the defendant entered the roadway and and was provided another verbal order to exit the lanes of travel," the affidavit read. "Moments later, the defendant entered the roadway again and was taken into custody by officers on scene without incident."
"I think of protest as truth-telling in public. And I will never be afraid to tell the truth," Mckesson tweeted Sunday evening after his release. "Thank you to everyone who called, emailed, tweeted, texted, or donated on behalf of those of us who were arrested last night."
In a phone interview with the Washington Post, Mckesson said he was with local activists and "in compliance with the law" when he was arrested, adding he was "confident that this was an unlawful arrest."

"The protesters were peaceful last night, the police were not," Mckesson added.
He told reporters outside jail that he wanted the Department of Justice to investigate the Baton Rouge police department.
"If orders are made not to obstruct a roadway and you step out into the road, that is cause for arrest. Period," Lousiana Governor John Bel Edwards said in a press conference with police on Sunday. "That is just as much for the safety of yourself, as it is for the motorists and law enforcement officers, as well as other protesters in the area."
Radio station WWNO also confirmed via Twitter that one of its reporters was taken into custody while a crowd protested the recent police killing of Alton Sterling outside a convenience store earlier this week.

The radio station reconfirmed on Sunday morning that its reporter was still being held by police, and was arrested for "one count of obstruction of highway."
Multiple news reports identified the reporter as Ryan Kailath. WWNO tweeted Sunday that Kailath had also been released.
Kailath tweeted Sunday night after being released a video of what he described as the "last 13 seconds before I was arrested." He also said that he was charged with obstructing a roadway, but that he had never touched the road.
"Never meant to be part of the story and never OCCURRED to me I might be arrested," Kailath added in a subsequent tweet.
Police also took an employee from WAFB Channel 9 into custody, WAFB confirmed to BuzzFeed News. However, officials at the channel said it was unclear if he was booked or charged after he was handcuffed by officers.

Mckesson, an activist and former Baltimore mayoral candidate, was taken into custody by officers while walking along the street.

Before he was arrested, Mckesson said police had been "provoking" protesters, at one point driving on the opposite side of the road and aiming their lights at the crowd.

"The police of Baton Rouge have been truly awful today," he said on the video. "The police have been violent tonight, the protesters have not."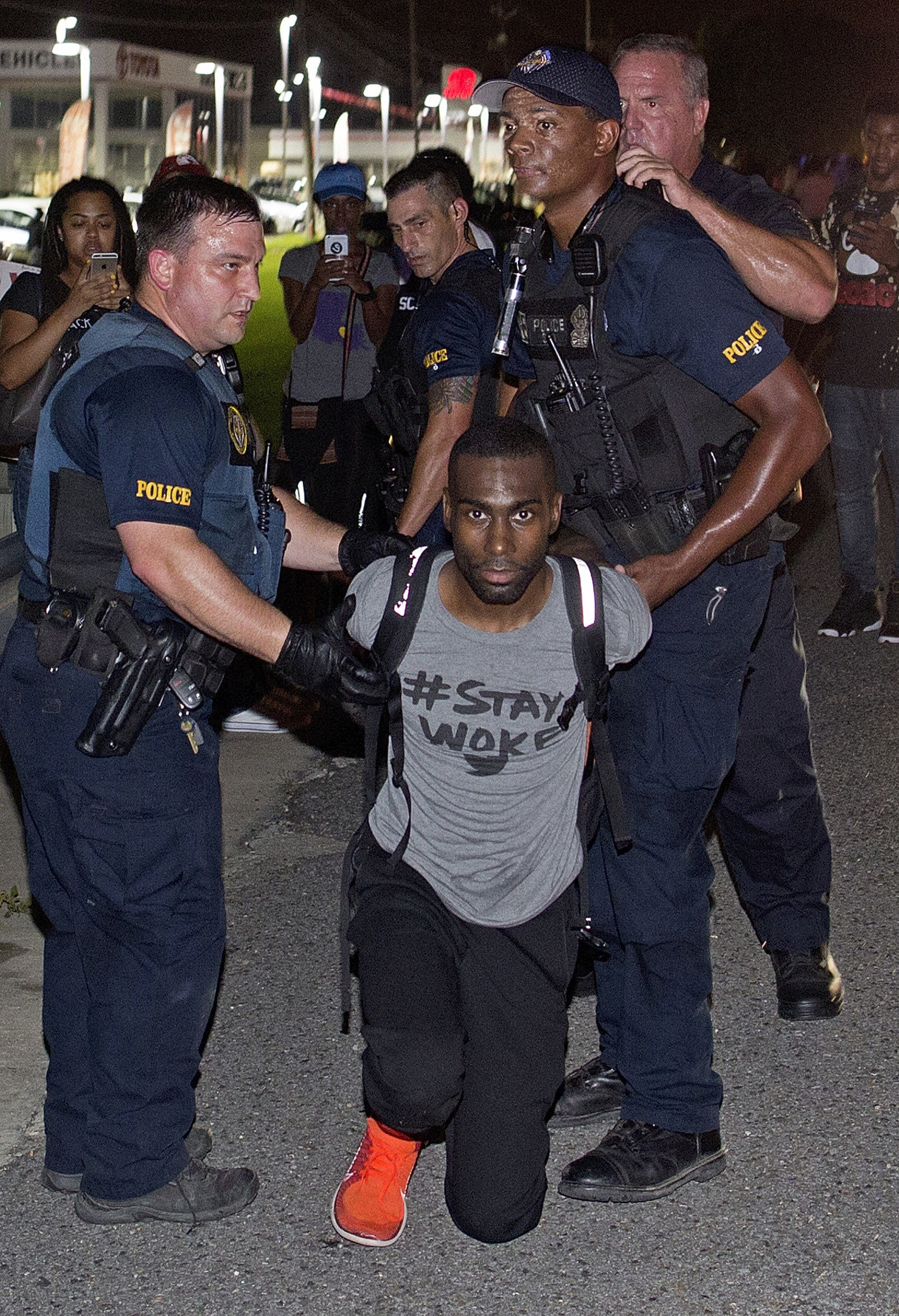 At one point, a uniformed officer can be heard telling Mckesson that he would arrest him if he walked on the road.
Mckesson then points his camera at the road, and says there is no sidewalk.
In the video, Mckesson walks toward a patrol car with his camera aimed at officers making what appears to be an arrest when another officer tells him he is under arrest.
"Don't fight me, don't fight me," the officer can be heard saying.

"I'm under arrest, y'all," Mckesson yells out.
Another Periscope video shot by someone else shows Mckesson walking down the road as officers approach him and bring him to his knees during the arrest.
At Sunday's press conference, Governor Edwards said it is a "sad fact" that people were coming out of the state to protest, but added that they are welcome if they engage in "peaceful" and "lawful" protests.

"However, they're not going to be allowed to come here and nor will our own citizens be allowed to incite hate and violence, to engage in unlawful activities," he said. "I want to be very clear. That will not be tolerated. We don't operate like that in Louisiana."