The American Civil Liberties Union and other groups filed a lawsuit Wednesday against the Baton Rouge Police Department, alleging officers used excessive force and wrongful arrests to disperse crowds of protesters.
More than 100 people were arrested during a protest Saturday, including two local journalists and activist Deray Mckesson.
The suit alleges police "responded to peaceful acts of protest with unlawful restrictions" and deployed "militarized equipment and excessive force."
"[The police response] made me afraid to protest," Crystal Williams, an organizer with North Baton Rouge Matters, said in a statement released by the ACLU. "Seeing the way the police were manhandling folks caused me to hide, scream out of fear, and finally flee for my safety. I had to run."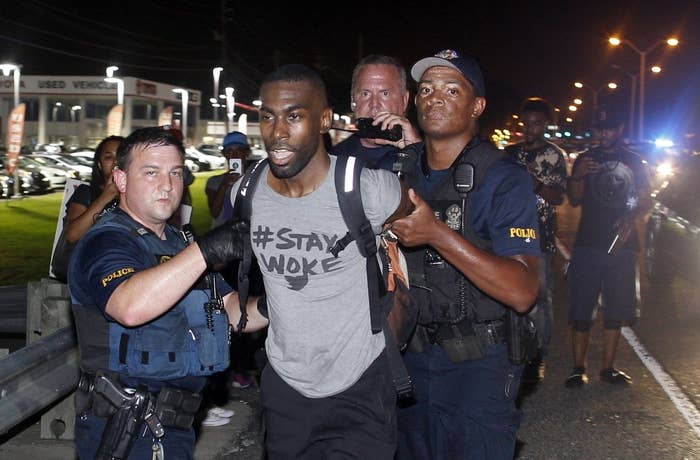 Baton Rouge has seen several protests since the death of Alton Sterling, a black man who was fatally shot by a police officer last week in front of a convenience store.
Attorneys allege the police actions during the protests, including the arrests and militarized response, was made to "intimidate protesters and deter the continued exercise of the First Amendment."
Baton Rouge Police Chief Carl Dabadie said during a news conference Tuesday that the "show of force" was due to a credible threat against officers that involved a burglary of eight handguns from a pawn shop over the weekend.
One of the detained suspects, law enforcement officials said, told investigators their goal was to use the stolen weapons against officers.
A fourth remains at large and two handguns have yet to be recovered.
The New Orleans Workers Center for Racial Justice, Black Youth Project 100, and National Lawyers Guild are joining the ACLU's legal action.
"The police didn't do their job in Baton Rouge, again," Marjorie Esman, executive director of the ACLU of Louisiana, said in a statement. "We can't bring Alton Sterling back but at minimum, the police can stop blocking our right to protest in his name."