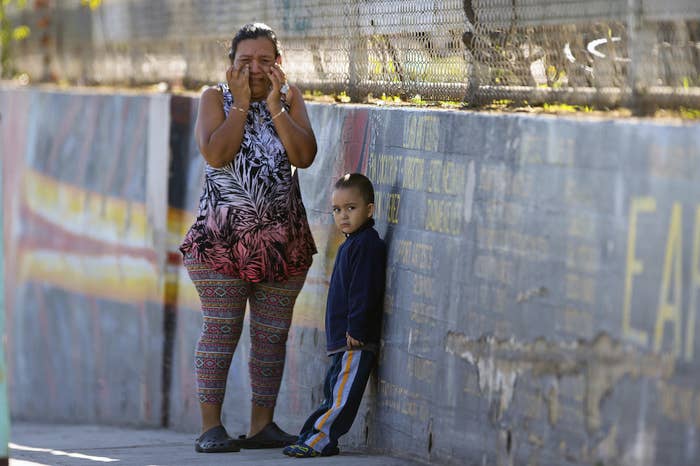 A shooting inside a Los Angeles middle school classroom that left four students injured Thursday is believed to have been an accident, police officials told BuzzFeed News.
The gun, authorities said, appeared to have discharged from inside a backpack.
The gunfire struck a 15-year-old boy in the head, leaving him seriously injured, and another 15-year-old on the wrist. Two other students were also injured after being grazed by gunfire, said Dr. Aaron Strumwasser, trauma surgeon for Keck Hospital at the University of Southern California.
A 30-year-old woman also sustained minor injuries, but did not have a gunshot wound according to the Los Angeles Fire Department.
But hours after the shooting, which forced the school into lockdown and law enforcement officers scrambling to the campus, officials said the shooting did not appear to be intentional.
The 12-year-old girl who fired the weapon was booked into jail on suspicion of negligent discharge of a weapon, Lt. Chris Ramirez of the Los Angeles Police Department said. She was not expected to face additional charges.
On Friday, police said the gun appeared to have fired once.
"All of our indications and evidence have led us to believe it was discharged from within the backpack and we do not believe more than one round was fired," Deputy Chief Robert Arcos said.
Authorities said they were interviewing witnesses and the suspect to determine what happened in the middle school classroom, how the young girl got access to the firearm and why it was brought into the school.

"As a parent, this is our worst-case nightmare," LAPD Commanding Officer Robert Arcos told reporters.

One student told the Los Angeles Times he believed the shooting had been accidental.
"Someone decided to bring a gun, I guess someone was accidentally playing with it," Benjamin, a seventh-grader. "They thought it was a fake gun."
Another student, Jordan Valenzuela, told the Associated Press he spoke with the 12-year-old girl identified as the suspect, who he said was crying and saying, "I didn't mean it." Valenzuela said the girl told him she was carrying the gun in her backpack, and that the firearm might have been discharged when she dropped the bag.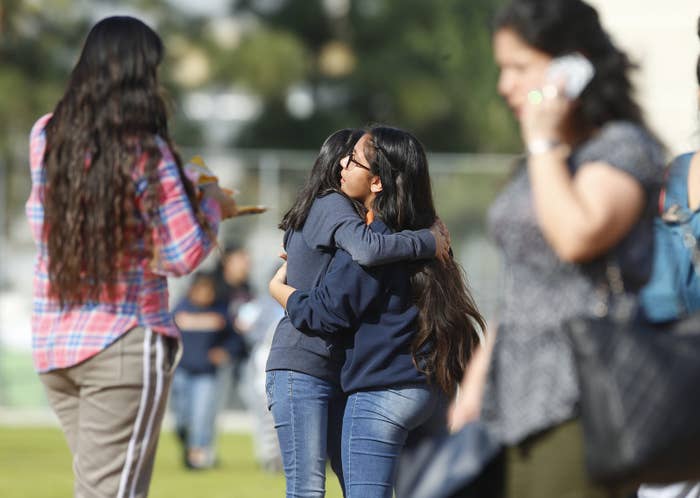 Despite one of the victims being shot in the head, Strumwasser, trauma surgeon for Keck Hospital, said the boy and the rest of the victims were expected to fully recover.
"In this circumstance the child was extremely lucky," Strumwusser said. "I think he will do fine."
LAPD officials said they began to receive reports of shots fired at Salvador Castro Middle School at 8:55 a.m., prompting the school to go on lockdown.

Police said the suspect, a 12-year-old girl, was taken into custody and a firearm was recovered.
The firearm was described as a semiautomatic handgun.
Law enforcement officials did not disclose what may have led to the school shooting, or if the suspect had any connection to any of the victims wounded Thursday morning.

"At this point right now, it is still too early in the investigation to understand the motive, what precipitated this, how that weapon was accessed," Arcos told reporters. "At this point we're not in a position to answer that because we just don't know."
Steve Zipperman, chief of the Los Angeles School Police Department, told reporters it was not clear how the 12-year-old girl got access to a weapon, or why it was brought to school.
Authorities are also trying to determine who the owner of the weapon is.
Mayor Eric Garcetti praised first responders, whose "courageous action prevented this tragedy from becoming far worse," and called for tighter gun controls.
"We should all be beyond outraged by the terror that a needless proliferation of guns can bring into our children's lives without warning or cause," he said in a statement.