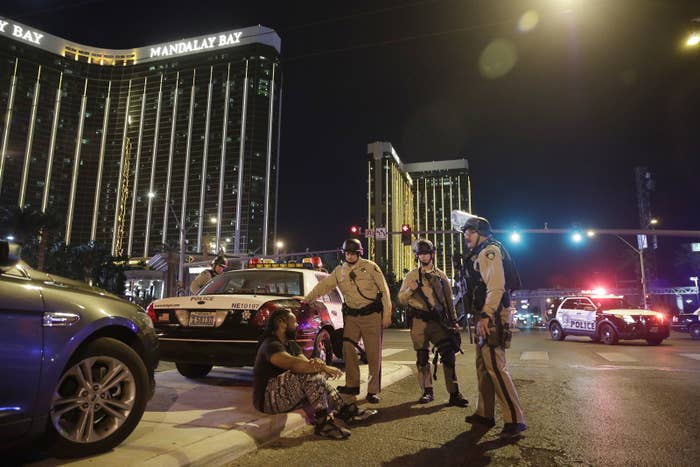 "Route 91! Route 91 Route 91!" a man frantically yelled into a phone as gunfire rang out in the background. "There's people firing guns everywhere!"

"Send everybody, there's a hundred people on the ground, bleeding out," he told a 911 dispatcher. "Oh my god. Oh my god!"

Las Vegas police on Wednesday released hundreds of 911 calls made last year during the mass shooting that left 58 people dead and hundreds of others injured. The panicked calls are the first to be made public since the Oct. 1, 2017, attack after the Nevada Supreme Court ordered police to release records from the shooting.
In one of the earliest calls received by dispatchers, just seconds after authorities said the gunman opened fire on the crowd, no one comes on the line. Instead, there is only screaming heard in the background, and what sounds like rapid gunfire.
"We can't stay here," a person is heard saying. "What do we do?!"
The audio also captures dispatchers trying to grasp the scale of the incident, which would quickly become the worst mass shooting in modern US history.
In one call, two dispatchers continue to try to obtain information from a caller who reported her sister had been shot, then suddenly stopped responding to their questions.
"We have numerous calls coming in, so I'm not sure what we're going to use," one of the dispatchers tells a colleague, suggesting it was a possible active shooter situation. "We possibly have 20 subjects down."
"What?!" the dispatcher responds.
Shots repeatedly ring out in the background as people continue to call 911, crying out for help.
In another call, a woman tells a dispatcher her friend has been shot, but they were unable to move her as the gunman continued to rain bullets onto the crowd.
"Oh my god, they're still shooting. Fuck!" she says. "It's like machine guns."
Within the next two hours, dispatchers would field more than 500 calls from Las Vegas and across the country as word of the deadly shooting spread through news outlets and social media.
Relatives of people visiting Las Vegas called asking for information about loved ones.
Soon, rumors began to spread of additional shooters in other areas of Las Vegas, causing people to flee from other casinos along the famed Strip, fearing a shooter was near.
Others told dispatchers they were hiding in broom closets, portable bathrooms, and storage rooms across the Strip.
Police were deployed across the city as calls from terrified residents and tourists poured in to authorities.
"There are eight different locations where there are active shootings and people are down," one dispatcher said.
Despite the calls, police would find only one shooter, Stephen Paddock, who had opened fire from his hotel suite on Mandalay Bay's 32nd floor.

The records and phone calls were released as part of a lawsuit filed by multiple news outlets.
On Tuesday, Clark County Sheriff Joe Lombardo told the Las Vegas Review Journal a final report on the investigation surrounding the shooting is expected to be released next month.
Asked if authorities had discovered a motive for the massacre, Lombardo said it was still unknown.
"We have not determined the motive," he said. "And I anticipate we won't."