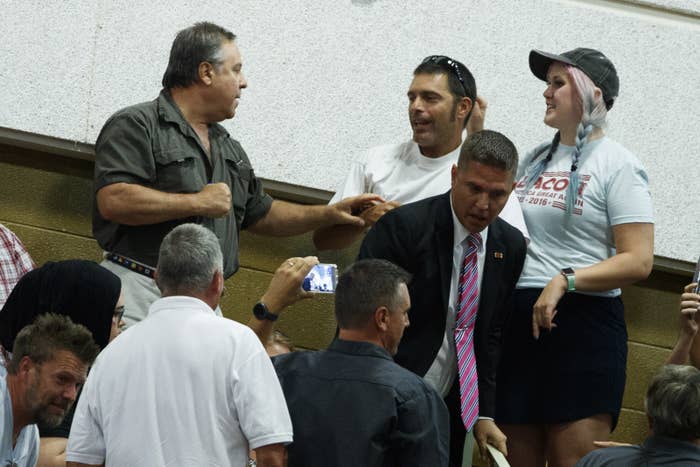 North Carolina police obtained arrest warrants for two men accused of assaulting protesters Monday at a Donald Trump campaign rally, including a 69-year-old woman who was punched in the face, authorities said.

The woman, who carries an oxygen tank with her, told the Citizen-Times a man punched her in the jaw after she told people leaving the rally, "You better learn to speak Russian," referring to Donald Trump's positive comments about Russian President Vladimir Putin.

Asheville Police Department said in a statement Tuesday an arrest warrant was issued for Richard L. Campbell Monday night in connection to the assault.
Officers gave the victim, Shirley Teter, a ride home.
Teter told WLOS she has protested several times in her life, and that she decided to protest the Trump rally because she "ran into another situation that was sickening to my heart."
Teter said she fell on her oxygen tank after being punched, suffering sore ribs, a sore jaw, and a cut on her elbow from the incident.
Video recorded at the scene shows Teter on the ground after the punch, and bystanders going after the man who allegedly punched her outside the rally.
Police said a total of five people were arrested during the Monday rally for a variety of charges, including simple affray, resisting a police officer, second-degree trespassing, and simple trespassing.
Asheville police said they also obtained an arrest warrant for Thomas Vellanti Jr., a man who was recorded hitting protesters as they were escorted out of the rally Monday.
Video of the incident showed the man, later identified as Vellanti, shoving one protester, grabbing the hair of another, and slapping a third as they were being escorted out of the rally.