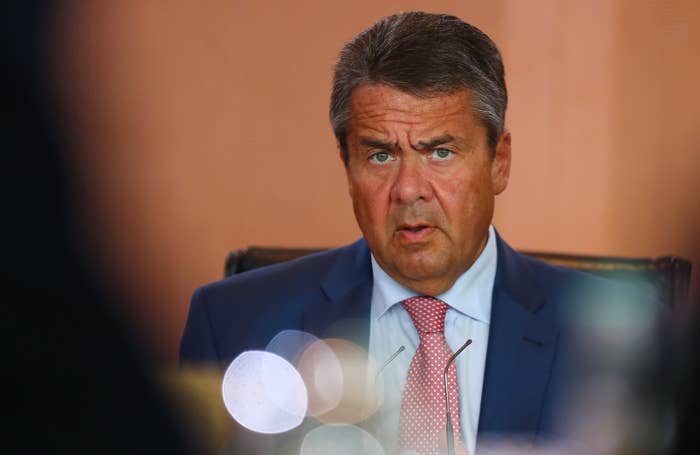 BERLIN — The German Vice-Chancellor, Sigmar Gabriel, said he was shocked President Donald Trump failed to condemn the white supremacist rally in Charlottesville, adding that it was full of "neo-Nazis, the KKK, and people that helped Trump get elected."
His remarks came during an exclusive interview with BuzzFeed News on Wednesday, during which he also suggested Trump withheld his criticism because "One of his advisors, Steve Bannon, is an actual right-wing extremist."
"I was shocked that the American president did not call out the perpetrators in Charlottesville," Gabriel said. "We can never trivialize those people. You have to call things by their names and that was right-wing terrorism."

Gabriel, who is a member of the left-leaning Social Democratic Party in the coalition government led by Chancellor Angela Merkel, has been attacked over Germany's intake of refugees, which has seen the country welcome more than one million since 2015.
Last year, he was criticized after giving the finger to a group of masked protestors, who reportedly invoked the memory of Gabriel's father, a Nazi sympathizer, calling out, "Your father loved his country, and what do you do? You destroy it."
"People thought it was inappropriate for a minister," he told BuzzFeed News. "My only mistake was that I didn't use both hands. You have to make clear there are boundaries."
Asked if the far right could feel empowered by the protests in Charlottesville, Gabriel said, "unfortunately they feel like they are internationally on the rise."

He said he thought the global movement is not as strong as some nationalists believe, pointing to the fact that nationalist parties failed to win elections this year in France and the Netherlands. Germany will hold elections in September, but its nationalist party, Alternative for Germany, saw its support collapse this year largely because of infighting within the party.

"They are not on the rise, but because of Trump, the far right feels like they're part of an international right, so to say — which is nonsense because they are narrow-minded nationalists and thus not internationalists," he said.

But he said he still considered the global movement dangerous. "There is an actual threat that should not be played down," he said.