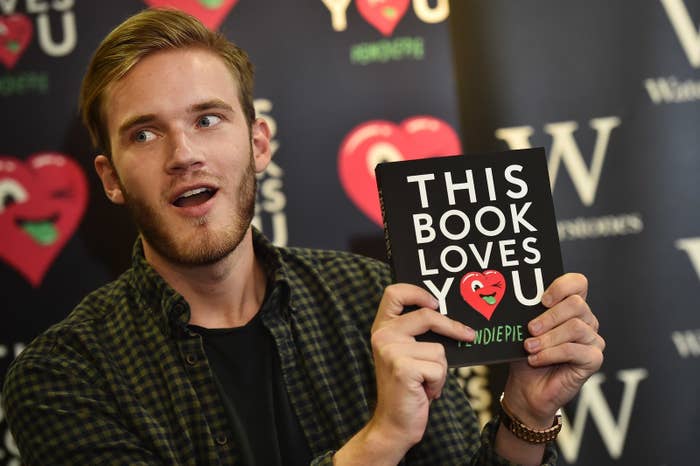 Felix Kjellberg, a 27-year-old Swede better known by his online name PewDiePie, has found himself embroiled in another controversy after he was recorded saying a racial epithet during a video game livestream.

On Sunday, while playing the game PlayerUnknown's Battlegrounds, Kjellberg called another player by the n-word before laughing into his microphone.
"What a fucking nigger," he said. "Jeez, oh my god. What the fuck? Sorry, but what the fuck? What a fucking asshole. I don't mean that in a bad way."
Kjellberg, who has 57 million subscribers on YouTube, lost a brand deal with Disney's Maker Studios and an original show with YouTube Red earlier this year after media reports questioned his use of anti-Semitic jokes and imagery in videos. The Wall Street Journal counted nine different videos of his that included anti-Semitic content since August 2016.

Many have been swift to condemn Kjellberg's comments, including video game designer Sean Vanaman, whose San Francisco-based Campo Santo studio is behind Firewatch, a title played by Kjellberg.
"We're filing a DMCA takedown of PewDiePie's Firewatch content and any future Campo Santo games," he wrote on Twitter. "There is a bit of leeway you have to have with the internet when u wake up every day and make video games. There's also a breaking point."
"I am sick of this child getting more and more chances to make money off of what we make," he added.
In a video following the events in Charlottesville last month, Kjellberg attempted to distance himself further from those who suggested he was aligned with Nazi sympathizers and white supremacists.
"If for some reasons Nazis think it's great that I'm making these jokes, I don't want to give them that benefit," Kjellberg said. "So I'm going to stop doing it. Nazi memes, they're not even that funny anymore. It's sort of a dead meme. So just to make it clear, no more."
"It's not me censoring myself," he added, "it's more like I don't want to be part of this."
Kjellberg has yet to respond online to the criticism following Sunday's livestream remarks. He did not immediately respond to an emailed request for comment from BuzzFeed News.
When contacted by BuzzFeed News on Sunday, Vanaman outlined his hesitance in using a takedown request through the Digital Millennium Copyright Act, but said that Kjellberg's comment was "the straw the broke the camel's back."
"I love streamers," he said. "I stream and I watch streamers literally every day. I'm sure a lot of them say things that I hate and have political views that are different than mine, but I don't care because we just play video games together.
"Nevertheless we made a choice to have Firewatch not associated with his channel anymore, not because he's the most offensive person, but because
he's the biggest."

Vanaman said he issued one takedown notice to YouTube for one of Kjellberg's videos that featured his company's game. The video, which had been watched more than 5.7 million times, was removed by YouTube on Sunday night.
"I wish there was a clear way to say we don't want our work associated with hate speech, even accidental hate speech if that's what it was," Vanaman told BuzzFeed News. "I regret using a DMCA takedown. Censorship is not the best thing for speech and if I had a way to contact PewDiePie and take the video down, I probably would. He's a bad fit for us, and we're a bad fit for him."