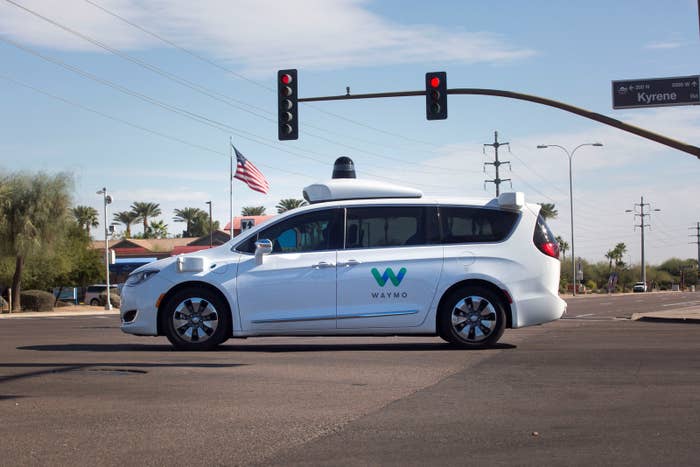 Did Uber Technologies cheat and steal intellectual property in the race to build a self-driving car? That's the basic question that lawyers for Waymo and Uber grappled with on Monday in a federal district court in San Francisco during the opening arguments of a closely watched trade secrets case that could shape the nascent autonomous vehicle industry.
The lawsuit has dominated headlines in Silicon Valley for its billion-dollar implications and the powers at play. In one corner stands Waymo, a subsidiary of Google's parent company Alphabet, which has largely led the technology industry's push toward self-driving cars. In the other corner is Uber, the ride-hailing giant that is now accused of colluding with a former Waymo engineer, Anthony Levandowski, to steal intellectual property and implement it into their own tech.
The trial's commencement comes after Waymo filed its lawsuit almost a year ago — an 11-month period has been marked by dozens of pretrial motions, surprising delays, and Uber's own internal strife and reorganization, including its CEO's resignation. If Monday's proceedings are any indication, the case will continue to be more of a distance slog than a sprint, as one side tries to prove to a jury that a rival swiped its trade secrets to get ahead, while the other attempts to distance itself from an employee it suggests could have been a rogue actor.
"This case is about two competitors, where one competitor decided they needed to win at all costs," Waymo attorney Charles Verhoeven said during his 55-minute opening remarks. "This case is about defendant Uber making a decision that it had to develop this technology for its business model to survive."
Verhoeven compared Uber to the winner of 1980's women's Boston Marathon — the first of a handful of sports comparisons made during the arguments — who infamously hopped on the subway to finish in just over two and a half hours. Waymo's lead lawyer portrayed his own client, which had started its self-driving car program in 2009, as a company that had built an insurmountable lead over Uber and its then-CEO Travis Kalanick, which began to build an autonomous vehicle team by hiring engineers from Carnegie Mellon University in 2015. But when it became clear that playing by the rules wouldn't work, Waymo's lawyer told the jury and Judge William Alsup, Uber "took the subway."
Alsup warned the jury at the beginning of the trial to be aware of the bluster from the attorneys in the room, whom he called "some of the best lawyers in the United States." A veteran of high-stakes technology IP cases, the judge, who is known for his quick one-liners and no-nonsense attitude during pretrial hearings, implored the 10-person jury to focus on what's entered into evidence or uttered on the stand by witnesses, and not the performances of the suits in front of them.
To that evidence, Verhoeven showed emails, text messages, and the computer habits of Levandowski, the former Waymo star engineer who quit Waymo and founded his own self-driving truck startup Otto, which Uber then acquired just months later. Levandowski had already been meeting with Kalanick before forming Otto, Verhoeven said, building a timeline that showed the engineer accessing and downloading Waymo material, including a 14,000-file cache, right before a meeting with the ride-hailing company's executives.
"I feel like we're brothers from another mother," Verhoeven said, reading a quote about Levandowski from an interview with Kalanick.
Despite talking for nearly an hour, Verhoeven did not get into the details about which eight trade secrets were stolen, though it's understood that the case centers around Waymo's LIDAR, a light-based technology that allows a self-driving car to view and assess its real-time surroundings. He also did not outline specific damages, though Waymo had previously estimated them to be about $1.9 billion.
Uber's opening statements were presented by Bill Carmody, a Texas trial lawyer and recent addition to the company's legal team, who took no time to distinguish between Levandowski and Uber. The former Waymo engineer was not a defendant, he said, and he denied that there was any conspiracy between Levandowski and the ride-hailing company to steal trade secrets.
"I want to tell you right up front: It didn't happen," he said. "There is no conspiracy. There is no cheating."
Instead, he portrayed Waymo as a company that was losing its edge in the self-driving car game. It had promised its engineers great sums of money and stock, including a $120 million bonus to Levandowski, to keep them motivated, but worried that fast-moving competitors like Uber could eat their lunch. Carmody presented a slide from a March 2015 internal presentation at Google that noted "Uber is and will be extremely formidable."
"What would it take to consume all of Uber's annual profits in 2025?" the slide read.
As for Levandowski, who is expected to plead the Fifth if he is asked to take the stand, Carmody downplayed the notion that Uber used any of the materials that the engineer took from Waymo. Levandowski joined Uber because, the Texas lawyer said, he thought he'd be joining a winner. Carmody then bizarrely compared Uber to the NBA champion Golden State Warriors, and noted that Levandowski's arrival was much like the team's 2016 signing of all-star forward Kevin Durant.
The Warriors ended up winning an NBA championship the next season. Uber ended up getting sued.
"Uber regrets ever bringing Anthony Levandowski on board," Carmody said. "For all this time at Uber, all Uber has to show for Anthony Levandowski is this lawsuit."
Monday's trial concluded with the testimony of Waymo CEO John Krafcik, who called Levandowski "an interesting character" who gave him no sense that he was already talking to Uber around the time of his departure. "He went from someone who I considered a friend, to an enemy," Krafcik said.
On Tuesday, Kalanick, who resigned in June, may take the stand.