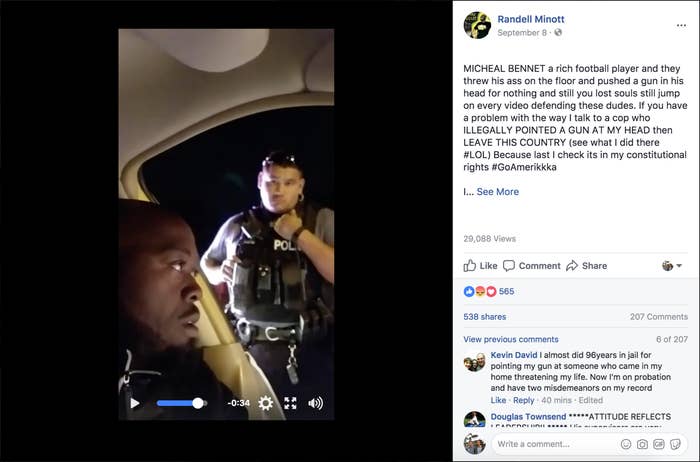 A viral video that's been shared more than 250,000 times on Twitter appears to show a black man berating a white police officer for allegedly pulling a gun on him during a traffic stop.
Last Wednesday, a man posting under the name Randell Minott put a minute-long video on his Facebook and Instagram accounts in which a man talks into a camera as an officer stand behind him staying mostly silent.
"Turn signal not made is a big enough of a crime for you to feel like you need to take out your service pistol," the man says on the video, which has now been viewed more than 1.6 million times on Facebook and Instagram. "Right? Right? Right? That's what's up."
The video, whose authenticity could not be verified by BuzzFeed News, was posted on Wednesday with the caption: "I could of [sic] been a statistic if this ASSHOLE made a mistake and shot me...."
Minott did not respond to multiple requests for comment from BuzzFeed News.
On Friday, Minott posted a longer, three-minute version of the alleged incident on his Facebook with a new caption that referenced Seahawks defensive end Michael Bennett, who said last week that he was racially profiled in a police incident in Las Vegas in August.
"If you have a problem with the way I talk to a cop who ILLEGALLY POINTED A GUN AT MY HEAD then LEAVE THIS COUNTRY (see what I did there #LOL)," Minott wrote. "Because last I check its in my constitutional rights #GoAmerikkka."
On Wednesday, The Wrap published an interview with Minott, in which the New Jersey DJ said he began recording the Sept. 6 encounter after the officer holstered his gun.
"The more and more I started talking to him, I started realizing this guy could have made a mistake and killed me over a f—ing turn signal," Minott, who also goes as Jimmy Spliff, told The Wrap.
The video was also published on culture site WorldstarHipHop. Neither Minott's original video or other subsequent postings provide any details about the date or location of the alleged incident. The officer in the video wears no defining badges or clothing.
In the interview published Wednesday, Minott said the incident occurred in Kansas City, Missouri, and identified the officer as belonging to the Kansas City Police Department's metro division.
The Kansas City Police Department did not immediately respond to BuzzFeed News' requests for comment.
Minnott told The Wrap he first saw the officers after they had pulled someone else over at a gas station and he turned to look.
"When I drove out of the gas station, that same cop that you see in the video, he stared me down before pulling out of the gas station, and I stared back, not to stare at him, but to stare at the situation," he told The Wrap.
Minott said he was pulled over about five minutes later while going down a hill, and he assumed he might have been speeding. After being pulling over, he said he reached over for his paper work, and that's when he noticed the officer was walking with his gun unholstered.
"What if I had seen the gun and gotten nervous?" he said. "I would have jumped, that would in turn make him nervous, and he would have shot me. And it would have all been a mistake."
Those who watched the video were struck by the impassioned way in which the man in the video addresses the unnamed officer, who offered little response to the verbal barbs and anger in the driver's voice. As the man yells at the officer and takes occasional glances back at the camera, other cars speed by in the night.

"You came to the car with your gun out," he says in the video. "For what? Do you have no conscience? Do you see what the fuck is going on TV?"
The officer, whose gun is not drawn in the video, holds on to his bulletproof vest and offers the occasional "okay" in response.

Minott, who appears to be a musical artist working under the name Jimmy Spliff, did not pick up phone calls at a number that was associated with him. Instagram and Twitter accounts which appear to be associated with Minott were set to private.

On Facebook, Minott listed that he lives in Kathmandu, Nepal, but hails from East Orange, New Jersey. The latter appeared to match an address on a public record for Minott. As of Sunday night, he had not publicly posted on Facebook since sharing the longer video of the alleged incident on Friday.