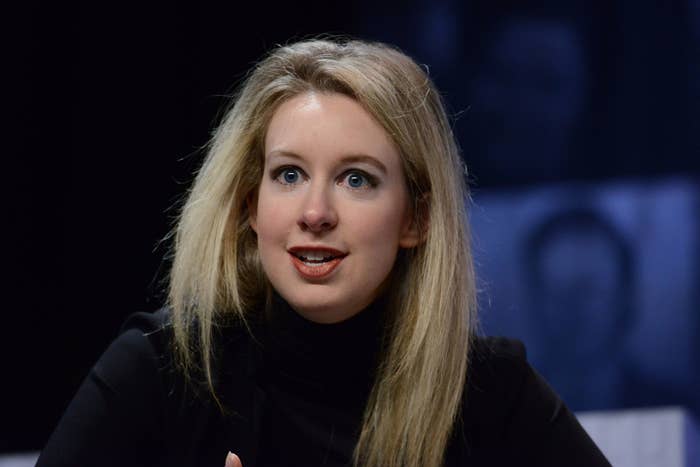 Elizabeth Holmes, the founder of disgraced blood diagnostics company Theranos, was charged by a federal grand jury of various counts of wire fraud, following a multiagency investigation involving the FBI, Food and Drug Administration, and US Postal Service.
On Friday, the Department of Justice indicted the 34-year-old Holmes and Theranos's former president and chief operating officer, Ramesh "Sunny" Balwani, on two counts of conspiracy to commit wire fraud and nine counts of wire fraud each. If convicted, they would each face a maximum sentence of up to 20 years in prison and a fine of up to $2.8 million, plus unspecified restitutions.
The charges come after Holmes settled civilian fraud charges and agreed to pay a $500,000 penalty to the Securities and Exchange Commission in March following the near-complete collapse of Theranos, which allegedly defrauded investors and customers with claims that its technology could diagnose various ailments by using a drop of a person's blood. In a desperate April letter to shareholders, the company disclosed its dire financial straits, layoffs, and the possibility that it might have to default on a $100 million loan. On Friday, Holmes also reportedly stepped down as CEO following the charges.
"Today's indictment alleges that through their company, Theranos, CEO Elizabeth Holmes and COO Sunny Balwani not only defrauded investors, but also consumers who trusted and relied upon their allegedly-revolutionary blood-testing technology," read a statement from the office to Alex Tse, the acting US attorney for the Northern District of California.
A spokesperson for Theranos did not immediately return a request for comment.
The federal indictment restates some of the same findings made by the Wall Street Journal, which was the first to report on Theranos's alleged lies to patients, doctors, corporate partners, and investors. In the 11-page indictment, the Justice Department makes the case that because Holmes and Balwani knew their blood tests produced unreliable results and still sold them, they committed wire fraud by electronically wiring those results to patients and doctors across state lines.
"The indictment further alleges that Holmes and Balwani knew that many of their representations about the analyzer were false," read a statement from the US Attorney's Office. "For example, allegedly, Holmes and Balwani knew that the analyzer, in truth, had accuracy and reliability problems, performed a limited number of tests, was slower than some competing devices, and, in some respects, could not compete with existing, more conventional machines."
The pair were arraigned Friday in a San Jose federal court, according to the indictment. They were reportedly released on $500,000 bond each and ordered to surrender their passports by the judge.