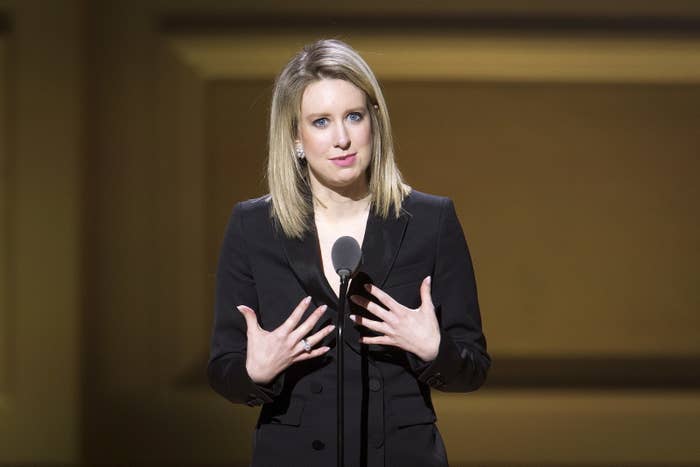 Theranos, the disgraced blood testing company, is in dire financial straits and may have to default on a $100 million loan, according to a letter to shareholders from its CEO Elizabeth Holmes that was obtained by BuzzFeed News.

In the note, sent to investors Tuesday, the embattled Theranos founder said that the company had hit delays on a blood test for the Zika virus and had been unable to obtain approval for the product from the Food and Drug Administration. It also asked its existing investors for more money.
FDA approval was necessary for the company to unlock a tranche of debt funding from private equity firm Fortress Investment Group, which in December agreed to loan Theranos $100 million, but in installments and upon the achievement of certain milestones.
Up until Tuesday, the company had only received $65 million of that commitment from Fortress, wrote Holmes, who said she asked Fortress if it would release the next $10 million tranche without the FDA approval for the test. That was not assured, according to Holmes, who then explained that to cut costs, all but a handful of employees had been notified that they would be laid off within 60 days. The Wall Street Journal first reported on those layoffs and said that headcount would be reduced from 125 employees to less than two dozen.
"These developments leave the company in a difficult situation," Holmes wrote, noting that an inability to secure further financing may result in Theranos defaulting on its credit agreement with Fortress. A default may lead to Theranos selling off its assets in a foreclosure sale to fulfill its obligations to the private equity firm.
Theranos' poor financial health and its layoffs are the latest low in more than a year of them for Holmes, who still has not admitted any wrongdoing for her role in misleading the public, business partners, and investors on the viability of her company's blood tests. Last month, she settled civil fraud charges with the Securities and Exchange Commission, relinquishing voting control over her company, returning a large portion of Theranos shares, and agreeing to pay a $500,000 penalty. She still remains under investigation for potential criminal charges by the US attorney's office in San Francisco, according to the Journal, which first broke stories about the company's troubles in late 2015.
Theranos did not immediately return a request for comment.
In her letter, Holmes said that the small group of employees who will remain after June 11, "will consist primarily of financial, legal and administrative personnel alongside a core technical team, who will dedicate their efforts toward generating the maximum near-term return achievable for our stakeholders" through a sale. That may not happen, she warned, given the conditions placed on the company by Fortress, which requires the company to have more than $3 million in cash reserves, a figure that Holmes said she expects the company to fall below by the end of July even with the layoffs. When that occurs, Fortress would have the option to take full control of the company's assets.
Holmes also disclosed that in a foreclosure sale Fortress would possibly be entitled to a 300% return on its investment before other investors were paid out. To stave off that possibility, she raised the possibility of her past backers, who have already put more than $700 million into Theranos, investing more.
"The most viable option that we have identified to forestall a near-term sale or a potential default under our credit agreement is further investment by one or more of you," she wrote. "In light of where we are, this is no easy ask. However, given your support of the company over the years, we wanted to provide this opportunity before we proceed too far down the current path."
Despite the company's precipitous fall, Holmes revealed in the note that she still has some hope. Theranos has 1,175 granted or pending patents around the world and earned a California manufacturer's license in late 2017. Theranos, she said, has also engaged a financial auditor to complete an audit of 2017 financials by the end of June.
"We recognize that the vision of distributed laboratory testing is what inspired many of you to invest, and we strongly believe that continuing our work toward that end could increase the near-term value of the company, and could provide the basis for building significant long-term value," she wrote.
Read Elizabeth Holmes' full letter to Theranos shareholders below
April 10, 2018

Dear Theranos Stockholders,





We last wrote on December 22, 2017, shortly after closing a secured debt financing transaction with Fortress Investment Group. We said that the transaction provided us runway to continue work on the miniLab and to position the company for additional financing events—but acknowledged the narrow path forward.





Unfortunately, we are behind schedule on our first product milestone under the Fortress loan, and as a result will soon face a cash shortage. Below we detail our situation, apprise you of our options, and ask for your help as we continue to work to realize value for your investments. As we describe below, we are evaluating parallel paths, including potential investment terms that would provide a large stake in the company at what we believe to be a favorable price.





*****



The Fortress financing, which closed on December 11, 2017, provided Theranos with up to $100 million of liquidity, subject to product and operational milestones. The first funding tranche of $65 million gross was released at closing. The release of a second tranche of $10 million gross was contingent upon FDA approval or CE marking of the Zika assay for use on the miniLab. Achieving that milestone within the first half of 2018 was crucial to our business plan.





Development of the Zika assay has taken longer than anticipated. While the miniLab hardware and software have progressed steadily since we last wrote, we continue to face issues with the reliability of the Zika assay chemistry itself. As a result, timing for finalization of our FDA submission remains uncertain. We have raised with Fortress the possibility of releasing the second tranche of funding despite the lack of regulatory approval, but its willingness to do so is not assured and we understand that in any event it will likely depend on our securing additional commitments from our existing investors.





These developments leave the company in a difficult situation. Taking into account the substantial cost-cutting measures we are implementing today, including the reduction in force described below, our best current projections indicate that—absent further funding—our cash reserves will by the end of July fall below the $3 million minimum liquidity threshold required by the Fortress loan. Under the terms of our credit agreement with Fortress, our failure to maintain this minimum liquidity would constitute an event of default. Such an event of default, or other events of default that may accompany the company's decreased liquidity, could precipitate an exercise of remedies by Fortress, including Fortress' taking full control of our assets to satisfy the company's obligations to Fortress. We expect that path would negatively impact the amounts, if any, available for distribution to our stockholders.





To avoid or delay a default under our credit agreement, we intend to take every step we can to preserve our remaining capital. Accordingly, today we provided notice, consistent with the WARN Act and other applicable law, to all but a small group of employees that their jobs will terminate in 60 days, on June 11, 2018. Difficult though that action is, we estimate that the associated cost savings will help conserve capital sufficient to fund our operations through approximately the end of July, without default under our credit agreement. After June 11, our remaining staff will consist primarily of financial, legal and administrative personnel alongside a core technical team, who will dedicate their efforts toward generating the maximum near-term return achievable for our stakeholders, likely through a sale of the company or its assets.





The most viable option that we have identified to forestall a near-term sale or a potential default under our credit agreement is further investment by one or more of you. In light of where we are, this is no easy ask. However, given your support of the company over the years, we wanted to provide this opportunity before we proceed too far down the current path.





Of course, even with new capital, the future of the company would remain highly uncertain. Nevertheless, additional investment may come with some meaningful benefits. A further investment could help protect your current one by providing the company time to continue developing the miniLab and/or to monetize its patent portfolio (subject to the terms and conditions of the Fortress loan). Further investment could also help us to avoid a sale for an uncertain amount—including a foreclosure sale following a liquidity-based default under the Fortress loan. Any such sale could significantly diminish the net realizable value of our assets. Moreover, in certain scenarios, Fortress would be entitled to control a foreclosure sale and/or monetization of the assets and to realize up to a three-times return on its investment (including, in addition to the amounts loaned by Fortress, the costs associated with Fortress' monetization of the company's assets). As a result, those scenarios would significantly reduce or eliminate any prospect of distributions to the company's shareholders.




Our patent portfolio—which provided substantial support for the Fortress financing—contains more than 1,175 granted or pending patents worldwide. We believe our patents cover broad and important technologies, including: (i) the core technologies in the miniLab; (ii) technologies underlying point-of-care devices currently on the market and generating sizable revenue; and (iii) still-emerging technologies, such as an ingestible digital sensor that recently received regulatory approval for use in monitoring medication compliance. We also believe these patents have the potential not only to eventually protect the miniLab, should it receive FDA regulatory approvals, on the market, but also to support a licensing campaign that could generate significant additional revenues.




We have real progress to build on. Having rebuilt our quality system and implemented process-oriented safeguards for development and manufacturing, late last year we were granted a California Manufacturer's License following an audit of our manufacturing facilities. Last month, representatives of a third-party notified body conducted an audit of our Quality System; we understand that the auditors will recommend issuance of the ISO 13485:2016 and MDSAP (Medical Device Single Audit Program) certification for the Theranos Quality System. We have also engaged a financial auditor, which expects to complete work on an audit of our 2017 financials by the end of June.




We recognize that the vision of distributed laboratory testing is what inspired many of you to invest, and we strongly believe that continuing our work toward that end could increase the near-term value of the company, and could provide the basis for building significant long-term value.


Although not yet set, the investment terms we are considering would provide a large stake in the company at a favorable price, in light of what we estimate is the intrinsic value of the company's assets. We expect that new investment would take the form of a senior class of preferred stock, which would also feature substantial governance rights, allowing participating investors a significant role in steering the company forward.


Please note that if we offer new equity securities at a price per share less than the applicable conversion price of our existing series of preferred stock, the resulting anti-dilution adjustments could cause significant dilution to our existing stockholders. Such an offering would likely require the consent of the holders of a majority of our existing Series C-1B and Series C-2A Preferred Stock. The interests of these stockholders, who are senior to all other classes and series of stock with respect to payment upon a liquidation or deemed liquidation of the company, may differ from holders of other classes or series of our stock. Holders of Series C-1B and Series C-2A Preferred Stock should also be aware that their failure to participate in a financing having a purchase price of less than $5 per share would result in mandatory conversion of their shares into nonvoting Series C-1B* or Series C-2A* Preferred Stock.


Subject to our compliance with the preemptive rights of certain investors, we will offer this opportunity to all stockholders who are accredited investors within the meaning of Rule 501(a) under the Exchange Act of 1933, as amended. For any accredited investor who is interested in exploring it, we can provide a term sheet and are available to meet at any time. Irrespective of your future investment intent, we value your engagement as stockholders and welcome your questions and comments.




*****




This letter and its contents are confidential. We request that you not share or discuss this letter with others, except your attorneys, accountants and other advisors bound by confidentiality obligations. The unauthorized disclosure of this letter could violate the terms of agreements between you and the company, and could additionally depress the amount realizable upon a sale of our assets. This letter shall not constitute an offer to sell or the solicitation of an offer to buy securities, nor shall there be any sale of our securities in any state or jurisdiction in which such offer, solicitation or sale would be unlawful prior to registration or qualification under the securities laws of any such state or jurisdiction or a valid exemption therefrom. Any offering that we conduct will be made only to accredited investors and only pursuant to definitive offering documents, including a disclosure package.


Thank you again for your support.


THERANOS, INC.

Elizabeth Holmes


Chairman and CEO